Breckinridge Research Room Showcases Updates, New Digital Studio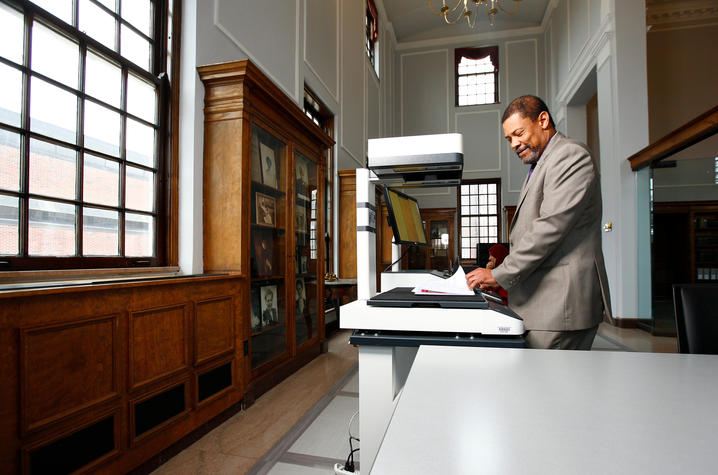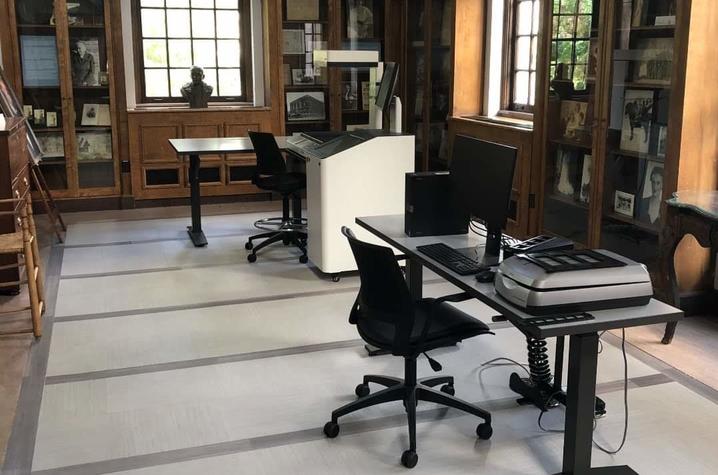 LEXINGTON, Ky. (Sept. 9, 2019) — University of Kentucky Libraries Special Collections Research Center (SCRC) invites you to join in a celebration of the opening of the new Breckinridge Digital Studio and the redesigned and updated Breckinridge Research Room from 2-4:30 p.m. Tuesday, Sept 10, in the Margaret I. King Library Building. 
As part of the opening festivities, faculty and student attendees will be able to tour the new space and mingle with SCRC Breckinridge Research Room staff and students. Light snacks will be provided in the adjacent Great Hall. 
The Breckinridge Research Room, which provides in-person access to UK Libraries' collection of rare books, archives and manuscripts, public policy collections, Appalachian collections, and Kentuckiana, now features a self-serve digital studio. Open to all registered students, faculty, staff and community members wishing to scan personal artifacts and research materials, the Breckinridge Digital Studio is equipped with professional-quality imaging technology, including a Bookeye 4 color planetary scanner, a Plustek OpticFilm 8200i SE film scanner and a FotodioX LED Studio-in-a-Box tabletop studio.
Additional updates to the Breckinridge Research Room features designed to enhance the user's experience while working with special collections are:
new internet portals and high-speed Wi-Fi;
ergonomic seating;
additional tables to better accommodate the use of oversized materials;
new service desk with consultation and registration spaces;
new microfilm machine;
new exhibit areas and refreshed exhibit content; and 
updated electrical and new carpet.
The Special Collections Research Center at UK Libraries sustains the Commonwealth's memory and serves as the essential bridge between past, present and future. By preserving materials documenting the social, cultural, economic and political history of Kentucky, the center provides rich opportunities for students to expand their worldview and enhance their critical thinking skills. Special Collections Research Center materials are used by scholars worldwide to advance original research and pioneer creative approaches to scholarship. UK Libraries Special Collections Research Center is the Archives, the Louie B. Nunn Center for Oral History, the King Library Press, the Wendell H. Ford Public Policy Research Center, the Bert T. Combs Appalachian Collection, the John G. Heyburn Initiative and ExploreUK.