Laura Koppes Bryan Named Lewis Honors College's Inaugural Lewis Faculty Scholar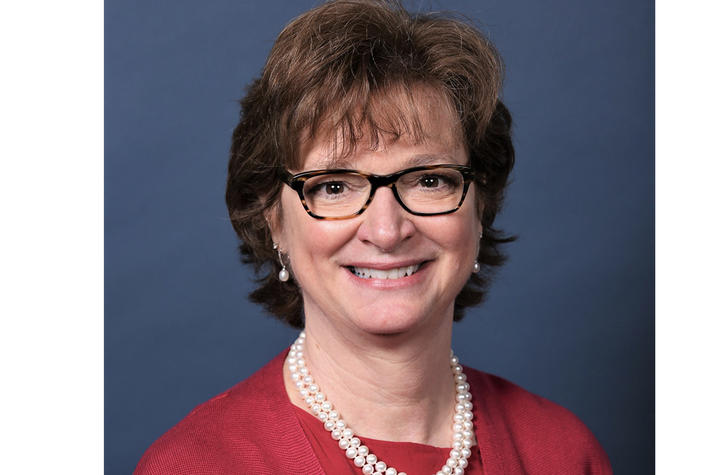 LEXINGTON, Ky. (May 2, 2019) — The University of Kentucky Lewis Honors College has welcomed its inaugural T.G. Lewis Faculty Scholar in Organizational Behavior to campus this semester.
Laura Koppes Bryan, who previously served as vice president for academic affairs and dean for Transylvania University, is considered one of the most influential authors in the field of industrial-organizational psychology. As part of her endowed position in the college, she will teach Honors courses on success, happiness and positive workplaces.
"Dr. Bryan brings to the Lewis Honors College and the University of Kentucky great depth of expertise in the areas of positive psychology, including happiness and well-being, self-assessment and leadership development," said Christian Brady, dean of the college. "She will be collaborating closely with our unique Center for Personal Development and creating a leadership development program for the college." 
Bryan has 30 years of higher education experience with over 20 years in academic leadership positions. She is a U.S. Fulbright Scholar and a fellow of the American Psychological Association, the Association for Psychological Science and the Society for Industrial-Organizational Psychology (SIOP). Bryan earned her bachelor's, master's and doctoral degrees from The Ohio State University.
"I am very excited to return to the classroom and work directly with students in understanding their leadership potential," Bryan said. "By providing them with skills that will make them more effective individuals in the context of organizations, we are better preparing students for the work world and graduate school." 
As a teacher-scholar-practitioner, Bryan cultivates positive, inclusive organizational cultures, coaches leaders and is dedicated to a student-centered pedagogy for helping students understand their effectiveness in the world of work and how to flourish in life. She authored several relevant publications including "Shaping Work-Life Culture in Higher Education: A Guide for Academic Leaders." She edited the leading scholarly text "Historical Perspectives in Industrial and Organizational Psychology," is co-author of "EEO Law and Personnel Practices" and is co-editor of "Using I-O Psychology for the Greater Good: Helping Those Who Help Others." She is a former president of the College and University Work-Life-Family Association and past elected officer of the SIOP executive board.
Bryan has a proven track record of securing funding for faculty and student success initiatives. While serving Transylvania, Bryan was the principal investigator for a grant from the Andrew W. Mellon Foundation to revitalize the core curriculum and plan a teaching and learning center. In previous positions, she helped secure funds from a private donor to establish a military veteran psychology clinic and was the principal investigator for grants from the National Science Foundation ADVANCE Program and the Alfred P. Sloan Foundation to research best practices and leadership for fostering organizational cultures that support work-family-life satisfaction and effectiveness in higher education institutions. She also received funding from the State University System of Florida to establish a center on aging in Northwest Florida.
In addition to serving as program director of graduate programs, Bryan's first academic leader position was leading the Ketner School of Business, Tri-State University (now Trine University). She then joined Eastern Kentucky University to establish a new graduate program, where she was promoted to associate vice president of academic affairs to focus on strategic planning, budgeting and accreditation. Bryan left academe to consult full time on organizational and individual effectiveness, and then, UK invited Bryan to serve as director of the WorkLife office. This meaningful work that facilitated the success of faculty and staff inspired Bryan to launch a full-time academic leadership career. 
Bryan joined the University of West Florida (UWF) where she led the psychology department as chair to be a School of Psychological and Behavioral Sciences. She built the Center for Applied Psychology, was a special assistant to the provost for strategic planning and resource allocation, and the interim director for the women's studies program. After a national search, Bryan became the dean of the Yale Gordon College of Arts and Sciences of the University of Baltimore where she centralized academic student success activities and launched several best practices to strengthen recruitment and retention. 
Bryan is frequently invited to serve on nonprofit executive boards because of her knowledge of leadership, work and positive organizations. She participated in the selective Greater Baltimore Leadership program and completed the prestigious 2016 Leadership Kentucky program. Bryan has received several awards including the SIOP Distinguished Service Award, and UWF's President's Award for Leadership in Diversity and Distinguished Faculty Scholarly and Creative Activity Award.
"I could not be more pleased to welcome Dr. Laura Bryan to our faculty at the Lewis Honors College," said Thomas W. Lewis, UK alumnus and benefactor of the college. "She has a strong background in preparing students for their careers, and her new role to help them better understand their strengths will support our students to become happier and more successful in their lives. I believe this will become a new model for university education in America, and UK is leading the way!"