BLOG: Record-breaking Research Awards Power UK Innovation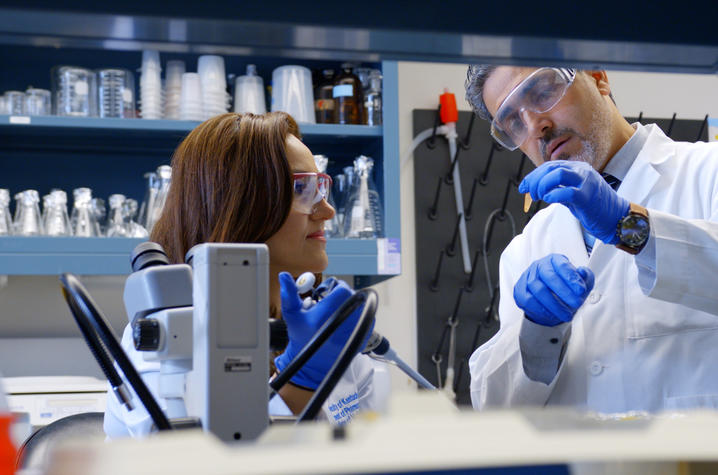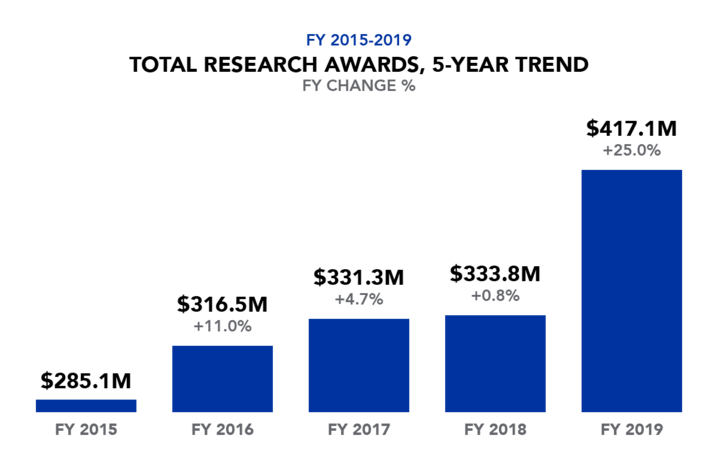 University of Kentucky (UK) faculty received $417.1 million in competitive research awards last fiscal year, a record-breaking increase of $83 million over the previous year.  
This astounding 25% increase in FY 2019 takes the university to an unprecedented 12% compound annual growth rate over the last three years for grants and contracts to UK.  
Federal grants and contracts, which are highly competitive, increased by 16% from the previous year, and represent large increases from federal funding agencies such as the National Institutes of Health (NIH, 32% increase) and the National Science Foundation (NSF, 47% increase).  
This growth includes the HEALing Communities in Kentucky award from the NIH National Institute on Drug Abuse and the Substance Abuse and Mental Health Services Administration, which provided $20 million in funding for the program this year. 
Kentucky is one of only four states to be awarded this four-year, $87 million award. Kentucky's program aims to reduce opioid-related overdose deaths by 40% in three years. HEALing Communities is a partnership with state and community collaborators to implement evidence-based recovery support services and other measures that will inform care and reduce harm across 16 Kentucky counties.
But this is not the only new grant funding last year that impacts Kentucky. NIH funding to faculty of the Sanders-Brown Center on Aging increased from $13.3 million to $23.4 million in one year, representing a remarkable 75% increase in funding for Alzheimer's-related research.  
Other new grant awards include NSF funding to investigators in the College of Agriculture, Food and Environment to model genomics of plants ($3 million), from the Administration for Community Living to UK's Human Development Institute ($1.7 million) to study musculoskeletal injuries, from the Office of Naval Research to prepare Marine Special Operations forces ($4 million), from the Andrew W. Mellon Foundation ($2 million) for the digital restoration of Herculaneum Papyri scrolls, and from the Department of Energy for the extraction of rare earth elements ($6.9 million). 
In total, UK successfully competed for 1,670 grants and contracts, submitted by 800 researchers to almost 600 funding agencies.  
We know that the research our faculty, staff and students participate in can make a difference throughout the Commonwealth. Not only is their research making new discoveries, solving our state's most burdensome problems, and creating innovation—UK research is contributing to Kentucky's economy. 
Research expenditures in FY 2018, as reported to the NSF HERD Survey, totaled more than $393 million. These R&D expenditures directly impacted the creation of 1,866 new jobs in Kentucky and helped support more than 4,400 jobs throughout the state. These scientific jobs created more than $237 million in labor income. The total economic impact of UK research for Kentucky was $725.5 million. 
The sheer volume of research activity, and the success of our researchers to garner funding for their impactful studies, speaks to the significance of the research mission. We are changing the culture of research at UK, empowering our faculty, staff and students to effectively compete for funding for their best and brightest ideas that help our citizens. This has been a wonderful year for UK Research, one we hope continues well into the future.   
To learn more about the innovative research happening across campus that impacts our state, visit research.uky.edu/news.