Program Offers Hepatitis C Screening for Patients in UK Emergency Department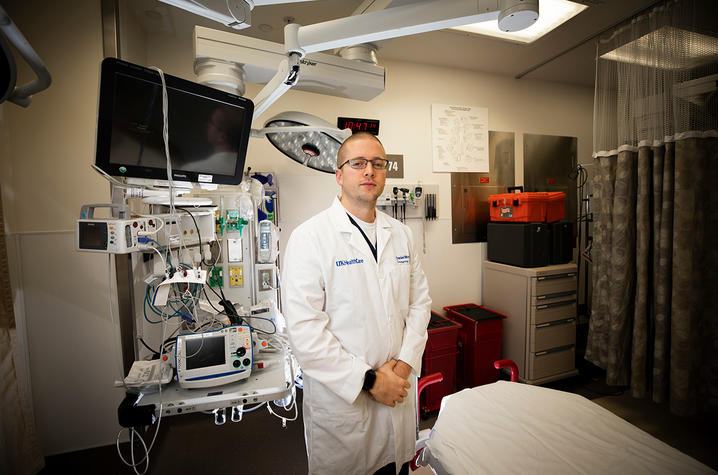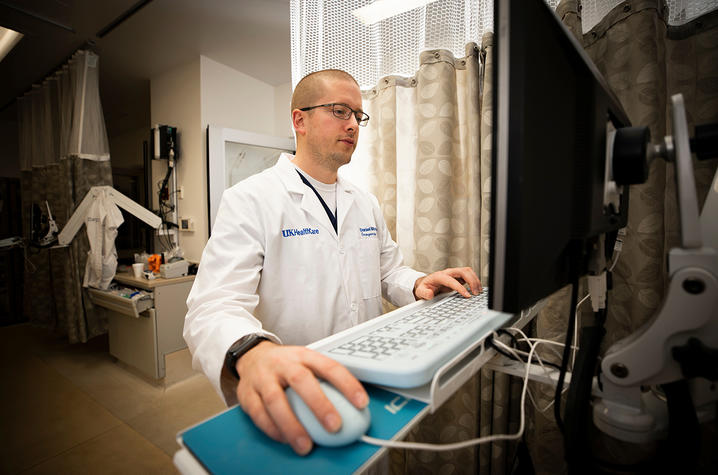 LEXINGTON, Ky. (March 7, 2019) – While it isn't typically the role of emergency medicine clinicians to identify chronic diseases, Dr. J. Daniel Moore, assistant professor of emergency medicine in the University of Kentucky College of Medicine, knew it had to become their job. "Many patients' only interaction with the health care system is with the emergency room," he said. "They don't go to primary care doctors."
With funding from Gilead Focus, Moore has established a non-targeted screening program in the UK HealthCare emergency departments at University of Kentucky Chandler Hospital and UK Good Samaritan Hospital where every patient over the age of 18 that comes in for treatment is tested for the hepatitis C virus (HCV) when they have a routine blood draw. Patients are informed about the additional test and given the opportunity to opt out. However, about 85 percent of patients consent to having the test done.
The hepatitis C virus affects the liver and left untreated, can have significant health impacts. Cirrhosis and scarring can lead to the need for transplantation. Inflammation caused by the virus also can cause hepatocellular carcinoma, liver cancer. 
Since July 2018 when the program began, 22,000 patients have been screened, Moore said. Of those,14,500 had routine blood draws and had the test performed with 1,560 patients or 10.8 percent testing positive for the hepatitis C virus. In the 20 to 40-year age group, the prevalence of hepatitis C is 20 percent, he said.
 According to the Center for Disease Control and Prevention, in 2016 approximately 2.4 million people were living with hepatitis C with Kentucky's rates more than twice the national average. The CDC has also reported that, of the 220 counties across the nation vulnerable to a hepatitis C outbreak, 54 counties are located in Kentucky, primarily in Appalachia.
In the past, only targeted HCV screenings were done – meaning only certain populations were tested for the disease such as those born between 1940 and 1965, commonly referred to as "baby boomers," people who inject drugs, the homeless and those who have been incarcerated. However, Moore said many patients don't identify themselves as people who inject drugs when they speak with providers. Non-targeted screening captures those in the targeted populations as well as others who may not have been tested due to their age or because they withheld information, he said.
As the opioid epidemic has ravaged the United States, injection drug use has become more prevalent. Hepatitis C is a bloodborne disease and the sharing of unclean needles has changed the population most at risk for contracting the disease. While baby boomers used to be most at-risk due to blood transfusions, the population born after 1965 now lead in rates, primarily due to the proliferation of injection drugs. 
After identifying patients with hepatitis C, one of two linkage to care coordinators follow-up with patients and work to get them into treatment. Treatment for hepatitis C is better and more effective than it has been in the past, he said. It typically consists of eight to 12 weeks of daily medication, has a near 100 percent cure rate and few, if any, side effects.
Overall, about 22 percent of patients who are identified by the program are then evaluated for treatment. 
 "No one is surprised by this data, but it needed to be collected and needs to be published," Moore said. He is currently working with his mentor, Dr. James Galbraith at the University of Alabama-Birmingham, to write an abstract and manuscript on the program. This fall, the emergency department will add HIV testing to their non-targeted screening program and they estimate the prevalence of this disease will be high as well, about one to three percent.
The opioid crisis has impacted every medical specialty and forced clinicians to change how they practice medicine. Opioid use disorder cannot only be addressed in the field of addiction medicine. Oncology, pediatrics, dentistry, surgery and emergency departments also are changing how they prescribe opioids, screen for misuse and abuse and treat patients in active addiction. As rates of opioid use disorder have risen, rates of hepatitis C (HCV), HIV, endocarditis and other infectious diseases have also increased.
"If the opioid crisis were solved today, we would still be dealing with the impacts of it for decades," Moore said. "The downstream costs of this, if left untreated, will be in the billions of dollars."