Researchers Present Work to Fight Cancer Burden at Markey Research Day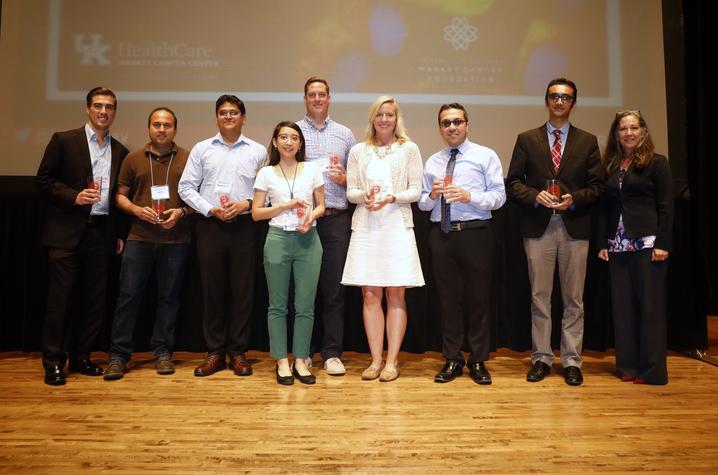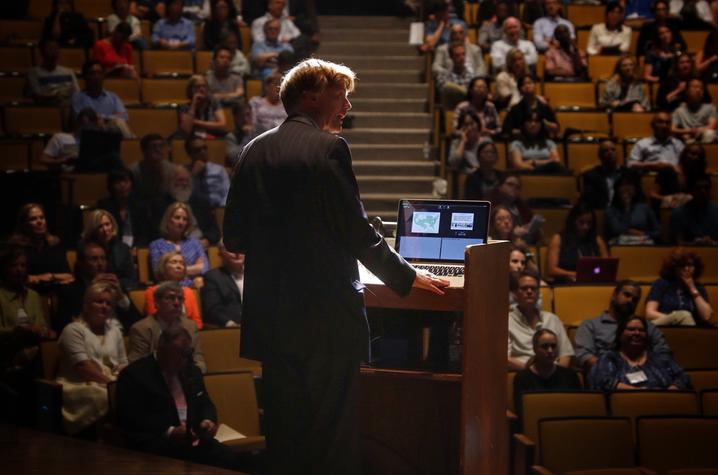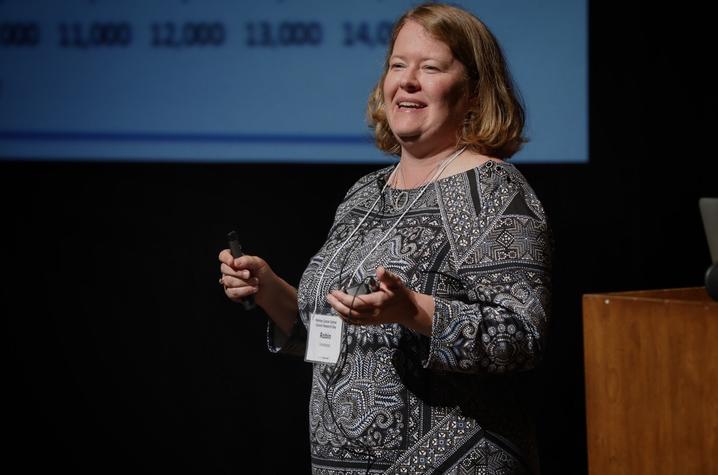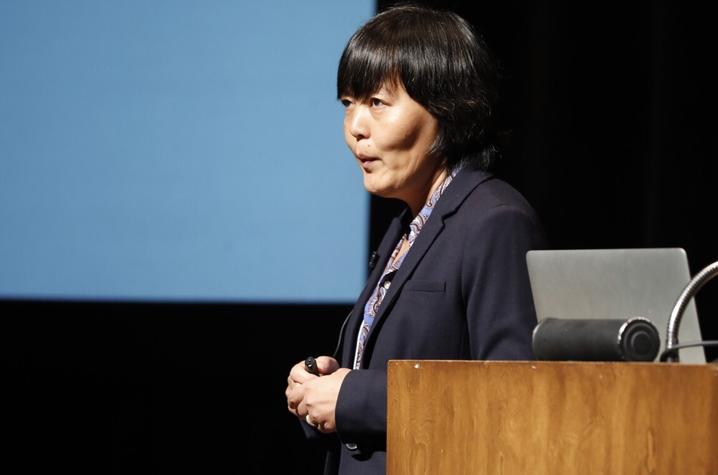 LEXINGTON, Ky. (May 18, 2017) – The University of Kentucky Markey Cancer Center Research Day is an opportunity for researchers to share their work, and receive feedback from colleagues across campus. An estimated 400 people were in attendance at the event, with about 45 staff members tasked with judging posters. While many posters are presented by seasoned researchers, high school, undergraduate, graduate and postdoctoral students, as well as junior researchers and staff, can also submit work and have their poster presentation judged by faculty members.
For researchers like Parisa ShamaeiZadeh, an undergraduate student in the College of Health Sciences, the opportunity to present her findings and receive feedback is one of the many benefits of an event like today. ShamaeiZadeh worked with Dr. Ming-Yuan Chih to examine the experiences of cancer patients who've undergone bone marrow transplantation. The goal of this project is to identify resources that patients are seeking as they adjust to their changing lives and eventually, develop an application that will make reliable and accurate information more readily available. This year's event also included the first Markey Women Strong award. This $100,000 prize goes to two researchers whose current work addresses the cancer burden among women.
This year's award winners were Dr. Kathleen O'Connor, associate director of cancer education, and Dr. Rina Plattner, professor in the Department of Pharmacology and Nutritional Sciences. With the award, they will further and strengthen their research to help more women in the state, in the country and around the world.
A diverse array of specialties, from behavioral health to chemical engineering, were represented at the 2017 event with 103 posters on display. Oral presentations were made by one scientist; one senior research associate and two graduate students; and faculty oral presentations were made by Dr. Robin Vanderpool, associate professor in the Department of Health Behavior and Society in the UK College of Public Health, and Dr. Tianyan Gao, professor in the Department of Molecular and Cellular Biochemisty in the UK College of Medicine. Dr. B. Mark Evers, director of the Markey Cancer Center also presented the "State of the Cancer Center" address.
The event concluded with an award ceremony. Winners include:
Overall Winner
Payton Stevens, "Erbin Inhibits Colon Cancer Progression by Antagonizing KSR1-facilitated RAS/RAF Signaling"
Graduate Students – Basic Science
First Place: Katie McKenna, "Splenic microenvironment is important in the survival and growth of B cell Chronic Lymphocytic Leukemia in mice"
Second Place: Dustin Carroll, "A Novel Redox Based Therapy Targets the Malignant Cellular Redox State"
Postdocs – Basic Science
First Place: Rakshamani Tripathi, "c-Abl/Arg Modulation of Cathepin Secretion Via Sp1/Ets1/NF-κB Transcription Factor Activation"
Second Place: Nikhil Hebbar, "A Naturally Generated Par-4 Decoy Overcomes Therapy Resistance in Tumors"
Graduate Students – Clinical Science
First Place: Marc Kai, "The Complex Interplay Between Immune Status and Precision Nano-materials"
Second Place: Aman Chauhan (presented by Elizabeth Behrens), "Capecitabine and Temozolomide (CAPTEM) in Neuroendocrine tumor of unknown primary"
Postdocs – Clinical Science
First Place: Anh-Thu Le, "ACS-NSQIP-Based Risk Score Predicts Early Readmission after Gastrectomy"
Second Place: Naser Jafari, "Activation of FASN/SPHK axis promotes metastatic potential of primary colorectal cancer cells"