Symposium to Focus on Down Syndrome and Aging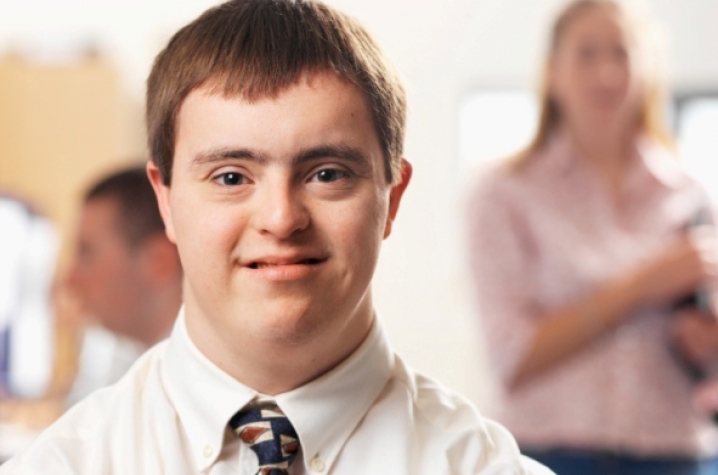 LEXINGTON, Ky. (Sept. 21 , 2012) -- The University of Kentucky Sanders-Brown Center on Aging will co-host a symposium highlighting the link between Down syndrome and aging.
The "Adults with Down Syndrome: Applying Research Findings to Healthy Brain Aging" symposium will be held 8:30 a.m. to 2:30 p.m. Oct. 20. The event is at Down Syndrome of Louisville, Inc., 5001 South Hurstbourne Parkway, Louisville. Sponsors of the event include the Down Syndrome Association of Greater Cincinnati, Down Syndrome of Louisville, the Eunice Kennedy Shriver National Institute of Child Health and Human Development, the National Institute on Aging and the UK Sanders-Brown Center on Aging.
The keynote speaker will be Dr. Ira T. Lott, clinician and professor of pediatrics and neurology at the University of California, Irvine.  Featured speakers include Clarissa A. Rentz of the Down Syndrome Association of Greater Cincinnati and Missy Rowe of Down Syndrome of Louisville.  UK presenters will be Allison Caban-Holt, assistant professor of behavioral science, Frederick Schmitt, professor of neurobiology, behavioral science and psychiatry; and Elizabeth Head, associate professor of neurobiology.  
Topics of interest include the connection between Down syndrome and Alzheimer's disease, neurological issues across the lifespan of a person with Down syndrome and the University of Kentucky Down syndrome and aging study. There will also be question and answer sessions.
The cost of the event is $25, which includes a continental breakfast and boxed lunch. Parking is free.
To register, visit http://dsagc.donordrive.com/event/Symposium2012/. For more information contact Christy Gregg (christy@dsagc.com), Diana Merzweiler (dianam@downsyndromeoflouisville.org) or Roberta Davis (rdavi3@uky.edu).