'Til the Battle is Won: Partnering to Serve the Commonwealth
LEXINGTON, Ky. (March 10, 2021) —  Since the start of the pandemic, the University of Kentucky has recognized that combating COVID-19 takes a team effort. In grappling with how to respond to these unprecedented times, many organizations from the UK community have come together to partner and collaborate — one of which has continually stepped up to provide physical spaces for healing and hope in this time of crisis. 
UK Athletics has played a crucial role in the university's efforts to facilitate medical services in the community. In April, the organization transformed Nutter Field House into a field hospital as the state anticipated a rise in COVID-19 cases and hospitalizations. In June, Kroger Field was converted to a voting center for the presidential election because its size allowed for safe and physically distanced voting. Now, Kroger Field operates as the largest vaccination clinic in the state, allowing the university to administer nearly 400 shots an hour and nearly 4,000 shots a day.
This huge logistical lift has only been made possible because of the support of UK Athletics.
"It's been incredible to see our university and the state come together in the face of this pandemic, and I'm proud that UK Athletics could be part of this effort," said UK Athletics Director Mitch Barnhart. "Even during a time of such uncertainty, our university continues to offer a future of promise for our students and our state."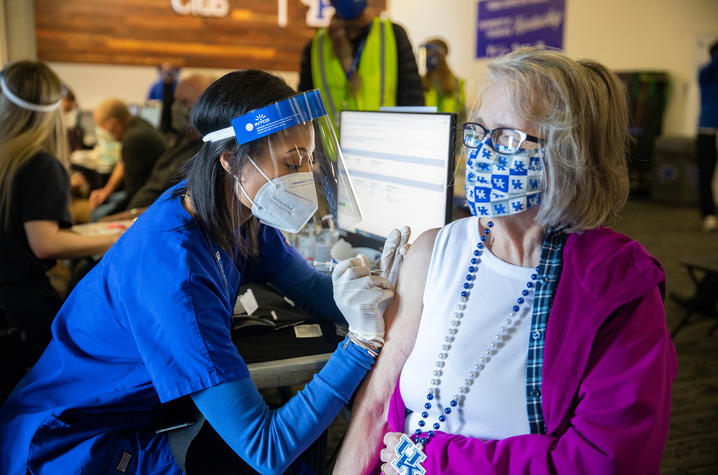 As the University of Kentucky marks the end of the academic year, we're reminded of our promise to the Commonwealth and each other.  Every corner of our campus — from UK HealthCare to Athletics, from our Emergency Operations Center to volunteers in our health colleges and across this university — has united for a common purpose in the battle against COVID-19. And, when members of our community come together with the heart to step up, there is almost no challenge too large, no obstacle too daunting, to overcome. Because of this community – its resilience, compassion and expertise – we have experienced — even in the face of a global pandemic — what is wildly possible.