UPK Biography of Alvin York Wins Third Award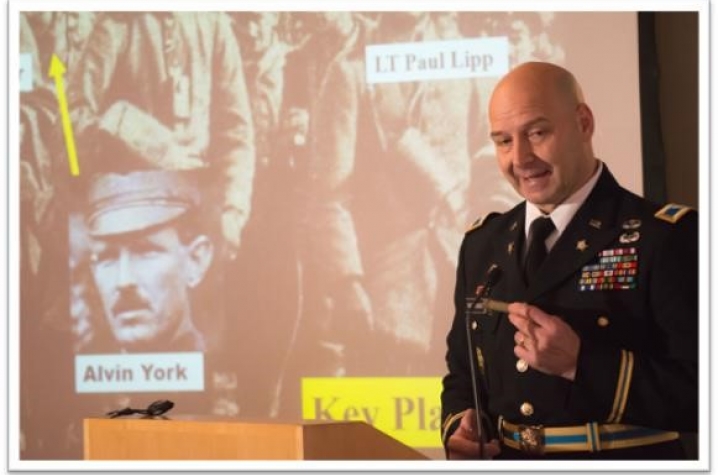 LEXINGTON, Ky. (May 22, 2015) — University Press of Kentucky (UPK) author Douglas V. Mastriano has been named the recipient of the 2014 Army Historical Foundation Distinguished Writing Award for Biography for his book "Alvin York: A New Biography of the Hero of the Argonne." The foundation recognizes six books and three articles in various categories each year as outstanding achievements in writing on U.S. Army history.
Mastriano's award was presented by retired Army General William Hartzog at the Army Historical Foundation's 18th Annual Members' Meeting held May 18, at the Army Navy Country Club in Arlington, Virginia. As a book award winner, Mastriano received a plaque and a $1,000 cash award.
The Army Historical Foundation, a non-profit, tax-exempt organization, is dedicated to preserving the history and heritage of the American soldier. Its goal is to promote greater public appreciation for the contributions that America's Army — active, reserve and National Guard — has made to the nation in 238 years of service. The foundation is the principal fundraiser to build the National Museum of the United States Army, which will be located at Fort Belvoir, Virginia.
In "Alvin York," Mastriano sorts fact from myth in the first full-length biography of York in decades. He meticulously examines York's youth in the hills of east Tennessee, his service in the Great War, and his return to a quiet civilian life dedicated to charity. As a devout Christian, conscientious objector and reluctant hero of World War I, Alvin York is known as one of America's most famous and celebrated soldiers.
York's capture of 132 German soldiers earned him the Congressional Medal of Honor, and continues to spark controversy among historians who think York has received more recognition than he deserves. By reviewing artifacts recovered from the battlefield using military terrain analysis, forensic study, and research in both German and American archives, Mastriano reconstructs the events of Oct. 8, 1918, and corroborates the recorded accounts.
"Alvin York" was also awarded the 2015 William E. Colby Award and the 2015 Crader Family Book Prize in American Values. The Colby Award honors a first work of fiction or non-fiction that has made a significant contribution to the public's understanding of intelligence operations, military history or international affairs. The Crader Family Book Prize recognizes a first book that best exemplifies the values of the Crader Family Endowment for American Values: individual liberty, constitutional principles and civic virtue.
Mastriano is a colonel in the U.S. Army.
UPK is the scholarly publisher for the Commonwealth of Kentucky, representing a consortium that now includes all of the state universities, five private colleges and two historical societies. Led by Director Stephen Wrinn, its editorial program focuses on the humanities and the social sciences. Offices for the administrative, editorial, production and marketing departments of the press are found at UK, which provides financial support toward the operating expenses of the publishing operation.
MEDIA CONTACT: Whitney Hale, 859-257-8716; whitney.hale@uky.edu