Alum making dreams come true at helm of Singletary Center for the Arts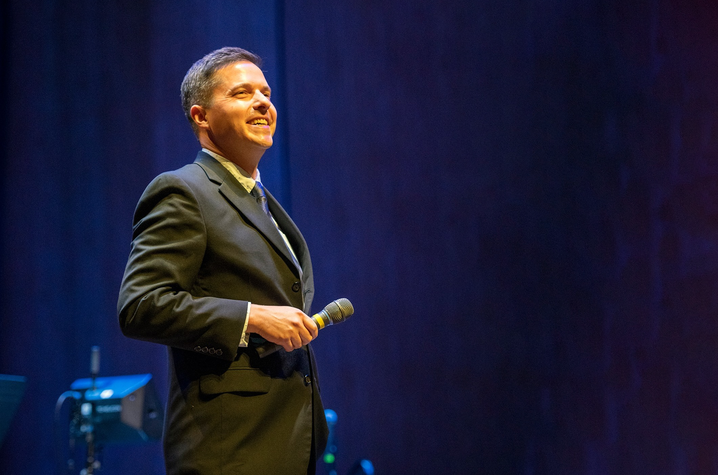 LEXINGTON, Ky. (Jan. 20, 2023) — University of Kentucky alumnus Matthew Gibson was named director of the Singletary Center for the Arts (SCFA), the performing arts center for the university and performance home for the UK School of Music and many community arts organizations. 
Gibson served the Singletary Center as marketing and ticketing director from 2014 to 2020, director of operations from 2020 to 2021 when former director Michael Grice retired, and interim director until September 2022. 
Gibson is a three-time UK alumnus. He earned his bachelor's degree in economics in 2003, and a bachelor's degree in arts administration with an emphasis in music history from UK in 2012. Gibson graduated with his master's degree in arts administration in 2019. 
Before working for Singletary Center, he served as the former event coordinator for Natasha's Bistro & Bar, former general manager and programming director for WRFL 88.1 FM and was a central organizer and curator of WRFL's Boomslang Festival from 2010 to 2013. 
"Matt Gibson, as only the third director of the Singletary Center in its over 40-year history, brings a unique combination of historic engagement with patrons and staff of the center, assuring continued excellence of service to center clients, and a dynamic new vision for how center programming can best serve the university and the community," said Mark Shanda, dean of the College of Fine Arts.
Shanda added, "His ambitious programming plans will unfold in the coming months, embracing the critical role the center plays as the primary performance home to the School of Music and the Lexington Philharmonic, yet exploring new opportunities for audiences of all types to engage with the performing arts. He is the right person, at the right time, to lead the center into a new chapter of excellence as we continue to recover from the suspension of public performances these past couple of years." 
Gibson is already hard at work at what he describes as his dream job. "I am truly honored to be the third director in the Singletary Center's storied 43-year history. I offer generous and heartfelt thanks to former SCFA Directors Holly Salisbury and Michael Grice for working to establish the Singletary Center as the preeminent performance venue in Lexington, and I promise to devote myself to continuing the Singletary Center's legacy of presenting enriching, exciting and transformative performances. There are good times ahead."
A native of Franklin, Kentucky, UKNow sat down with Gibson to learn more about his dream of leading the Singletary Center and what plans he has in store for the venue.
UKNow: What first drew you to the arts? 
Gibson: I always felt connected to music and the arts.
My mother's family was very musical, so I was accustomed to seeing her sing as a soloist at church; my grandmother was the organist at her church for many, many years — so it was a natural part of our family to perform. 
I grew up singing in choirs and performing in school and community plays; it always felt very special to be part of a group of people working together to make a production happen.
UKNow: When did you first start thinking of yourself as a creative with a future related to the arts?
Gibson: I came about that realization relatively late, not until after I had completed my first degree at UK. Although I always loved music, I never learned to play an instrument growing up; there was a time when I thought I had missed my opportunity to ever be "good enough" to play and participate in my own music-making. 
When I finally overcame that self-imposed mental block about trying something new, I felt liberated to start creating. My experiences playing in bands and booking tours was very empowering in envisioning working in the arts professionally. It turned out that my top strengths were not on stage but rather behind the scenes in organizing and promoting events. 
UKNow: Why did you choose UK for college? Your area(s) of study?
Gibson: Growing up in Kentucky, UK was always the goal for college; I didn't even apply to any other schools. 
When I came to UK out of high school, I studied business and economics, but it was my time as a nontraditional student studying arts administration that turned my career around. It was the opportunity to combine my business acumen with a subject that I'm very passionate about.
UKNow: Any experience during college that helped you prepare for today's position?
Gibson: Beyond all other experiences in my college career, working as programming director, general manager and festival organizer for WRFL 88.1 FM prepared me for my position today. My time at WRFL gave me real-world, hands-on experience in management and event organization that would be nearly impossible to parallel. 
Between running the 24/7 radio station, managing over one hundred student and community DJs, and also helping to organize an annual multiday, multi-venue music and arts festival, I was receiving professional-level industry experience while still a student. WRFL's Boomslang Festival was a tremendously challenging endeavor that gave me an immense amount of momentum into my professional career.
UKNow: Any other arts related positions you took to prepare yourself for your career goals?
Gibson: When I decided to come back to UK as a nontraditional student, it was to reach out in new directions to see where I would be able to create opportunities. In addition to working at CD Central and WRFL, I also assisted with the Kentucky New Music Festival, did some music writing for local arts publications, helped to start a contemporary music ensemble called EnVaGe (the Ensemble of Variable Geometry), and interned with the Land of Tomorrow art gallery. After graduation, I worked as the event coordinator at Natasha's Bistro & Bar where I booked live entertainment every night of the year. I really tried to dig in and approach music from all angles.
UKNow: What brought you back to UK and Singletary Center?
Gibson: I always viewed the Singletary Center as the epitome of Lexington's performing arts environment, so it had been the goal for a long time to work here. Former SCFA Director Michael Grice came to speak to one of my classes early in my time as an arts administration undergraduate; I met with Director Grice to find out that it was the director's role to program the center's offerings, and in that moment, I made it my goal to be the director of the Singletary Center. A major step was coming aboard the SCFA staff in 2014 as marketing & ticketing director, which I loved doing for the six years I was in that position.
UKNow: Any favorite memories/performances in your time before director?
Gibson: One of the things that I love most about the Singletary Center is that it presents the types of performances that you won't see anywhere else in Lexington.
Among the standouts before I worked at SCFA would be seeing the phenomenal hearing-impaired percussionist Evelyn Glennie perform with the Lexington Philharmonic Orchestra in 2009. I was also in total bliss hearing Bang On A Can All-Stars perform a transcendent version of Brian Eno's groundbreaking ambient piece "Music for Airports."
During my time working at SCFA, my favorite performances include the UK Symphony Orchestra and UK Choirs providing a magnificent live score to a screening of Stanley Kubrick's "2001: A Space Odyssey," saxophonist Rudresh Mahanthappa performing a blistering set with the UK Faculty Jazztet, and the wonderfully exotic sounds of Bela Fleck, Edgar Meyer and Zakir Hussain from our 40th anniversary season in 2019.
UKNow: What drew you specifically to the director position?
Gibson: For a long time, I viewed Lexington's arts scene as a patron spectator, and something that I saw occur in many different ways was the phenomenon of how influential one person could be in impacting cultural change. 
I saw it with Ross Compton and the Outside the Spotlight Jazz & Improvised Music Series that has been pulling top-notch free jazz talent to Lexington for over 20 years now; I saw it with Anthony Poynter and the underground touring punk scene; I saw it with Robert Beatty and the noise and avant-garde scene (now more formalized as the "193 Sound" series).
Over and over, I saw people who were organizing music events to serve the types of niche audiences that most folks wouldn't even expect to find in Lexington, and through their efforts, they were able to build these scenes that enriched what it meant to me to live in Lexington. As director of the Singletary Center, I hope to utilize the resources of the center to continue making special things happen.
UKNow: What makes the Singletary Center for the Arts special?
Gibson: The Singletary Center is special in such a variety of ways, depending on one's vantage point. 
In one sense, it is special because we present some of the most talented performers in the world, many times facilitating performances that simply wouldn't happen anywhere else in Lexington. 
It is special because our halls are architecturally designed to create an optimal listening environment, something that you can't find in smaller clubs or large arenas — it is an ideal experience for attentive listening. 
The center is also special for being part of the College of Fine Arts; the center's staff is a wonderful group of dedicated professionals who really, truly devote themselves to making SCFA the best that it can be, and the faculty, staff and administration of the College of Fine Arts are exceptional artists in their own right that promote a high standard of artistic excellence. 
But something that was not immediately apparent to me when I started working at SCFA eight years ago — but that makes it a very special place — is the center's role in the Lexington community. For thousands and thousands of people, the Singletary Center is where they first stepped foot on stage or where they learned to hone their musical craft. From the Central Kentucky Youth Orchestras and Bluegrass Youth Ballet to performances by Fayette County Public School children and students from surrounding counties, the Singletary Center is where people are discovering their own love for performance and the performing arts.
The center is a great resource for the UK and Lexington communities and holds a special place in so many people's hearts.
UKNow: Any new plans for Singletary programming?
Gibson: During the worst of the pandemic, we focused our efforts locally on supporting the UK School of Music and our community arts partners, but in 2023 the Singletary Center is re-emerging as a curating and presenting force with some very exciting guest artists. I love providing our students with extra-ordinary opportunities to perform alongside professional artists, so on March 3 the UK Symphony Orchestra will be joined by nationally-acclaimed violinist Jennifer Koh to perform Missy Mazzoli's violin concerto, "Procession" as the first SCFA-presented event since 2020.    
And just a week later we're presenting Guggenheim and MacArthur Fellow Miguel Zenón performing with the UK Faculty Jazztet on March 9. This event will feature not only one of the most gifted and exciting saxophonists of our time, but also the immense talent of the faculty of the Jazz Studies program in the College of Fine Arts.
I want SCFA's programming to be forward-thinking, embracing the unknown, sometimes challenging, always exceptional. Emerging from the COVID-19 pandemic has been difficult for the performing arts industry, but we'll have many exciting things in the years to come. 
UKNow: What do you hope audiences take with them when they experience an event at Singletary?
Gibson: As the outside world continues to become more hectic and unpredictable, I hope audiences can find moments of beauty and solace at the Singletary Center. 
The College of Fine Arts declares that "the arts are essential to the life of the individual and the community," and I think we, as a society, are feeling that now maybe more than ever. It is essential to one's overall wellness to be able to rest and decompress, and that is one type of experience that folks have at SCFA.
Another is to be able to share in a common experience with other people — to hear music or see dance or laugh at a comedy show — and to do it together, live in real-time. The arts are all about human interconnectedness, and that sense of community and connection are important on the individual level and the communal level. 
UKNow: Any advice for students who might want to follow in your footsteps?
Gibson: My favorite piece of advice to give is a piece of advice that I kind of hated to hear; it's from composer Philip Glass, when asked about the secret of his success: "Wake up early and work all day." No shortcuts.
But beyond that, my advice would be to do what you can early in life to find out what you want, and then to really go for it. Involvement in student organizations and participating in internships can be excellent ways to gain experience and insight into your professional aspirations.
If there's a job that exists in the world, that means that someone is doing it, and you can too. I set my sights very specifically to become the director of the Singletary Center for the Arts, and after 12 years of constantly pursuing that goal, I achieved it. You can too.
As the state's flagship, land-grant institution, the University of Kentucky exists to advance the Commonwealth. We do that by preparing the next generation of leaders — placing students at the heart of everything we do — and transforming the lives of Kentuckians through education, research and creative work, service and health care. We pride ourselves on being a catalyst for breakthroughs and a force for healing, a place where ingenuity unfolds. It's all made possible by our people — visionaries, disruptors and pioneers — who make up 200 academic programs, a $476.5 million research and development enterprise and a world-class medical center, all on one campus.   
In 2022, UK was ranked by Forbes as one of the "Best Employers for New Grads" and named a "Diversity Champion" by INSIGHT into Diversity, a testament to our commitment to advance Kentucky and create a community of belonging for everyone. While our mission looks different in many ways than it did in 1865, the vision of service to our Commonwealth and the world remains the same. We are the University for Kentucky.