Art to Fill Commonwealth Jumbotron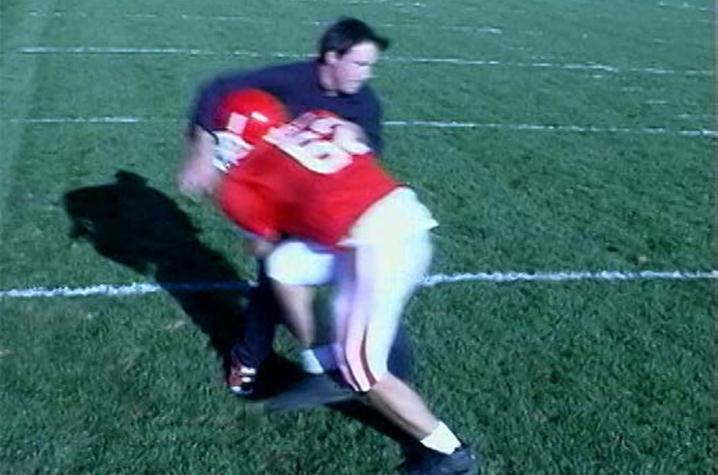 LEXINGTON, Ky. (March 28, 2017) — Before University of Kentucky's football team fills the jumbotron in the annual Blue-White Spring Game, UK Art Museum will bring the action to Commonwealth Stadium at a one-of-a-kind event merging art and sports. The UK Art Museum will screen "Videos for a Stadium," a presentation of sports-related videos by a range of nationally known artists, 7-9 p.m. Thursday, April 6, at Commonwealth Stadium.
This unique "art meets sports" event explores competition, skill, endurance, teamwork and body movement. The national anthem, the green grass of various fields, and sports language are also examined. The videos will be presented on the stadium's high resolution screen and viewed from field level seats in the end zone.
Participating artists in "Videos for A Stadium" include Paul S. Benjamin, Janet Biggs, Victoria Fu, Brett Kashmere, Anya Liftig, Lilly McElroy, Didier Morelli, Michael David Murphy, Alix Pearlstein, Joe Sola and Scott Stark.
Carl Nathe, the public address announcer at UK football games and university information officer at UK Public Relations and Marketing, will introduce each artist's work and provide commentary. Concession food and drinks that are normally available during games will be offered for purchase before and after the screening.
"Videos for a Stadium" is organized by Stuart Horodner, director of the UK Art Museum. In speaking about the motivation for this event, Horodner said, "UK and Lexington take pride in their teams and fans and the sports-centric culture that exists here. I'm interested in how the arts can intersect with these conditions and contexts, and how our museum can engage audiences in surprising and memorable ways. This is a great opportunity to present videos that are usually shown at prestigious galleries, museums and fairs, and to see what happens when art fans and sports fans come together."
Tickets for "Videos for a Stadium" are $15 for general public and $10 for museum members. Funds raised at this event will go to support the museum's free admission policy. Tickets are available online at http://finearts.uky.edu/art-museum. Free parking is available in the Green Lot behind the stadium.
"Videos for a Stadium" is sponsored by Creative Lexington and MoonTower Music Festival.
The mission of the UK Art Museum, part of the UK College of Fine Arts, is to promote the understanding and appreciation of art to enhance the quality of life for people of Kentucky through collecting, exhibiting, preserving and interpreting outstanding works of visual art from all cultures. Home to a collection of more than 4,800 objects including American and European paintings, drawings, photographs, prints and sculpture, the Art Museum at UK presents both special exhibitions and shows of work from its permanent collection.