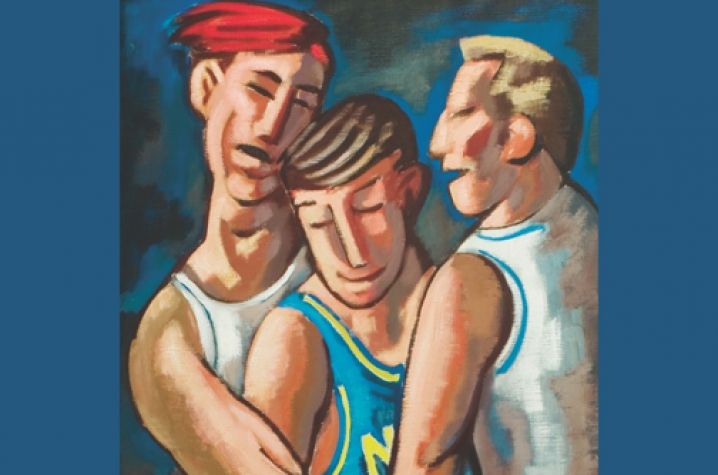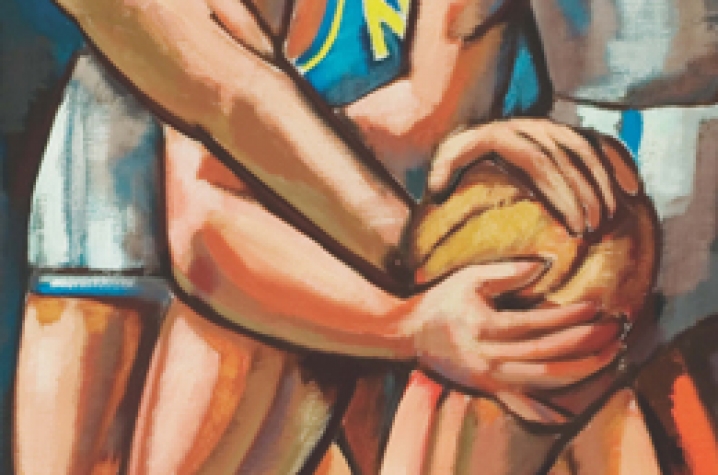 LEXINGTON, Ky. (Dec. 8, 2010) − Big Blue Nation can celebrate the history of University of Kentucky basketball with a limited edition poster from the Art Museum at UK. Signed by two of the sport's celebrated coaches, John Calipari and Joe B. Hall, the artwork by former UK Department of Art faculty member Clifford Amyx is a unique gift option this holiday season for that true blue Wildcats fan.
Amyx's artwork "1958" captures the spirit and action of UK men's basketball during the 1950s. Coach Calipari has signed a limited number of posters, which are available for purchase at $40. Additionally, Coach Hall and friends Jack Givens and Larry Stamper will sign copies of the poster this weekend prior to the UK/Indiana men's basketball game. Fans can get Hall to sign their poster from 1 to 3 p.m. Saturday, Dec. 11, at the UK Bookstore. Unsigned posters are also available for $20. Proceeds from the sale of the limited edition posters benefit the Art Museum at UK. This work is part of the Art Museum's permanent collection and will be on view in January.
Amyx, a native of Jackson Co., Ky., served as assistant supervisor of the Works Progress Administration's Federal Art Project in San Francisco from 1936 to 1941. Holding bachelor's and master's degrees from UK, Amyx took a position as a professor of painting, drawing and art history at the UK Department of Art in 1946. Amyx served the art faculty until his retirement in 1974 and is considered one of the major influences on the growth of the program in the 20th century. The artist died in 1997.