Controvers​ial Feminist, Artist Martha Rosler to Lecture at UK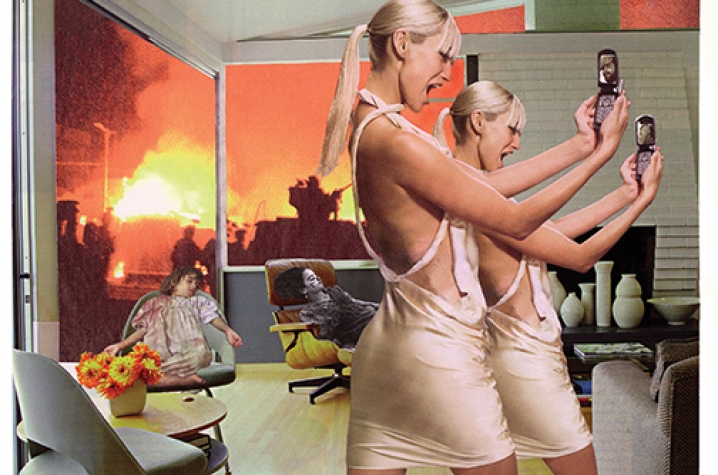 LEXINGTON, Ky. (April 3, 2013) — Photographer Martha Rosler, known as a pioneer of video and found images and for exploring roles of women, will be the final speaker featured in the 2012-13 Robert C. May Lecture Series presented by the Art Museum at the University of Kentucky. The artist's free public lecture on her work will begin 4 p.m. Friday, April 5, in the Worsham Theater, located in the Student Center. In conjunction with the lecture, there is a free exhibition of Rosler's work on display at the museum through April 14.
As a photographer, writer, videographer and performance artist, Rosler has created often startling and always incisive commentaries on American culture for more than 40 years. The roles of women, wars from Vietnam to Afghanistan, homelessness, and the values of a consumer-driven society have provided rich ground for exploration.
A pioneer in the use of both video and found images, Rosler became fascinated by the manner in which Americans represent themselves and others in the popular media. She began her series, "Bringing the War Home: House Beautiful" (1967-1972) after being struck by an unnerving juxtaposition: graphic images of the Vietnam War on one page of a magazine, followed by an ad for a new couch on the next. Using the technique of photomontage, she began merging the imagery, so that a Vietnamese man appears to carry a wounded child up the stairs of a pristine and stylish American house, or a storybook family reclines on a mattress in the midst of a bombed out home, oblivious to the carnage surrounding them.
Rosler revived this photomontage technique in the mid-2000s during the wars in Iraq and Afghanistan, both of which outraged her as much as the Vietnam War did. "I realized that if I went back to the photomontage medium, I would be making that point," Rosler said. "It's the same message and it has the same politics, which is: we are responsible for this, this is us telling ourselves that life is beautiful here at home, and this is what we do abroad."
In "Saddam's Palace (Febreeze)," a smiling housewife appears to erase the destruction of war with an air freshener. In "Photo Op," a model seems to have eyes only for her cell phone, indifferent to the wounded children behind her or the battle raging outside her window.
Rosler has exhibited her work widely in this country and abroad, and is represented in major museum collections internationally. A retrospective of her work, "Positions in the Life World" (1998–2000), was shown in five European cities and, concurrently, at the International Center of Photography and the New Museum of Contemporary Art in New York.
As both a writer and an educator, Rosler's work has also been widely influential. She has published 16 books of photography, art and writing, among them, "Decoys and Disruptions: Selected Essays, 1975-2001" (2004) and "Passionate Signals" (2005). She serves in an advisory capacity to the departments of education at the Whitney Museum of American Art and the Museum of Modern Art in New York.
The May Lecture Series explores photography's roots in the 19th century and its reinvention in the digital world. The lecture series is made possible through the Robert C. May Photography Endowment, a museum fund established in 1994 for the support of acquisitions and programs relating to photography. Previous photographers that were featured this year included David Hilliard, Lalla Essaydi and Hank Willis Thomas.
The Art Museum at UK is located in the Singletary Center for the Arts at the corner of Rose St. and Euclid Ave. Home to a collection of more than 4,500 objects, including American and European paintings, drawings, photographs, prints and sculpture, the Art Museum at UK, part of the UK College of Fine Arts, presents both special exhibitions and shows of work from their permanent collection.