Emerging Photography Star Julie Blackmon to Lecture Today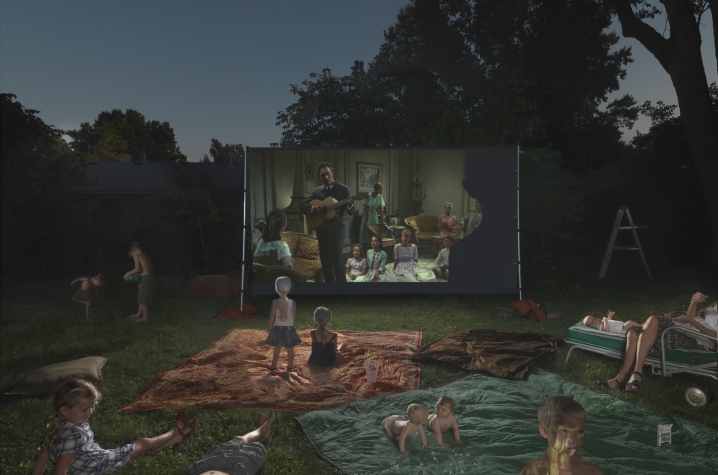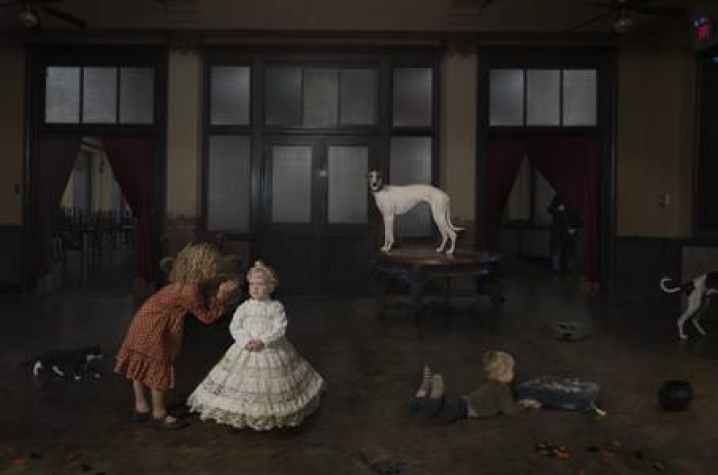 LEXINGTON, Ky. (Dec. 2, 2011) − Emerging contemporary photographer Julie Blackmon will present the next lecture in this year's Robert C. May Photography Endowment Lecture Series presented by the Art Museum at the University of Kentucky. The photographer will talk about her work, which looks at modern domestic life at a lecture 4 p.m. Friday, Dec. 2, at the Worsham Theater in the UK Student Center. An exhibit of Blackmon's work is currently on display at the museum and will run through Jan. 15, 2012. Both the lecture and exhibition are free and open to the public.  
Julie Blackmon tackles the minefield of the contemporary domestic landscape in photographs of modern family life. Her carefully constructed tableaux, populated by children who dominate the scene and adults who often exist in fragments at the edges, are filled with humor and sly wit. Her work is informed — pictorially and in spirit — by her love of 17th-century Dutch painters, who not only captured rowdy scenes of family life, but lingered over physical details of a home: the color and texture of the furnishings, the space glimpsed through an open doorway, the quality of light.
It is a world Blackmon knows well. She is the oldest of nine children and has three of her own, who — along with her sisters, nieces and nephews — appear in scenes that capture the love and the pressure of family life today. "I think we're living at a time when most women —never mind the official jobs they may have — are caught in this swirl of play dates, soccer games, and PTA, and our lives have gotten completely overscheduled and out of control…" Blackmon says. "There's this balancing act between wanting to give everything you have to people you love more than anything, and the desire to escape from them altogether."
Yet, in the midst of the chaos there is a stillness in her work. It grows in part from the total absorption of children and adults in their own worlds, but is enhanced by Blackmon's technique. Like a painter who might make numerous studies of individual players in a complex composition before creating the whole, she photographs her subjects individually and brings them together via digital technology. She manipulates light, color and elements of the setting to produce images of complexity.
Blackmon has received several national awards for her work, including first place for her series "Domestic Vacations" from both Photospiva and the Santa Fe Photography Center in 2006, along with the Critical Mass Book Award for her monograph of that series. She was named one of 30 emerging photographers to watch by Photo District News in 2007 and Emerging Photographer of 2008 by American Photo. Her photographs are included in the permanent collections of the Cleveland Museum of Art, the George Eastman House International Museum of Photography, the Museum of Contemporary Photography in Chicago, and the Museum of Fine Arts in Houston, among others.
The Robert C. May Lecture Series explores photography's roots in the 19th century and its reinvention in the digital world with lectures and exhibitions by four exciting artists each year. The lecture series is made possible through the Robert C. May Photography Endowment, a museum fund established in 1994 for the support of acquisitions and programs relating to photography. Other photographers coming to Lexington as part of this year's series are Amy Stein and Jerry Spagnoli.
For more information on Julie Blackmon's lecture or on the 2011-2012 Robert C. May Photography Endowment Lecture Series, contact the Art Museum at UK at (859) 257-5176 or visit www.uky.edu/ArtMuseum.
MEDIA CONTACT: Whitney Hale, (859) 257-8716 or whitney.hale@uky.edu