Heat to Rise With UK's 21st Iron Pour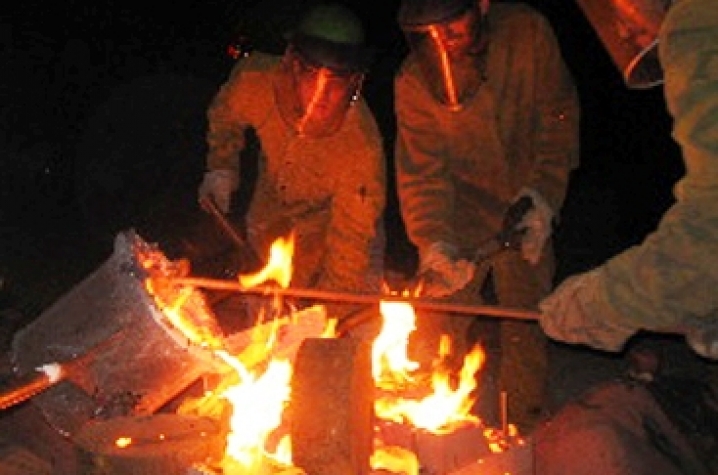 LEXINGTON, Ky. (Oct. 27, 2014) — The heat will rise on campus again this week as the University of Kentucky School for Art and Visual Studies hosts its 21st Iron Pour.
The iron pour, which begins 4 p.m. Saturday, Nov. 1, at the metal arts studio at Reynolds Building Number 2, is the highlight of a week of festivities celebrating the metal arts program at UK. Other festivities scheduled in conjunction with the iron pour are mold-making workshops, two exhibitions featuring work by students and alumni, and a lecture by visiting artists Alison Ouellette-Kirby and Noah Kirby, of Six Mile Sculpture Works in Granite City, Illinois.
Programming showcasing UK's metal arts programs begins with two exhibitions. An iron art exhibition featuring the work of students, faculty and guest artists, will run Oct. 28 through Nov. 1, in the Barnhart Gallery, in Reynolds Building Number 1. Hours for viewing this exhibition vary daily, see UK College of Fine Arts website. The exhibition is free and open the public.
Another exhibition of sculpture, "Garry R. Bibbs featuring 25 years of UK Sculpture Excellence – Past, Present and Future," will be on display at the Lyric Theatre. This exhibit will be available for viewing Oct. 30 through Jan. 15, 2015. An opening reception for the exhibition will be held from 6 to 9 p.m. Thursday, Oct. 30, at the Lyric. The reception will feature guest speakers and alumni Melanie VanHouten of Josephine Parks, Frankfort, Kentucky; Gerry Masse of Sculpture Trails, Solsberry, Indiana; and Isaac Duncan III of Mid-South Sculpture Alliance. Both the exhibit and reception are free and open to the public.
In addition to the exhibitions, visitors are welcome to take a self-guided tour of the Art Museum at UK sculpture garden and student sculptures throughout campus on the UK Sculpture Trail. A map and information on these pieces can be found here: http://finearts.uky.edu/sites/default/files/pictures/linked_files/ip-brochure-web.pdf .
Workshops with the visiting artists will begin Monday, Oct. 27. Bonded sand and ceramic mold-making workshops will run from noon to 6 p.m. daily and 6 to 10 p.m. nightly, Oct. 28–Oct. 31.
Throughout the week the visiting artists will not only present workshops, but also class talks and a free public lecture as part of their residency at UK.
Alison Ouellette-Kirby received her bachelor's degree from the University of Windsor in 1993 and her master's degree from the University of Tennessee in Knoxville in 1996. Her work has been shown throughout North America at such venues as the National Ornamental Metal Museum, the Schmidt Art Center, the Walker Gallery at the University of Nebraska at Kearney, Gallery 130 at the University of Mississippi, Washington University's Medical School of Medicine, the Art Gallery of Windsor and String Gallery in Toronto. She is currently department chair of the art department at St. Charles Community College, and co-director of Six Mile Sculpture Works.
Noah Kirby received his bachelor's degree from the University of Tennessee in 1998 and his master's degree from Washington University in 2000. Noah has worked for Cassily and Cassily Inc. at the City Museum in St. Louis, and runs NK Metalworks in St. Louis. His work has been shown throughout North America at such venues as the National Ornamental Metal Museum, Bradley University, Auburn University, University of Mississippi and String Gallery in Toronto. He currently teaches blacksmithing, fabrication, metal casting, 3-D Design and public art practice for Washington University, and is co-director of Six Mile Sculpture Works.
The Visiting Artists and Scholars Lecture, which is free and open to the public, is scheduled for noon Friday, Oct. 31, at 118 White Hall Classroom Building.
The iron pour takes center stage starting at 4 p.m. Saturday, Nov. 2, in the open air metal arts studio located at Reynolds Building 2, also known as the Metal Arts Building on the UK campus. Individuals attending should enter this event from Scott Street.
Demonstrating the most dramatic part of the metal-casting process, the iron pour attracts a national audience of artists, students and art enthusiasts alike, with past attendees coming from as far as New Mexico to take part in the event.
Many artists turn out for the event to finish pieces of their work. It is $40 to produce a mold measuring up to 100 pounds in sand and 30 pounds in metal. Another $20 covers each additional 100 pounds of sand or 30 pounds of metal. Artists will begin their work at the pour at 10 a.m.
"We host this national caliber event to share the experience of an iron pour so audience members may take the practice and experience back and apply it for themselves in their schools or communities," said Garry Bibbs, associate professor of sculpture.
The iron pour is as exciting for professionals as it is for novices. Art students from other disciplines and art enthusiasts from the community can purchase a scratch block and leave with their own pieces of art. The opportunity allows individuals to test their talents by etching an image in the resin tablets, having graphite applied and processed in the iron pour. Scratch blocks are $20 per 6"x6" block or $15 for students with a valid ID, and $80 per 16"x16" block. Individuals planning to watch the Iron Pour should enter the site from Scott Street.
To find out more about any of the events presented in conjunction UK's 21st Iron Pour, contact Garry Bibbs by phone at 859-257-3719 or email to garry.bibb@uky.edu.
The UK School of Art and Visual Studies, at the UK College of Fine Arts, is an accredited member of the National Association of Schools of Art and Design and offers undergraduate and graduate degrees in the fields of art studio, art history and visual studies and art education.
MEDIA CONTACT: Whitney Hale, 859-257-8716; whitney.hale@uky.edu