Japanese Embroidery World Tour Comes to Kentucky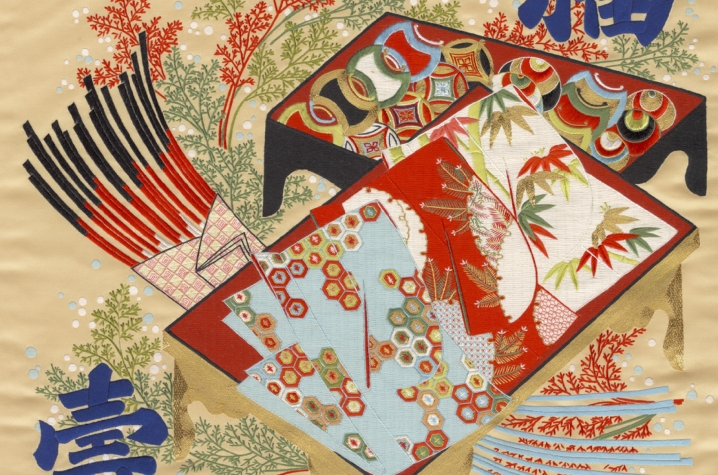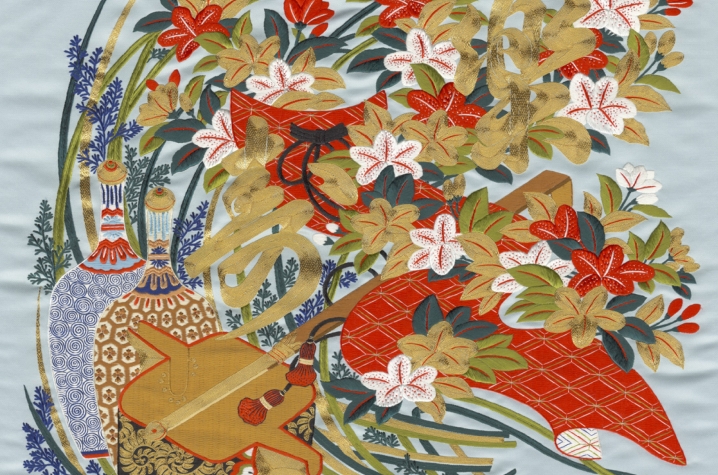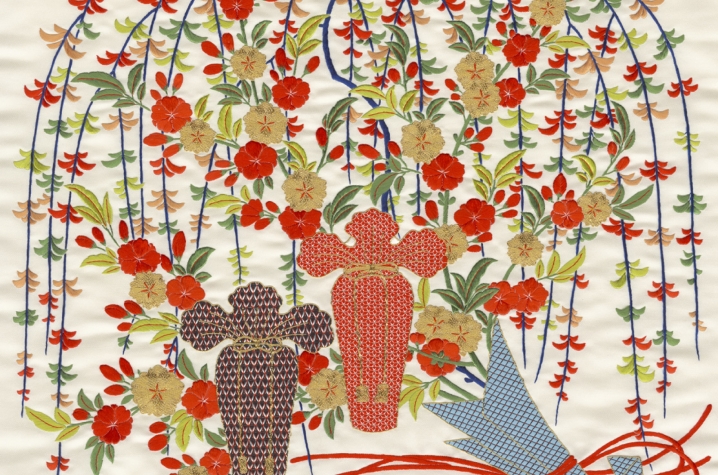 LEXINGTON, Ky. (April 8, 2011) − The Art Museum at the University of Kentucky, in partnership with the UK Asia Center and the UK College of Fine Arts, will welcome a display of Japanese embroidery to Lexington this weekend. Created by Atlanta's Japanese Embroidery Center and Kurenai-kai Ltd. in Japan, "Splendid Silk: Japanese Embroidery" features works by contemporary artists recreating ancient designs. The exhibition, which is dedicated to the people of Japan, will run April 10 to July 3. 
The embroidery exhibition will be ever-changing as works are rotated in and out so that the delicate fabric is not overexposed to light. The pieces showcase ancient traditional designs on scrolls, obi and fukusa (gift covers). A unique feature of the show will be the world debut of a new "fractal" piece comprised of hundreds of embroidered panels created by teachers and students from around the world, which will be assembled and displayed at UK for the first time. To watch a video on the embroidery work being done at the Japanese Embroidery Center, including an interview with UK Costume Technologist Robert Haven, visit YouTube at: www.youtube.com/watch?v=t97lJO8LtjQ. 
In reviving the tradition of Japanese embroidery, Kurenai-kai and the Japanese Embroidery Center teach not only the craft and artistry of embroidery, but also its practice as a meditative and spiritual discipline. It is their hope that the 2011-12 World Exhibition will bring the world together in peace and harmony through Nuido, the Way of Japanese Embroidery. 
"Splendid Silk" features works by more than eleven hundred artists from 16 countries on five continents. Part of a world exhibition scheduled every four years, Lexington will be the only U.S. venue for this tour. After its opening here the exhibition will travel to Australia. 
In conjunction with the exhibition, the collaborative partners have scheduled several events, including:
"The Way of Embroidery Transition from traditional craft to an international art form," a talk by Shuji Tamura, artist and author of "The Techniques of Japanese Embroidery," at 7 p.m. Friday, April 15, at Briggs Theatre, in the UK Fine Arts Building;
"Passport to Japan: Family Day," a free event exploring Japanese culture through art, dance, music and food, 12:30-4:30 p.m. Sunday, April 17, at the Art Museum at UK;
Noh Costuming Demonstration and Performance, 4 p.m. Tuesday, April 19, at the Art Museum at UK;
"Silk Dreams: Kimono-inspired Fashion," a $22 ticketed event with local fashion expert and Bella Rose owner Betty Spain, 6-8 p.m. Thursday, April 28, at the Art Museum at UK;
"Splendid Silk: Art @ Noon," a free lecture by Andrew Maske, assistant professor of art history at UK Department of Art, noon Wednesday, May 4, at the Art Museum at UK;
Noh Costuming Demonstration and Performance, 2 p.m. Sunday, May 15, at the Art Museum at UK;
"Kimono Culture: The Appeal of Apparel in Japan's Floating World Prints," a free lecture by Maske, 2 p.m. Sunday, May 22, at the President's Room, in the Singletary Center for the Arts; and
a traditional Tea Ceremony, 2 p.m. Sunday, May 29, at the Art Museum at UK. 
The UK Department of Theatre is currently presenting a semester of classes with related themes, including embroidery of costumes, traditional forms of Japanese theatre, and hands-on instruction in embroidery. Additional classes will be offered in the first summer session. The Asia Center is also planning related public programs. 
"Splendid Silk" was organized by Kurenai-kai Ltd. and the Japanese Embroidery Center. The Lexington show is made possible by the E. Rhodes and Leona B. Carpenter Foundation, Wells Fargo Advisors LLC and Toyota Motor Manufacturing, Kentucky, Inc. Promotional partners are The Embroiderers' Guild of America, Meridian-Chiles, Insight Communications, FedEx Office, Japan/America Society of Kentucky and Four Roses Bourbon. The exhibition is also supported by the Consulate-General of Japan in Nashville. 
Admission to "Splendid Silk: Japanese Embroidery" is $8 for the general public, $5 for senior citizens, and free for all students and UK faculty, staff and alumni. The exhibition is free to everyone on Friday evenings from 5 to 8 p.m.
MEDIA CONTACT: Whitney Hale, (859) 257-1754 ext. 229; whitney.hale@uky.edu; or Erin Holaday Ziegler, (859) 257-1754 ext. 252; or erin.holaday@uky.edu.