From Morehead to Murray on Display at UK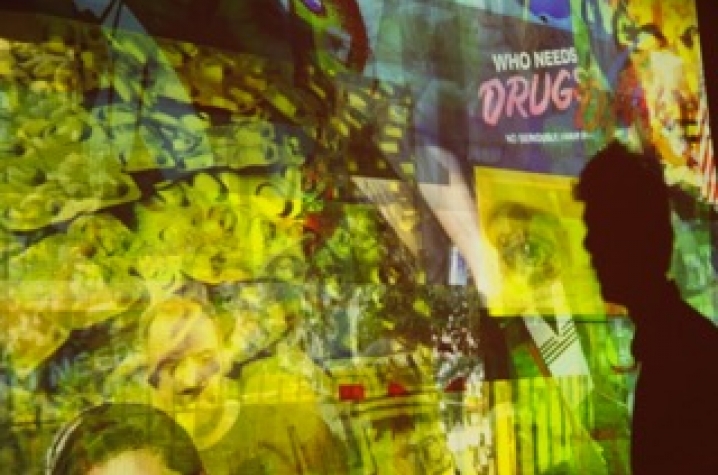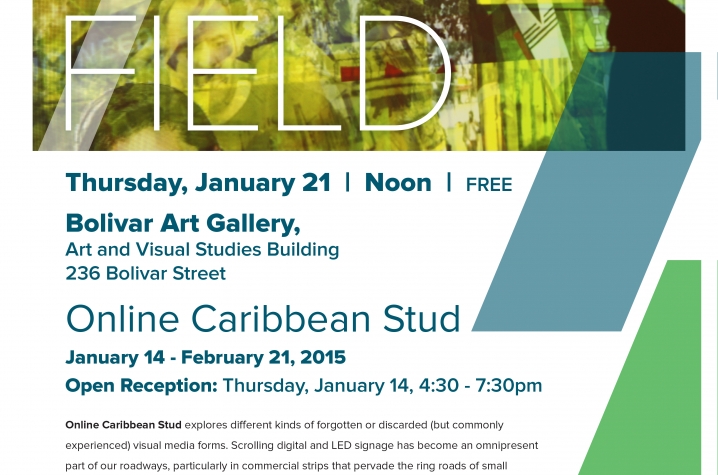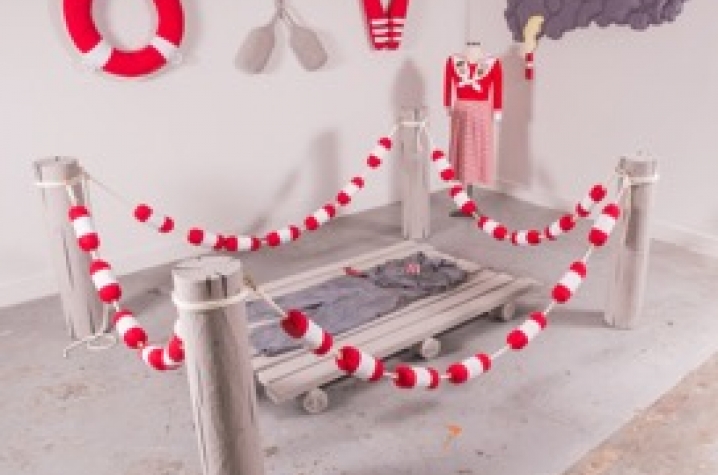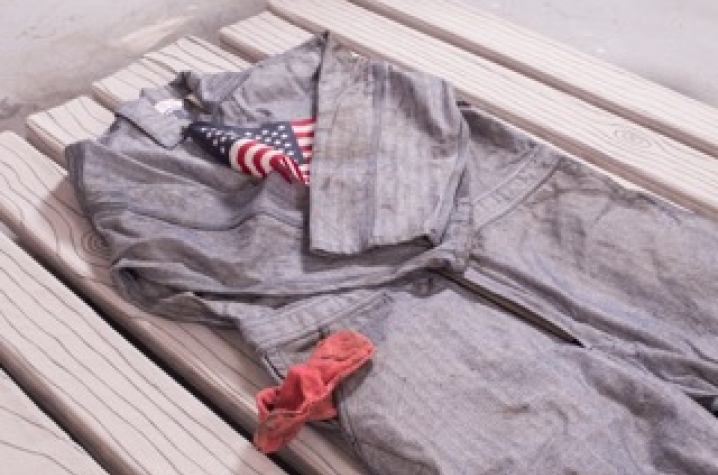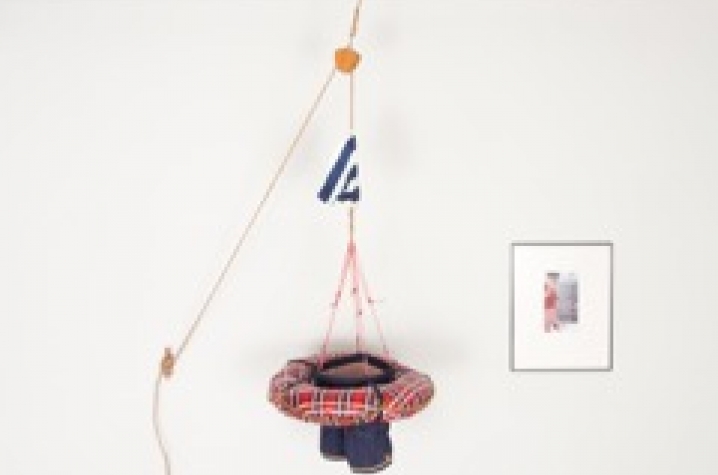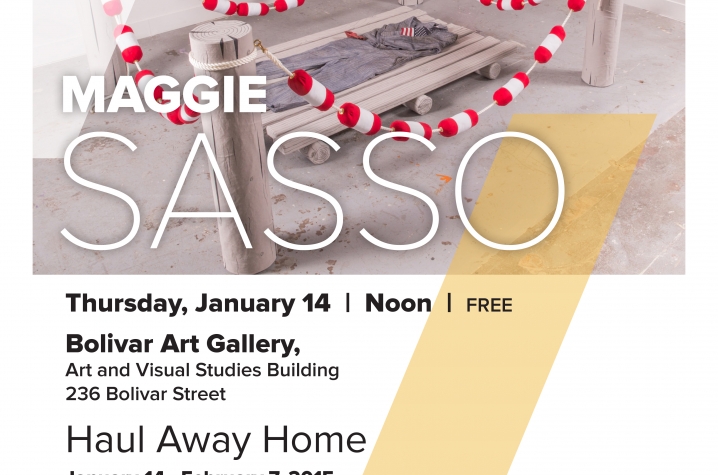 LEXINGTON, Ky. (Jan. 13, 2016) — Two artists with ties to Kentucky universities Morehead State and Murray State open free public exhibitions at the University of Kentucky School of Art and Visual Studies this week. "Online Caribbean Stud," by Christopher Field of Morehead State University, examines lost visual media, while "Haul Away Home," by Murray State University alumna Maggie Sasso, explores the loss of a neighbor. An opening reception will be held for both shows from 4:30-7:30 p.m. Thursday, Jan. 14, at Bolivar Gallery, in the UK Art and Visual Studies Building.
Christopher Field's "Online Caribbean Stud" explores different kinds of forgotten or discarded (but commonly experienced) visual media forms. Scrolling digital and LED signage has become an omnipresent part of our roadways, particularly in commercial strips that pervade the ring roads of small town USA to the point it is likely most drivers tune it out of their visual perception. The autostereogram has a history as a mall-stand artwork, rather than a fine art form. Most anyone with an email account has received spam in one form or another. The works take content from these sources and repurpose it. Removed from their original contexts and translated into different media forms, the content takes on new meaning.
"As a collection of work, I hope what becomes evident is the shared qualities of these phenomena — text and imagery at the edges of our media culture, experienced in unexpected ways. We search for things — for concepts, for keywords, for answers —and the images we encounter become part of our screen memories," Field said. "This process of identification allows more specific study of both the intended and unexpected emotional response to the media that we encounter daily — on the web page, on the road, on the screen, flickering in the darkened rooms of our consciousness." 
Born in Cambridge, Massachusetts, Field uses a wide array of media and artistic approaches. He is particularly interested in how complex ideas can be expressed through visual and immersive media, and the way that media affects people's emotions and perceptions. His work often involves the installation of interactive video, sound and web-based technologies in physical space. Field received a master's degree from the Massachusetts College of Art and Design and a bachelor's degree in media technology and art from Denison University. He is an assistant professor of art and design at Morehead State University.
Through fabricated archives, Maggie Sasso tells personal narratives that function as allegories. She contextualizes objects through documented performance, which serves to collapse the space between prop, artifact and artwork. Her most recent body of work, "Haul Away Home," immortalizes the poetic suicide of a charismatic neighbor whose grease-stained coverall's serve as an unsettling memento mori at the center of the installation. 
Sasso has created numerous conceptual bodies of work that reflect her formal craft education. She received her master's degree from University of Wisconsin - Madison and her bachelor's degree from Murray State University in Murray, Kentucky, where she was born and raised. Sasso is the recipient of a 2015 Mary L. Nohl Fellowship for Individual Emerging Artists. A former visiting artist and teacher at the Oregon College of Art and Craft, she currently teaches at the Milwaukee Institute of Art and Design.
Collaboratively, Sasso has worked on projects like the grant-funded Mobile Museum of Material Culture, which was featured in the documentary "Blink Again," a permanent installation for the Madison Children's Museum, and at collaborative events such as the Emma International Collaboration and the Hawaii Artist Collaboration.
Both "Online Caribbean Stud" and "Haul Away Home" run through Feb. 21, at Bolivar Gallery. In addition to exhibiting at UK, both Field and Sasso will deliver lectures on their work at the UK School of Art and Visual Studies. Sasso's talk will begin noon Thursday, Jan. 14. Field will present his lecture noon Thursday, Jan. 21. Both lectures at Bolivar are free and open to the public.
The UK School of Art and Visual Studies at the UK College of Fine Arts is an accredited member of the National Association of Schools of Art and Design and offers undergraduate and graduate degrees in the fields of art studio, art history and visual studies and art education.
MEDIA CONTACT: Whitney Hale, 859-257-8716; whitney.hale@uky.edu