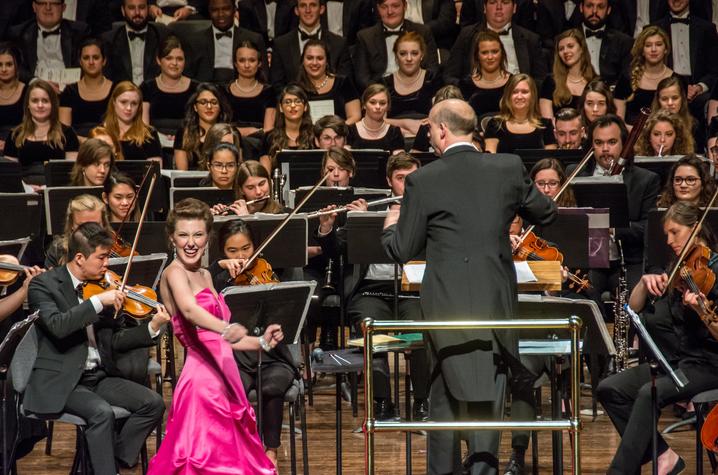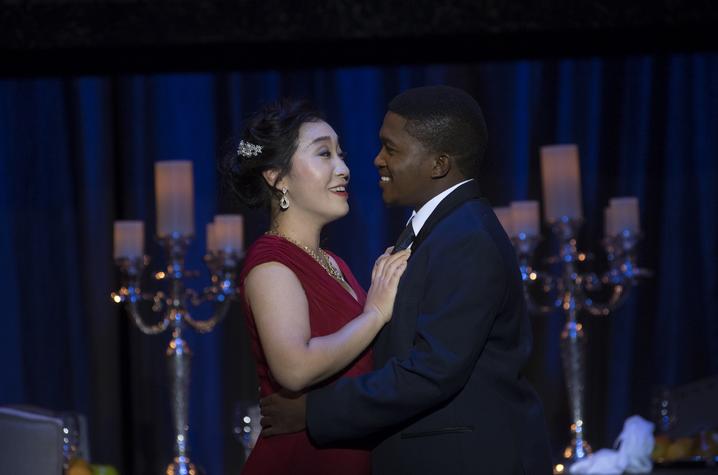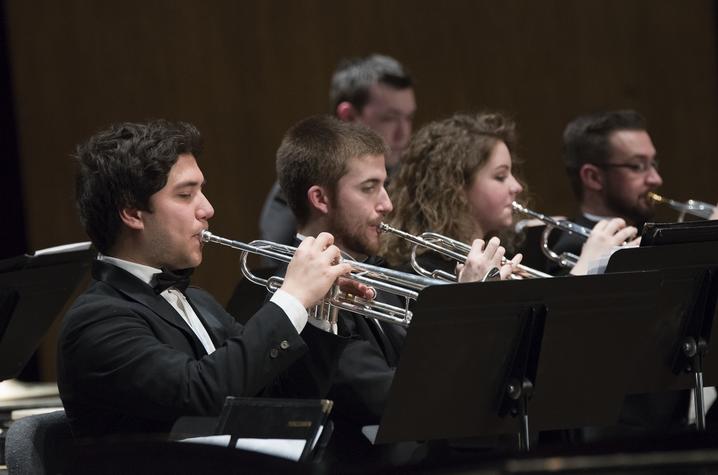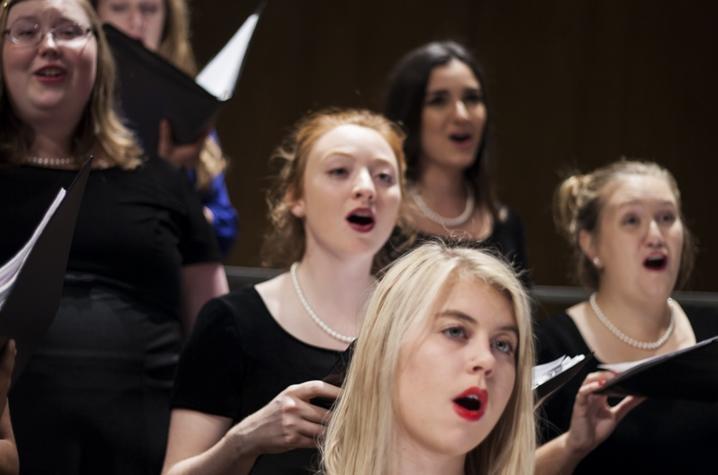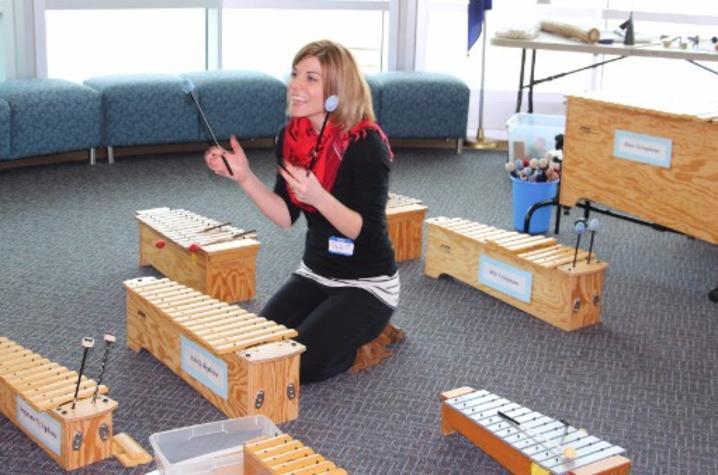 LEXINGTON, Ky. (Sept. 4, 2018) — For a century, University of Kentucky music faculty, staff and students have embraced an ever-changing musical world as an opportunity for personal and professional growth. This year, the UK School of Music is setting the stage for a second century of success.
In honor of the 100th anniversary and the years to come, the school will kick off a year of celebration beginning this week with the School of Music on Parade 7:30 p.m. Friday, Sept. 7, at the Singletary Center for the Arts. The concert will feature a program that will showcase performances by the school's large ensembles, including UK's Chorale, Symphony Orchestra and Wind Symphony; its jazz and opera programs; a cappella favorites Paws and Listen and the acoUstiKats; and members of its distinguished faculty. Tickets for School of Music on Parade are $12 for general admission and $5 for students with fees included. To purchase tickets, contact the Singletary Center ticket office at 859-257-4959, online at www.scfatickets.com or in person at the venue.
Music was thought to fill the campus as early as 1881, but performance groups began to form on campus in 1902 with a Kentucky State College Glee Club and 1903 with Captain George L. Byroade's military band — precursors to today's seven celebrated choral ensembles and the Wildcat Marching Band. It wasn't until 1918, however, that music became a program of study in the Department of Art and Music. That same year, the critically acclaimed UK Symphony Orchestra began its musical journey to becoming the powerhouse program it is today.
In 1922, the first of several facilities was dedicated to the arts with the purchase of a former African American Consolidated Baptist Church and supplementary structures on Winslow and Euclid, which would become home to Romany Theatre, under the direction of UK's Department of English. UK's visual art program moved in three years later. This center was then enlarged with two more buildings to house the Departments of Drama and Music in 1927.
The 1930s and '40s saw great growth in the music program as the university arts departments started offering in-service training to music teachers, completed the first European tour for students, earned accreditation from the National Association of Schools of Music, and conferred the first graduate degrees in music.
In 1950, the Fine Arts Building opened on central campus. The new building was home to the music, theatre and visual arts departments and a new Guignol Theatre. In 1966, UK College of Arts and Sciences grouped the arts programs into the School of Fine Arts and named Hubert Henderson its director. The late '60s-early '70s also saw the creation of several more degrees including doctoral degrees in music teaching and musicology and the MFA (Master of Fine Arts) degree, as well as a name change for the music department to the UK School of Music (as it is known today).
In 1976, the arts programs took center stage at UK with the formation of the College of Fine Arts — a college dedicated to music, theatre and the visual arts, first led by acting dean Herb Drennon. In 1978, J. Robert Willis took over the dean's position, and a year later, UK dedicated a Center for the Arts at the corner of Rose and Euclid, which would be renamed for President Otis A. Singletary in 1986.
To aid in the education and research experience, UK Friends of Music was established in 1991 to raise money for students' and faculty travel needs. Similarly, the College of Fine Arts Dean's Circle was created to help support the mission of students and faculty across the college in 1996. The decade also saw the establishment of UK Opera Theatre and the John Jacob Niles Center for American Music, as well as the college's first endowed chair position, held by celebrated opera singer Gail Robinson.
Since 2000, UK School of Music's celebrated student artists and faculty in opera, choral music, orchestra, jazz, percussion, brass and winds have routinely earned opportunities to demonstrate their talents on national and international stages. In addition, the college faculty has had great success with research in all areas from studies in ethnomusicology to innovative new performance techniques.
This acclaim continues to spur growth in the college. In 2006, the college opened its first living learning (LLP) community on campus in what is now Roselle Hall, and then in 2016 moved the LLP to the new Holmes Hall to offer students with similar interests in the arts a space to live, study and rehearse together with an immersion performance studio with visualization capability for art, music, dance and film/video; solo and ensemble practice rooms; an art studio; and a writing lab. And with the support of William E. And Casiana Schmidt, the Schmidt Vocal Arts Center opened in 2009 to serve UK Opera Theatre and vocal students on campus.
UK School of Music continues to prosper in recent years. In 2011, the school teamed up with UK HealthCare to offer the state's first master's degree in music therapy. And in 2013, UK School of Music and UK Department of Theatre and Dance joined forces to create a musical theatre certificate program.
Today, UK School of Music is internationally recognized for excellence in performance, music education, and research in music and offers Kentucky's most comprehensive array of educational programs devoted to musical arts. Degrees offered include bachelor's and master's degrees in music; music education; music performance in brass, keyboards, percussion, strings, voice and winds; music theory and composition; music therapy; and musicology and ethnomusicology.
Hear the beautiful music UK is making for yourself, check out one of the 200+ recitals, workshops, masterclasses, lectures, operas and concerts scheduled for the 2018-19 season. Here are just a few highlights:  
School of Music at 100 Halftime Show, time to be determined, Sept. 29, at Kroger Field;
UK Men's Chorus with Cantus, 7:30 p.m., Oct. 5;
UK Opera Theatre presents "Silent Night," Nov. 9-11;
UK Sax Summit with Derek Brown and Jeff Coffin, 7:30 p.m., Nov. 14;
"Collage: A Holiday Spectacular" presented by UK Choirs, Dec. 1-2;
UK Opera Theatre presents "Madama Butterfly," March 1-3;
UK Symphony Orchestra and UK Chorale present "Amadeus Live!", April 26-27; and
UK Wind Symphony and the UK Symphony Orchestra, 8 p.m., May 29, Carnegie Hall, New York City.
Find the full calendar for the UK School of Music offerings here: https://finearts.uky.edu/music/calendar.
We'll see you at Singletary, Kroger Field, or maybe, Carnegie Hall!
UK is the University for Kentucky. At UK, we are educating more students, treating more patients with complex illnesses and conducting more research and service than at any time in our 150-year history. To read more about the UK story and how you can support continued investment in your university and the Commonwealth, go to: uky.edu/uk4ky. #uk4ky #seeblue