Exhibitions at UK Art Museum Bear 'Witness' to Range of Emotions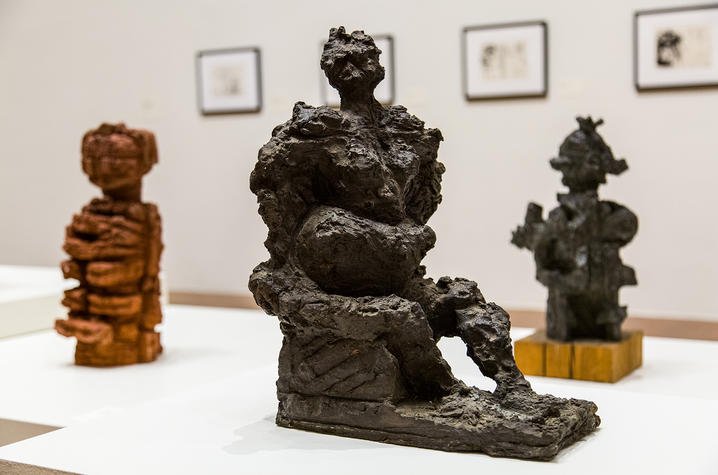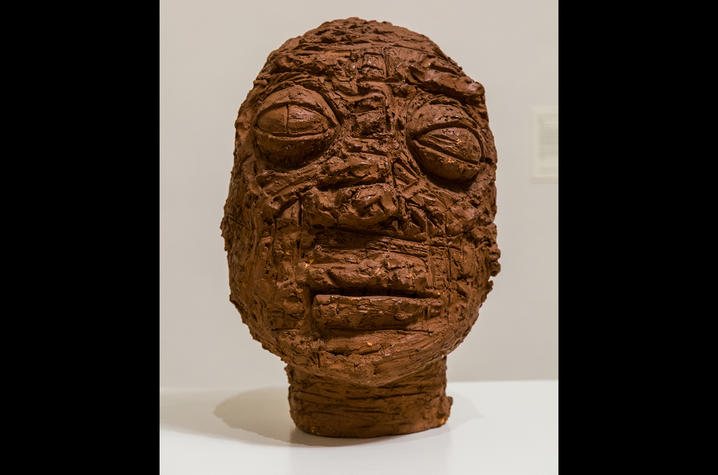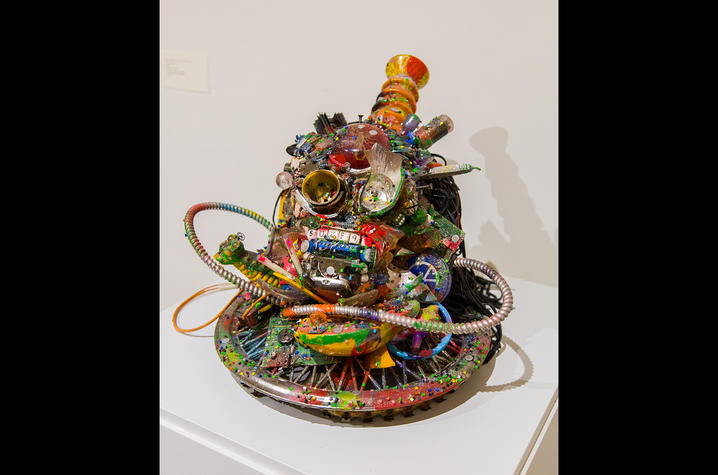 LEXINGTON, Ky. (May 24, 2018) — Two new exhibitions at the University of Kentucky Art Museum explore aspects of the human form, drawing on sources that are historical, political, literary and cultural. "REUBEN KADISH: Witness" and "Frankensteinian" will be on display through July 22.
Both free public exhibitions are curated by Stuart Horodner, director of the museum.  "Reuben Kadish's work bristles with the anxiety and intelligence that characterizes much of the best art made in the mid- to late-20th century" Horodner said. "This survey, 'Witness,' is his first solo museum exhibit since 2004, bringing together examples of his sculpture, drawing and printmaking. It reveals a significant body of representational works that can be exuberant, tragic, mournful and honorific."
The accompanying exhibition, "Frankensteinian," celebrates the 200th anniversary of the Mary Shelley novel, combining a range of historical and contemporary artworks, as well as anatomical models, scientific equipment and literary documents loaned by UK Libraries Special Collections Research Center and the Monroe Moosnick Medical and Science Museum at Transylvania University.
Reuben Kadish (1913–1992) is an American artist whose provocative sculptures, drawings and prints are infused with a deep sense of world culture and personal passion. As a young man, his education and travel brought him into contact with some of the 20th century's most influential artists, including Philip Guston, Jackson Pollock and David Alfaro Siqueiros; and he assisted in the printing of editions for several European surrealists at Stanley William Hayter's infamous Atelier 17 in Greenwich Village. This rich history was a blessing and a curse as Kadish tends to be recognized as a footnote in the careers of others rather than for his own creative achievements.
Kadish exhibited regularly during his lifetime, but there has been little public display or new scholarship regarding his work since his death. Brought together under the title "Witness," this survey presents a range of the artist's terra cotta and bronze sculptures in three distinct scales, as well as drawings and monoprints from select decades. They reveal an energetic expressionism and empathy that the artist brought to each medium he used.
His modest palm-sized figures display both human and animal parts, along with shields, swords, and other elements of aggression or protection. Larger torsos of standing or reclining women reference the "Venus of Willendorf" and other "earth mother" identities, each possessing a ravaged voluptuousness. Kadish presents these bodies as self-aware monuments to power and persistence, with hips, breasts, bellies and heads arranged in dramatic symmetries.
In the mid-1980s, coinciding with the 40th anniversary of the bombing of Hiroshima and Nagasaki, Kadish created several large heads that serve as witnesses to, or survivors of, great personal or societal tragedy. Their eyes are often swollen and closed, as if the sights they've seen are too horrific to bear. These works share qualities with Easter Island figures, the early sculpture of Jean Dubuffet, and Philip Guston's late self-portraits. Works on paper made in Burma and India between 1943 and 1944 reveal homeless and starving victims of war, often shown in fetal positions.
Drawings and prints from the 1960s and 1980s offer hybrid beings that combine spines, skulls, birds and snakes. They animate spare landscapes with playful and anxious energy.
Kadish's confrontational and commemorative art surely speaks to events of the past, but might be even more relevant as indicators of our unpredictable and often painful present.
Judd Tully, Regina Cherry and The Reuben Kadish Art Foundation helped organize this exhibition.
This year is the 200th anniversary of Mary Wollstonecraft Shelley's novel "Frankenstein; or, The Modern Prometheus," written when she was 19 years old. Since it was first published in 1818, the Gothic tale of Victor Frankenstein and the grotesque creature he makes has been adapted into numerous forms of popular entertainment and has been used to prompt discussions of ethics, science, law, religion and art. For example: are potentially harmful experiments justified if they produce new knowledge? Are parents responsible for the acts of their children?
"Frankensteinian" presents a range of contemporary and historical artworks, literary documents, anatomical models and scientific equipment that refer to aspects of the novel, from the "workshop of filthy creation" with its tools and tables, to the accumulated body parts that are stitched together to make a man who seeks understanding and love.
Featured works in "Frankenstinian" include:
UK School of Art and Visual Studies senior lecturer Brandon C. Smith's sculpture "Failing," (2016) a papier-mache and acrylic paint construction that occupies the space between the wall and floor. Startling in its crudeness and coloration (painted in dirty pinks, cream and grays), this large bulbous form conjures a diseased organ or tumor.
Alumna Georgia Henkel's mixed media installation "Love Letter from a Dark Tourist" (2018), which was created for the exhibition and incorporates many significant personal objects from the artist's collection, shows a giant ponderous figure sitting in the corner of the gallery, surrounded by his/her things — bones, wood, clothing, books, doll, etc.
The UK Art Museum, located in the Singletary Center for the Arts at Rose Street and Euclid Avenue, is open 10 a.m. to 5 p.m. Tuesday through Thursday, 10 a.m. to 8 p.m. on Friday, and noon to 5 p.m. Saturday and Sunday. Admission is free but donations are encouraged. For more information on membership, contact Lyndi VanDeursen at 859-257-8164 or lyndi.vandeursen@uky.edu.
The mission of the UK Art Museum, part of the UK College of Fine Arts, is to promote the understanding and appreciation of art to enhance the quality of life for people of Kentucky through collecting, exhibiting, preserving and interpreting outstanding works of visual art from all cultures. Home to a collection of more than 4,800 objects including American and European paintings, drawings, photographs, prints and sculpture, the museum presents both special exhibitions and shows of work from its permanent collection.