Guitarist Dieter Hennings Awarded New Music USA Grant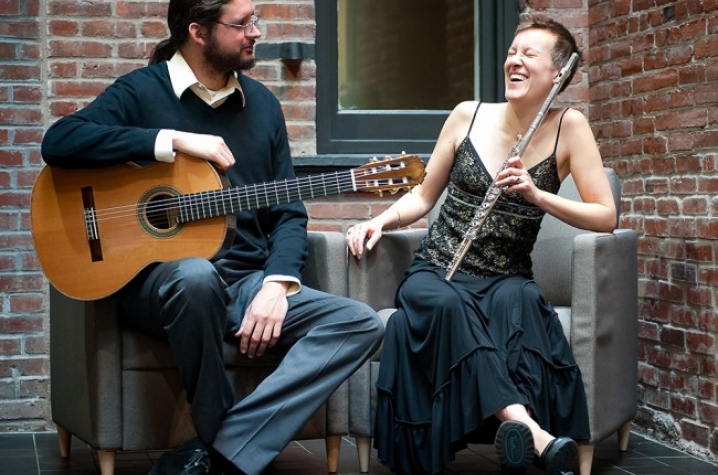 LEXINGTON, Ky. (Feb. 2, 2015) — Dieter Hennings, assistant professor of guitar in the University of Kentucky School of Music, has received one of 62 project grant awards from New Music USA. Hennings received support from New Music USA for Duo Damiana's debut recording, "Adventurous Repertoire for Flute and Guitar," in collaboration with flutist Molly Barth.
Hennings has been an assistant professor of music at UK since August 2009. He curates the UK International Guitar Series, which has brought some of the world's finest guitarists to Lexington. Hennings has also performed as a solo artist in concerts all across the world and has won first prize awards in several prestigious competitions. Some highlights of Hennings' 2014-2015 season include invitations to perform with the Oberlin New Music Ensemble, a performance of Claudio Monteverdi's Vespers of 1610 at the Cincinnati Conservatory, a concert for the series "Guitarromania" in Agen, France, and performances with Duo Damiana at Oberlin College, Indiana State University, DePauw University, Baldin Wallace University, Vanderbilt University and many more.
Awards for New Music USA's third round of project grants total $284,250 and support artistic work involving a wide range of new American music. The program recognizes and supports the multiple roles composers and contemporary music practitioners play in the artistic landscape and responds to the creative spirit of collaboration between artists from multiple disciplines. The 62 awarded projects include concerts and recordings as well as dance, film, theater, opera and more. All projects include contemporary music as an essential element.
Duo Damiana is focused on broadening the cutting-edge body of repertoire for flute and guitar. Composers featured in their repertoire include Chen Yi, David Lang, Hebert Vazquez, Ricardo Zohn-Muldoon, Shafer Mahoney, Jean-Michel Damase, Michael Fiday and Toru Takemitsu. Future plans for the duo include commissions and performances of works by Jesse Jones, Luca Cori, Marc Satterwhite and Scott Perkins.
In summer 2014, Duo Damiana mentored 97 young composers and numerous performers at the Oregon Bach Festival Composers Symposium and performed at the National Flute Association Convention in Chicago, Illinois. The 2014-15 season includes tours through Kentucky, Ohio, Tennessee, Indiana, Illinois and Nevada. Past tours have taken Duo Damiana throughout the Midwest and the Pacific Northwest regions of the United States.
In response to feedback from artists who were surveyed last summer following the two inaugural rounds of the program, the third round grants included a special focus on requests of $3,000 and below. Approximately 65 percent of grants awarded were in this category.
Including the awards already announced, New Music USA's project grants program has now distributed $932,250 in support of 179 projects since its launch in October 2013. Of the new project grant awardees, 74 are first-time recipients of grants from New Music USA.
Awarded projects from all three rounds can be discovered, explored and followed at New Music USA's gallery of projects, which provides artists the ability to update their progress and interact with followers is an important promotional tool that extends the program's service to artists beyond financial support. The overarching goal of project grants is to reach and aggregate the communities of new music enthusiasts, irrespective of genre preferences, and allow the public to discover new artistic work.
Ed Harsh, president and CEO of New Music USA, said, "We want to give artists money, but we want to give artists more than money. We want to give them a way to spread the experience of their work to a wide world of people eager to engage with it."
New Music USA formed in November 2011 from the merger of the American Music Center and Meet the Composer with a mandate to increase the audience for new American music. In doing so, five of the legacy organizations' grant making programs were consolidated based on two core convictions. First, that the best way to serve new music is to ask practitioners what they need rather than tell them what they should want. Second, that the process for requesting financial support should be simple and should help artists and audiences connect.
New Music USA advocates fostering the creation, dissemination and enjoyment of new American music through its magazine NewMusicBox and radio station Counterstream as well as in New Music USA's grant making, which distributes more than $1 million each year to the field.
The UK School of Music at UK College of Fine Arts has garnered a national reputation for high-caliber education in opera, choral and instrumental music performance, as well as music education, composition, and theory and music history.