UK Orchestra Brings Berlin Phil's Walter Seyfarth to Bluegrass for Breeders' Cup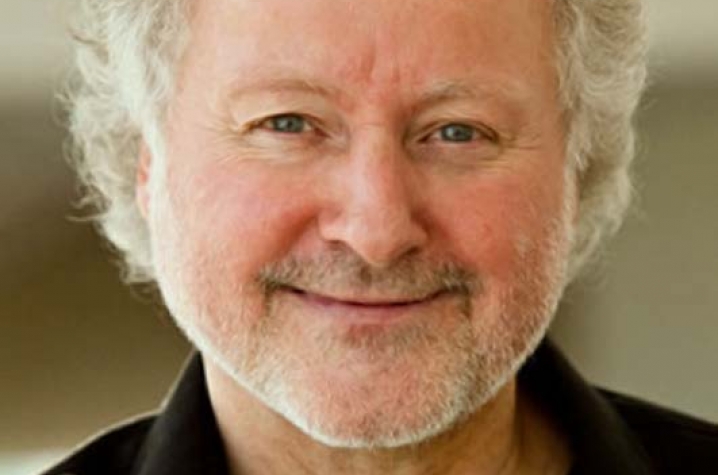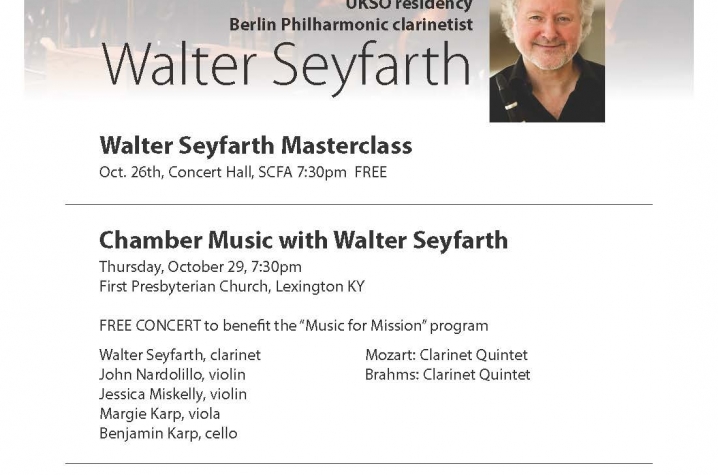 LEXINGTON, Ky. (Oct. 29, 2015) — In celebration of the Breeders' Cup coming to Lexington, Berlin Philharmonic clarinetist Walter Seyfarth will join musicians from the University of Kentucky Symphony Orchestra and UK School of Music for two concerts this week.
As part of his residency at the School of Music, Seyfarth will perform in a chamber music concert tonight. The concert program will include Wolfgang Amadeus Mozart's Clarinet Quintet and Johannes Brahms' Clarinet Quintet. The featured string quintet will include: Walter Seyfarth, on clarinet; UK Symphony Orchestra Conductor John Nardolillo, on violin; Margie Karp, violin and viola lecturer, on viola; Benjamin Karp, violoncello professor, on cello; and doctoral student Jessica Miskelly, of Baltimore, Maryland, on violin.
The following evening UK's entire symphony will join Seyfarth center stage for the Breeders' Cup Concert, which will feature Mozart's Overture to "The Magic Flute," Mozart's Clarinet Concerto and Jean Sibelius' Symphony No. 2.
UK Symphony Orchestra's Breeders' Cup Concert will begin 7:30 p.m. Friday, Oct. 30, at the Singletary Center for the Arts. The concert is free and open to the public.
Seyfarth is native of Düsseldorf, Germany. At the age of 16, he was a first prize winner in the Deutscher Tonkünstlerverband competition. Following studies at the University of Music in Freiburg under Peter Rieckhoff and with Karl Leister at the Berlin Philharmonic Orchestra Academy, he was appointed to the Saarbrücken Radio Symphony Orchestra in 1975. In 1985, Seyfarth joined the Berlin Philharmonic Orchestra as solo E flat clarinetist.
Founder of the Berlin Philharmonic Wind Quintet, Seyfarth is also a member of the larger ensemble, The Winds of the Berlin Philharmonic. Among his teaching and mentoring responsibilities are appointments with the Berlin Philharmonic Orchestra Academy, the Jeunesse Musicales World Orchestra and the National System of Youth and Children's Orchestras of Venezuela.
Seyfarth worked in the last 30 Years with the world's leading conductors, including Herbert von Karajan, Leonhard Bernstein, Lorin Maazel, Daniel Barenboim, Claudio Abbado and Sir Simon Rattle. His chamber music partners behind the Berlin Philharmonic Wind Quintet are Katja and Marielle Labeque, Daishin Kashimoto, and Stephen Hough, among others. Since 2012, he has performed as a soloist for the new Music Festival in Trancoso (Brazil).
Since Nardolillo took the conductor's podium of the UK Symphony Orchestra, it has enjoyed great success accumulating recording credits and sharing the stage with such acclaimed international artists as Itzhak Perlman, Lynn Harrell, Marvin Hamlisch, as well the Boston Pops. In addition to its own concerts, UK Symphony Orchestra provides accompaniment for much of the UK Opera Theatre season. UK's orchestra is one of a very select group of university orchestras under contract with Naxos, the world's largest classical recording label.
The UK School of Music at UK College of Fine Arts has garnered a national reputation for high-caliber education in opera, choral and instrumental music performance, as well as music education, composition, and theory and music history.
MEDIA CONTACT: Whitney Hale, 859-257-8716; whitney.hale@uky.edu