Rock Out as an Educator With Modern Band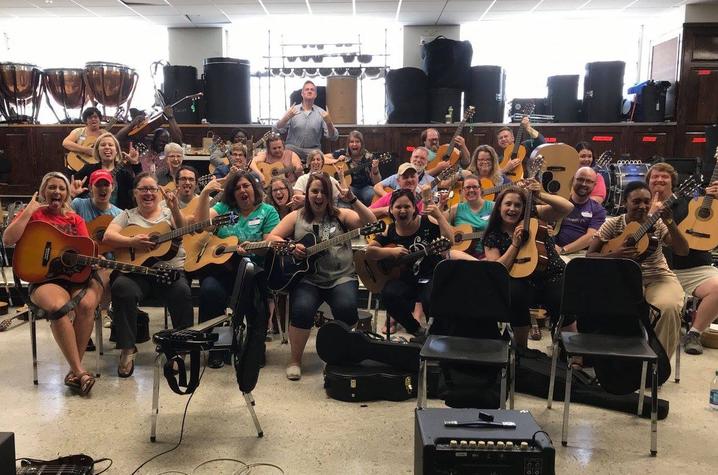 LEXINGTON, Ky. (May 15, 2019) — Educators, therapists, music leaders — here's your chance to be in the band. University of Kentucky School of Music will present a Modern Band Workshop that teaches methods to get children to perform the music they know and love, and to compose and improvise. The workshop will run June 8-9.
Modern Band is a new kind of school music program invented by Little Kids Rock, a national nonprofit organization that partners with public school districts to provide classrooms with musical instruments and resources. 
This continuing music education training is useful for music teachers, arts administrators, music therapists, superintendents, principals, community music leaders and music students.
"I see Modern Band as a way to complement our current K–12 music education system, not replace it," said UK Assistant Professor of Music Education Martina Vasil, organizer of the workshop. "By bringing in music that students prefer and using informal pedagogy, I believe that we can get more students involved in school music programs."
Participants can attend Modern Band one or two days June 8-9, in Room 22 of the Fine Arts Building, located at 465 Rose St. The first day of the workshop costs $25, both days cost $40. Attendance on just the second day is not permitted unless participants have had prior Modern Band training.
Registration for Modern Band runs to May 25. Register online at: https://finearts.uky.edu/music/education/summer-training/registration. Housing is available for attendants traveling farther distances.
Currently celebrating its 100th anniversary, the School of Music in the UK College of Fine Arts has garnered national recognition for high-caliber education in opera, choral and instrumental music performance, as well as music education, music therapy, composition, theory and music history.