UK Art Museum Celebrates 'Inspired' Leader, Arts Advocate Jim Gray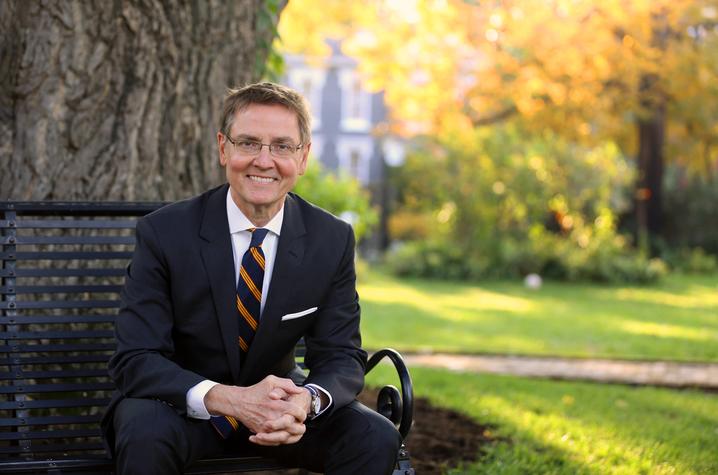 LEXINGTON, Ky. (May 14, 2019) — For the last eight years, Lexington's growth as one of the nation's most successful university cities can be directly connected to the leadership of former mayor Jim Gray.
University of Kentucky Art Museum invites the Bluegrass to come together in celebration of the noted businessman, education advocate and arts and culture champion at An Inspired Evening of fabulous food and drink, special performances, and wonderful art 7 to 10 p.m. Friday, May 17, in the museum's galleries.
"The Art Museum has always considered Jim Gray one of its biggest advocates," said UK Art Museum Director Stuart Horodner. "He has been a generous lender and donor, and a critical ally in our support of local artists. Jim sees the arts as a bridge connecting Lexington to itself and the rest of the world, and that aligns perfectly with our vision. We look forward to the opportunity to celebrate Jim and everything he has done for our community."
In a political climate where the arts and humanities were often left out of the conversation, Gray chose to make the arts and culture sector central to his efforts in areas of job creation, urban growth and efficient government. Beginning in his days campaigning, he maintained that thriving economies went hand-in-hand with vibrant arts communities.
Pledging to not consider art an "extra," Gray not only championed the re-envisioned arts and entertainment district proposed around Rupp Arena and the Lexington Convention Center, but also created a dedicated funding source for large public art projects and pushed through the reorganization of a commission tasked with developing a public art master plan.
Naturally, Gray has been a valued patron and supporter of the museum.
"When quality of life is the key driver for economic vitality in a city, having a powerful venue for visual arts is essential." Gray said. "That's why the UK Art Museum and Lexington's future are so closely linked, perhaps now more than ever. I celebrate their free admission policy that allows anyone to see a wonderful art collection and varied exhibits, and to participate in educational programs."
Gray's passion for the arts has included stout advocacy of the arts and humanities community at UK. He and his family's company, Gray Construction, have been friends to the university, College of Fine Arts and the Art Museum for more than 30 years. He has loaned works to exhibitions from his own collection and made gifts of art to the museum's permanent collection. Also, through UK's Gaines Center for the Humanities, Gray has supported an annual trip for Gaines Fellows to visit museums and special exhibitions in New York to enhance their appreciation of the arts.
An Inspired Evening honoring Jim Gray will include hors d'oeuvres by Ouita Michel and Holly Hill Events, music by Lee J. Bryant and entertainment by Richard Darshwood. Tickets are $80 ($58 of the ticket price is tax deductible) and can be purchased at: https://finearts.uky.edu/art-museum/ticketing.
An Inspired Evening, the museum's annual fundraising soiree, is an unforgettable night that recognizes individuals who make a significant contribution to the art and culture of the Commonwealth. Proceeds from An Inspired Evening support UK Art Museum's ambitious exhibitions, public programs and free admission throughout the year.
The mission of the UK Art Museum, part of the UK College of Fine Arts, is to promote the understanding and appreciation of art to enhance the quality of life for people of Kentucky through collecting, exhibiting, preserving and interpreting outstanding works of visual art from all cultures. Home to a collection of more than 4,800 objects including American and European paintings, drawings, photographs, prints and sculpture, the museum presents both special exhibitions and shows of work from its permanent collection.