UK Art Museum to Host Screening, Discussion Celebrating 200th Anniversary of 'Frankenstein'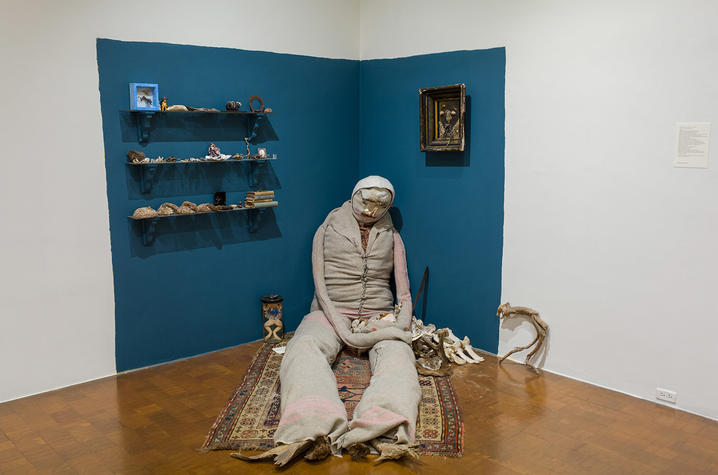 LEXINGTON, Ky. (July 23, 2018) — Join University of Kentucky Art Museum Director Stuart Horodner for a video screening of various "Frankenstein" film sequences and a discussion of the Mary Shelley novel as a creative cautionary tale in celebration of the book's 200th anniversary. The free public screening will begin 6:30 p.m. Friday, July 27, in the UK Art Museum.
The screening is presented in conjunction with UK Art Museum's "Frankensteinian" exhibition, open through July 29. The exhibit celebrates the milestone anniversary of Mary Wollstonecraft Shelley's novel "Frankenstein; or, The Modern Prometheus," written when she was 19 years old.
Since it was first published in 1818, the Gothic tale of Victor Frankenstein and the grotesque creature he makes has been adapted into numerous forms of popular entertainment and has been used to prompt discussions of ethics, science, law, religion and art. For example: are potentially harmful experiments justified if they produce new knowledge? Are parents responsible for the acts of their children?
"Frankensteinian" presents a range of contemporary and historical artworks, literary documents, anatomical models and scientific equipment that refer to aspects of the novel, from the "workshop of filthy creation" with its tools and tables, to the accumulated body parts that are stitched together to make a man who seeks understanding and love.
Featured works in "Frankenstinian" include:
UK School of Art and Visual Studies senior lecturer Brandon C. Smith's sculpture "Failing," a papier-mache and acrylic paint construction that occupies the space between the wall and floor. Startling in its crudeness and coloration (painted in dirty pinks, cream and grays), this large bulbous form conjures a diseased organ or tumor.
Alumna Georgia Henkel's mixed media installation "Love Letter from a Dark Tourist," which was created for the exhibition and incorporates many significant personal objects from the artist's collection, shows a giant ponderous figure sitting in the corner of the gallery, surrounded by his/her things — bones, wood, clothing, books, doll, etc.
In addition to "Frankensteinian," UK Art Museum is currently exhibiting "Reuben Kadish: Witness" through July 29.
"Reuben Kadish's work bristles with the anxiety and intelligence that characterizes much of the best art made in the mid- to late-20th century" Horodner said. "This survey, 'Witness,' is his first solo museum exhibit since 2004, bringing together examples of his sculpture, drawing and printmaking. It reveals a significant body of representational works that can be exuberant, tragic, mournful and honorific."
Both exhibitions are free and open to the public.
The UK Art Museum, located in the Singletary Center for the Arts at Rose Street and Euclid Avenue, is open 10 a.m. to 5 p.m. Tuesday through Thursday, 10 a.m. to 8 p.m. on Friday, and noon to 5 p.m. Saturday and Sunday. Admission is free but donations are encouraged. For more information on membership, contact Lyndi VanDeursen at 859-257-8164 or lyndi.vandeursen@uky.edu.
The mission of the UK Art Museum, part of the UK College of Fine Arts, is to promote the understanding and appreciation of art to enhance the quality of life for people of Kentucky through collecting, exhibiting, preserving and interpreting outstanding works of visual art from all cultures. Home to a collection of more than 4,800 objects including American and European paintings, drawings, photographs, prints and sculpture, the museum presents both special exhibitions and shows of work from its permanent collection. 
UK is the University for Kentucky. At UK, we are educating more students, treating more patients with complex illnesses and conducting more research and service than at any time in our 150-year history. To read more about the UK story and how you can support continued investment in your university and the Commonwealth, go to: uky.edu/uk4ky. #uk4ky #seeblue