UK Dance to Present 'Louder Than Words'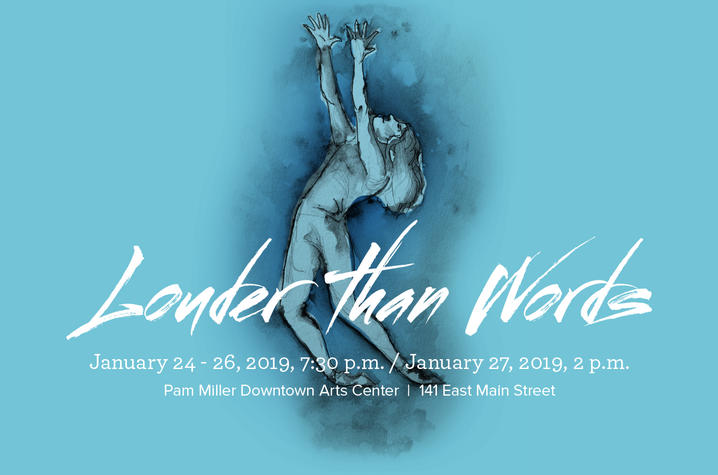 LEXINGTON, Ky. (Jan. 14, 2019) — University of Kentucky Department of Theatre and Dance students will take to the stage later this month for the program's eighth annual dance concert, "Louder Than Words," Jan. 24-27, at the Pam Miller Downtown Arts Center.
"Louder Than Words" includes performances by eight UK dance majors and minors from the department presenting choreography that will provoke discussions on complex issues from immigration to marriage equality.
Performances will include work from Artist-in-Residence Christopher Morgan, of Dance Place, in Washington, D.C., and director of the company CKM&A; Stephanie Harris, a member of the Pine Mountain Artist Collective; Anthony Alterio, UK dance lecturer; Theresa Bautista, UK dance instructor and founder of Moving Collective in Louisville, Kentucky; and Susie Thiel, director of the UK Dance Program.
"Louder Than Words" will command the stage 7:30 p.m. Thursday, Friday and Saturday, Jan. 24.-26, and 2 p.m. Sunday, Jan. 27. Tickets are $15 for general admission and $10 for students with a valid student ID. Processing fees will be applied to the ticket purchase. Tickets can be purchased through the Pam Miller Downtown Arts Center at 859-425-2550 or online at www.LexingtonKY.gov/DAC.
The Department of Theatre and Dance at UK College of Fine Arts has played an active role in the performance scene in Central Kentucky for more than 100 years. Students in the program get hands-on training and one-on-one mentorship from the renowned professional theatre faculty. The liberal arts focus of their bachelor's degree program is coupled with ongoing career counseling to ensure a successful transition from campus to professional life.