UK Exhibit Explores Kentucky Artist's Radical Perspective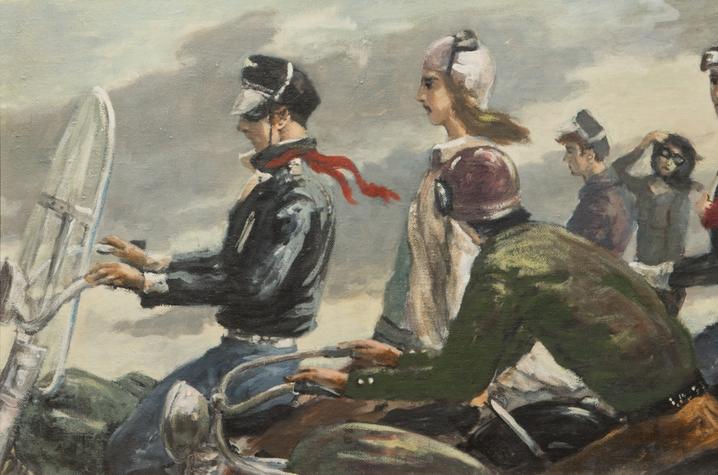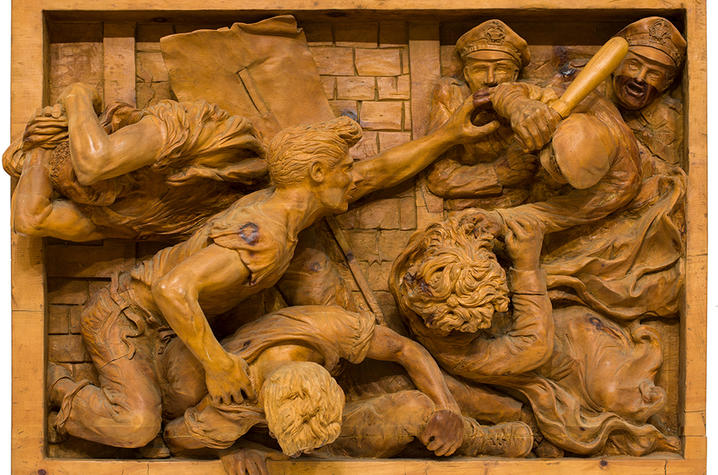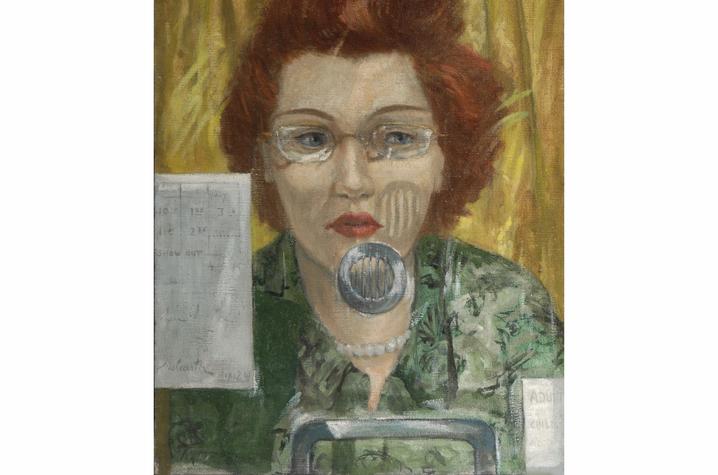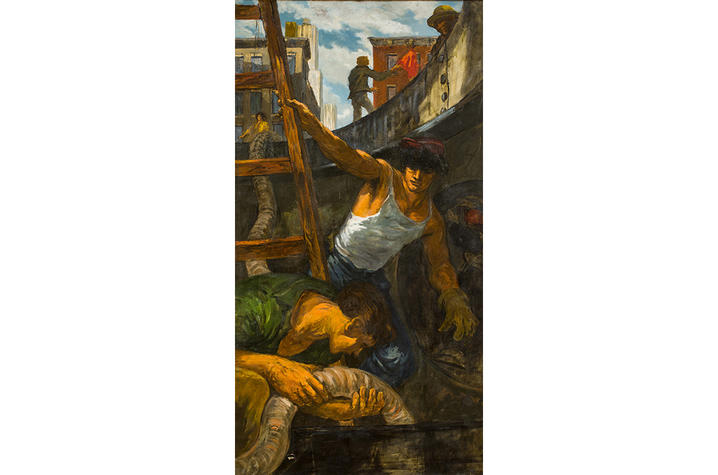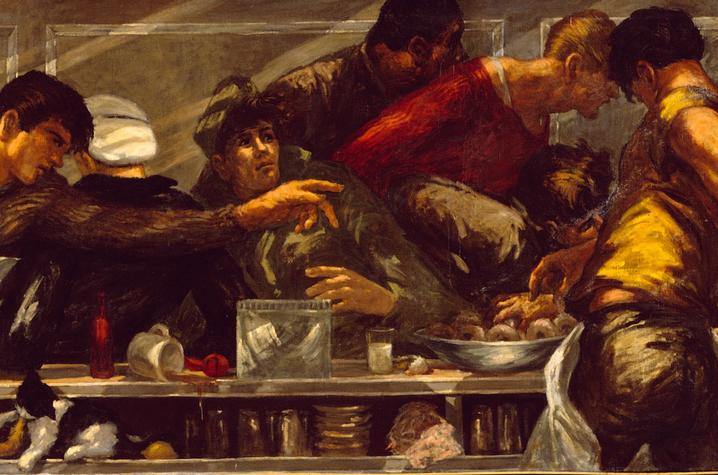 LEXINGTON, Ky. (Jan. 11, 2018) — The work of Edward Melcarth is getting a homecoming of sorts thanks to University of Kentucky Art Museum. "Edward Melcarth: Points of View" is a survey of paintings, drawings and sculpture by the Louisville-born modern artist known for his use of Old Master painting and sculpting methods to explore representations of masculinity and desire. Running Jan. 13-April 8, "Points of View" is free and open to the public.
"Points of View" looks at Melcarth's subject matter and his focus on aspects of religion, portraiture, drug use and the American scene. In both small and large works, the artist offers dramatic compositions, positioning bodies as interlocking elements or seen from unique perspectives. Images of men dominate the exhibition, and Melcarth revels in depicting young bodies performing tasks of physical labor and leisure, or animating scenes of group aggression. He takes obvious pleasure in transforming religious and mythological narratives for his own purposes. Additional works on view offer tender portraits and energetic scenes of American life.
Director Stuart Horodner said about the exhibition, "We have to thank Dr. Jonathan Coleman of the Faulkner-Morgan Pagan Babies Archive for bringing Melcarth's art to our attention. Once we saw images of his work, we knew we had to quickly curate an exhibition that would reveal him as a uniquely modern artist using Old Master techniques in radical ways. His exploration of queer identity, desire, addiction and violence are so relevant to the context of Kentucky and America today."
Melcarth (1914-1973), who left Kentucky to pursue his personal interests and career, studied at Harvard University and Stanley Hayter's Atelier 17 in Paris, a notable print studio where European modernists gathered and produced limited editions. His friends and patrons included the Guggenheims — he designed Peggy's famous bat wing sunglasses — Gore Vidal and Tennessee Williams. He taught at Parsons School of Design, Columbia University, the University of Washington, the University of Louisville and the Art Students League. His works are in the permanent collections of the Whitney Museum of American Art; the Museum of Fine Arts, Boston; the Art Institute of Chicago; the Detroit Institute of Arts; the Kinsey Institute; and the Forbes Collection.
The Melcarth exhibition "Points of View" would not be possible without generous loans from the Forbes family, and the efforts of Bonnie Kirschstein and Elizabeth Marwell.
As part of the Melcarth show, UK Art Museum will present several talks and tours during the exhibition's run as well as an opening reception and a discussion on LGBTQ histories and archives. The opening reception will run 5:30-7:30 p.m. Thursday, Jan. 18. At the free reception, the public is invited to peruse the new exhibition and enjoy food, drink and conversation with fellow art lovers.
In March, the panel discussion on LQBTQ histories and archives will present an intergenerational dialogue about the discovery and preservation of queer histories in Kentucky and beyond. Experts will discuss how stories of love, partnership, bravery, illness and activism are documented and used to inform and educate audiences today. Panel participants will include:
Ruth Bryan, university archivist at the UK Libraries Special Collections Research Center;
Jonathan Coleman, curator and assistant director at the Mary Todd Lincoln House and co-director of the Faulkner-Morgan Pagan Babies Archive;
Robert Morgan, artist and co-director of the Faulkner-Morgan Pagan Babies Archive; and
Joey Orr, the Andrew W. Mellon Curator for Research at the Spencer Museum of Art at University of Kansas.
This free public panel, presented by the museum and the UK Office of LGBTQ* Resources and moderated by Stuart Horodner, will begin noon Saturday, March 24, at the museum.
In conjunction with "Points of View," UK Art Museum is also presenting two exhibitions that examine aspects of gender and identity.
As the behavior of prominent male figures in public positions undergoes strong scrutiny across the U.S., the museum turned to its own collection to see how artists have pictured men from varied social, economic and cultural backgrounds at different points in time.
"Looking at Men" showcases images featuring a variety of masculine identities — fathers, sons, laborers, soldiers, artists and athletes — by a range of artists including Berenice Abbott, Van Deren Coke, David Hilliard, An-My Lê, Hank Willis Thomas and Henri de Toulouse-Lautrec.
In common parlance, the word modern means contemporary. Modern art, which had its beginnings in France in the 1860s and became one of the most prominent idioms in America and Europe in the early 20th century, was exactly that: art that focused on its own time, rather than history or mythology.
In the exhibition "Modern Women," UK Art Museum examines how women were perceived and represented from the early 1900s to the mid-1930s in the work of Berenice Abbott, Eugene Atget, Edward Fisk, Marie Laurencin, Jaques Villon and others. 
The mission of the UK Art Museum, part of the UK College of Fine Arts, is to promote the understanding and appreciation of art to enhance the quality of life for people of Kentucky through collecting, exhibiting, preserving and interpreting outstanding works of visual art from all cultures. Home to a collection of more than 4,800 objects including American and European paintings, drawings, photographs, prints and sculpture, the museum presents both special exhibitions and shows of work from its permanent collection.