Stories That Shape Our Vision for the Future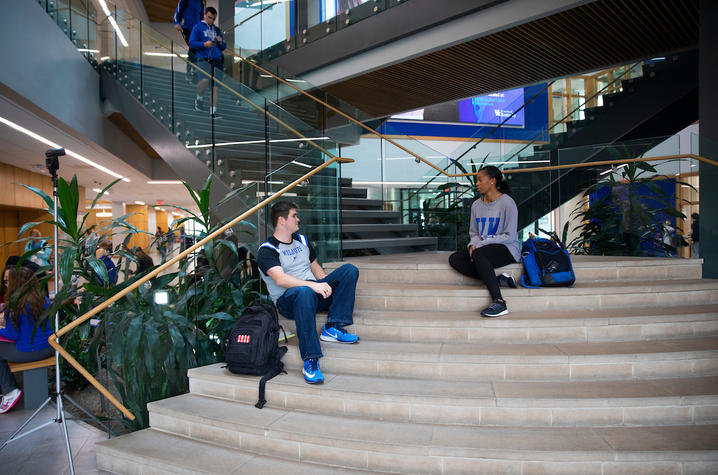 The year 2019 is an important one in our institution's history.
It marks 70 years since Lyman T. Johnson, with fierce resolve and incredible courage, embodied the idea that anyone—regardless of skin color, identity, faith or perspective—should be a part of the University of Kentucky family. 
The first African American student to enroll at the University of Kentucky, Lyman T. Johnson's legacy lives on today, as awards, ceremonies, programs and a residence hall proudly bear his name. Of course, progress on this path has not been a straight line. There is more to do.
An important part of that work involves reflection and introspection. To that end, throughout this year, our campus will honor and explore that seven-decade journey — from court-ordered integration to a community continually striving to be a place of belonging and empathy for everyone.
One component of this effort is a collection of UK stories—our stories—from the past and present. They are stories that inform our vision for the future. 
You can read this collection of faculty, staff and student profiles at: https://www.uky.edu/buildingbelonging/. There, you can find stories of students who are devoted to fostering belonging among their peers—students like Beeson Shin.
Beeson, a senior undergraduate student at UK, has harnessed her passion for inclusivity and dedicated herself to serve fellow students. A psychology major in the College of Arts and Sciences, she came to UK from South Korea.
Beeson is a member of the International Student Leadership Team at the UK International Center and hopes to help students like her find opportunities for growth at UK. She believes that UK, and the people that define this place, have created an environment that allowed her to become the best version of herself. 
You can also watch John Eric Novosel-Lingat's incredibly moving story.
A third-year doctoral student in the College of Education, John Eric has found a community at UK that has been instrumental to his growth. Before coming to UK, he said he was nervous about tackling his doctoral journey alone. He was expecting his time at UK to be the "loneliest experience of his life." As a Filipino, an immigrant and a gay man, he explains that he has been welcomed into a community that offers multiple resources and opportunities.
Those are just two examples, but they are compelling reminders that our UK story is comprised of people's journeys—journeys defined, like Lyman T. Johnson's—by fierce resolve and stirring compassion.
Our journey to build belonging is one without an end. As we reflect on the past 70 years and mark the anniversary of integration, I hope we find both inspiration and a calling to continue our progress.
These stories embody that vision. 
David W. Blackwell 
@UKYProvost 
#KYCan
#BuildingBelongingUK