A Final Message from Dr. Sonja Feist-Price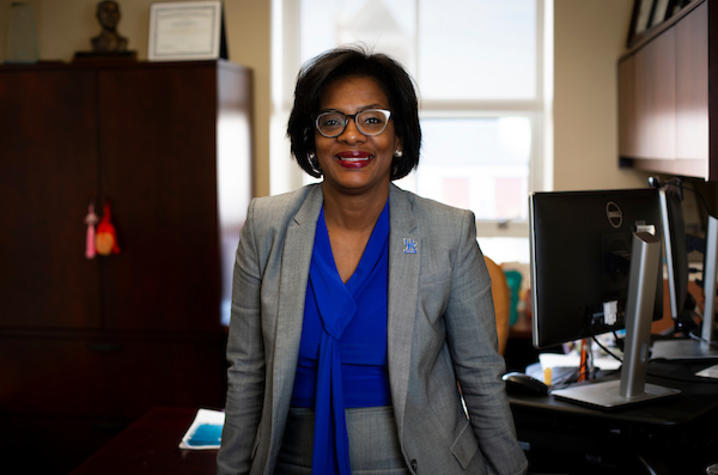 Serving as the University of Kentucky's vice president for institutional diversity has included many of the best years of my nearly 30-year career. I have been honored and privileged to help lead the university's diversity, equity and inclusion efforts—ensuring that every student, faculty member, staff member, alumnus and community member felt that they are a very important part of the University of Kentucky.
My deepest gratitude is expressed to President Capilouto for the enormous opportunity to serve our entire campus community and engage with the Lexington community and beyond in this very important work. As vice president for institutional diversity, I have formed deep and abiding collaborative relationships and friendships that will forever be near and dear to my heart and will continue well into the future.
Thanks and appreciation are expressed to each and every staff member of the Office for Institutional Diversity, as well as the dynamic diversity, equity and inclusion officers representing academic and professional units, as well as our health care enterprise. I appreciate your commitment and devotion to inclusive excellence, as well as the students, faculty, staff, alumni, patients and community members who are served. You will forever be very important to me.
I leave both excited and inspired about the ways in which the Diversity, Equity and Inclusion Implementation Plan will create systemic change that will be sustainable for decades to come. This campus-wide, deeply embedded and integrated initiative is the first of its kind in the country and will profoundly impact every aspect of the look and feel of the University of Kentucky campus community. The commitment to inclusive excellence by President Capilouto, Provost Blackwell, Dr. George Wright, Dr. Kirsten Turner, Dr. Eric Monday and a host of other campus leaders will elevate diversity, equity and inclusion efforts to a level never seen before at the University of Kentucky. The efforts of this University will serve as a roadmap for other universities to emulate.
I am thankful for my faculty and staff colleagues, and the countless students I have taught over nearly three decades as a professor in the Counselor Education Program in the Department of Early Childhood, Special Education and Counselor Education in the College of Education. I have been richly blessed because of these relationships.
As I leave UK and begin this new chapter in my career as provost and vice chancellor for academic affairs at the University of Michigan-Flint—in the word of John Wesley, "I will do all the good that I can, by all the means that I can, in all the ways that I can, in all the places I can, at all the times that I can, to all the people I can, as long as ever I can."
All the best as we work individually one collectively to make this world a better place.
Sincerely,
Sonja Feist-Price