Advice on Financing Your Education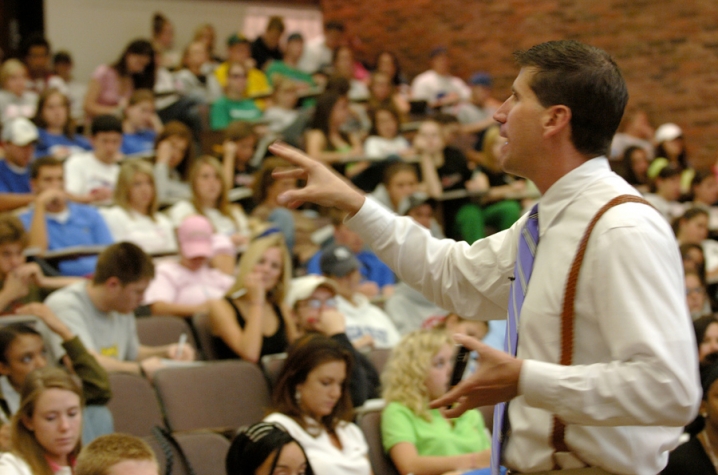 LEXINGTON, Ky. (March 3, 2010) –  UK Nursing sophomore Kara Albright is very blunt when you ask her about the importance of financial aid.
"Financial aid to me, in a whole, means being able to go to UK. Period," said Albright. "I rely very heavily on it for my student expenses and without it, I can absolutely say I would not be able to walk on this campus as a Wildcat."
But Albright does not just have experience in financial aid simply because she receives it. She spends a lot of her time in the Office of Student Financial Aid (SFA) as a work-study student. That position helps to finance her education.
"It is very important to me, as it is my resource by which I'm able to attend this school, and I love UK," Albright said.
Many UK students are in the same boat. Fortunately, there are many resources out there to help.
"Funding is available from a variety of federal and state need-based scholarship, grant, loan and work programs," said Lynda George, director of student financial aid at UK. "Students must file the 2010-2011 Free Application for Federal Student Aid (FAFSA) online at www.fafsa.ed.gov to receive consideration for these funds." 
This year, there is an important change for returning students who need to apply for financial aid.
"UK's priority filing date to receive consideration for all available funds has been changed from April 1 to March 15," said George.  "This change will ensure that undergraduate Kentucky residents will meet the Kentucky Higher Education Assistance Authority's March 15 deadline to receive a Kentucky College Access Program (CAP) Grant if they meet the eligibility criteria."
The priority date is important for students to keep in mind.
"Students who apply after the priority filing date will be awarded assistance, but some types of assistance for which they may meet the eligibility criteria may already be exhausted," said George. "Filing by the priority filing date will help to maximize the amount of assistance a student receives."
Given the nature of the current economy, some current students may find themselves in a position of needing to apply for financial aid for the first time.
"If you find yourself needing financial aid for the first time, your first step is staying calm," said Albright. "It's okay: a very large percentage of students are in your same boat."
"Students whose families' financial situations have worsened during the past year may be eligible for increased assistance," said George.  "It is important that students in this situation submit the FAFSA as soon as possible to avoid losing out on funds from financial aid programs with limited available funding."
George offers some additional advice for returning students:
·     Complete the FAFSA on line at www.fafsa.ed.gov as soon as possible keeping the March 15 priority filing date in mind.
·     If the student has not previously filed a FAFSA, a PIN is required.  A PIN is also required for parents of a dependent student.  Information about how to obtain a PIN is available at www.pin.ed.gov.
·     If the student and/or parents have not yet completed their 2009 federal income tax returns, they should complete the FAFSA using estimated income information and update their FAFSA information at the same site as soon as their taxes are completed.
·    Students with special circumstances not addressed on the FAFSA may send a written letter of explanation and documentation to the UK Office of Student Financial Aid.
Albright also has some student-to-student suggestions that could be helpful for many across campus.
"The best advice I can offer from my experience from being both an aid recipient and an employee at the SFA Office is to pay attention to the details," said Albright. "This includes deadlines (for which it is extremely beneficial to be early) and other directions on forms and applications. Sometimes you are not done; always be sure that you have finished all the steps and included all necessary information." 
Additionally, Albright suggests applying for a work-study experience.
"Always fill out that you are willing to accept a work-study position on your FAFSA," said Albright. "It has been a great opportunity for me and would be for any student looking for great employment and financial aid because you are able to work on campus with flexible hours."
Albright hopes her advice will help fellow students get the help they need to ultimately earn their degrees. 
Here is some additional information about financial aid for returning students at UK.
·     Students who have questions about completing the FAFSA or other concerns related to qualifying for financial assistance may contact their financial aid counselor.  The financial aid counselor directory is available at www.uky.edu/FinancialAid/contactus.htm.   
·     Information about applying for federal financial aid and the federal financial aid programs is available at www.studentaid.ed.gov.
·     The UK Office of Student Financial Aid also offers a very limited number of need-based institutional scholarships.
·     Students who do not qualify for need-based funds can borrow an unsubsidized loan from the Federal Direct Student Loan Program.  Completion of the FAFSA is required to be awarded an unsubsidized loan.
·     More detailed information about the above procedures and programs is available on the Financial Aid Office's website at www.uky.edu/FinancialAid.
·     Some merit based scholarships are available to returning students from the Academic Scholarship Office and as well as from various UK colleges and departments.  Information is available on the Academic Scholarship Office Web site at www.uky.edu/AcademicScholarships/ or from the student's college or department.
Students who plan to enroll for the summer 2010 term(s) may qualify for financial assistance:
      ·     Students seeking assistance to attend school in the summer must complete a short 2010 Summer Financial Aid Application available for download at www.uky.edu/FinancialAid/forms.htm. 
      ·     Students who are Federal Pell Grant recipients will have new, additional Pell Grant eligibility for the summer terms if enrolled at least half-time.  Students may contact their financial aid counselor for more information.