Engineers Day Is Feb. 20 in Lexington, Paducah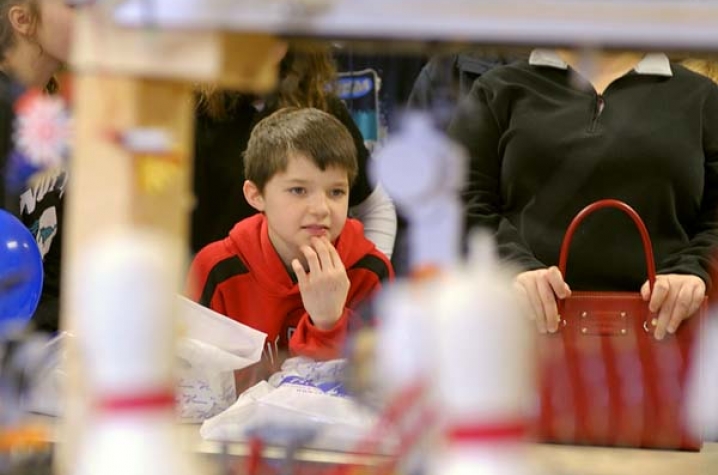 LEXINGTON, Ky. (Feb. 2, 2010) – The University of Kentucky College of Engineering's annual Engineers Day Open House, featuring contests, displays and project demonstrations, will be held from 9 a.m. to 1 p.m. Saturday, Feb. 20, in the Engineering Complex. 
The event also will be held at UK's engineering campus at Western Kentucky Community and Technical College's Crounse Hall in Paducah from 10:30 a.m. to 3 p.m. (CT).
The event, which annually draws more than 2,500 youngsters and their parents to UK's campus, aims at encouraging boys and girls in elementary, middle and high school grades to consider pursuing degrees in engineering.
"E-Day celebrates the possibilities and opportunities of engineers by demonstrating the creative, practical, and innovative contributions they make to the community, the Commonwealth, the nation and internationally," said Thomas W. Lester, dean of the college.  "By gathering some of the best engineering has to offer in one place, we hope to encourage bright and inquisitive students to pursue an exciting and rewarding career in engineering at the University of Kentucky."
A large contingent of student and faculty volunteers will be on hand to oversee participant contests, explain displays and demonstrate class and student-group projects. Among these events is the "Rube Goldberg Contest," in which contestants will build a machine that uses at least 20 steps to dispense a small amount of hand sanitizer.
Engineering students will display projects like the UK solar car, which has performed well in races in 2008 and 2009.
Young visitors will be able to make "cars" out of food items like fruits, vegetables and crackers; test the strength of model bridges and towers constructed from newspapers; and see how far paper airplanes they make can fly.
They will test whether shock-absorbing containers they make can prevent an egg from breaking after a 30-foot fall. Also, model bridges will be built using popsicle sticks, and model volcanoes will erupt.
Engineers Day also will feature door prizes and displays by area engineering firms and firms with sizable engineering departments.
More information about Engineers Day 2010 is available online at http://www.engr.uky.edu/eday/.