UK Law Trial Team Wins Regional Tournament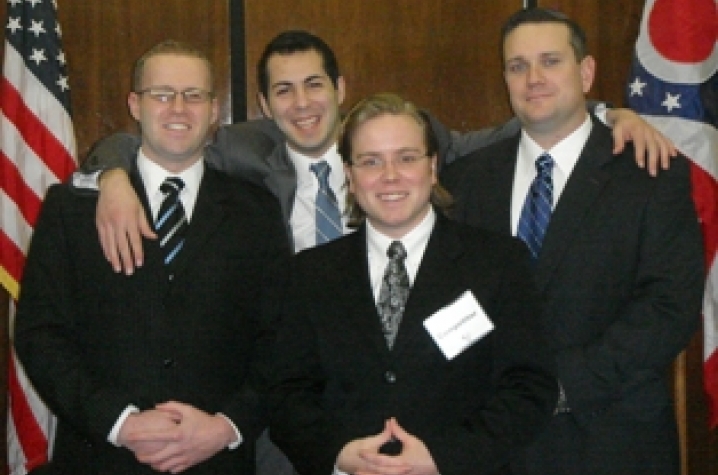 LEXINGTON, Ky. (Feb. 26, 2010) –For the fourth time in a row, the University of Kentucky College of Law National Trial Team has defeated competition from 27 teams across Kentucky, Ohio and Michigan to win the 7th Region Trial Advocacy Tournament  that was held Feb. 12-14 at The Ohio State University Moritz College of Law in Columbus, Ohio. Team members Josh Hicks, of Maysville, Ky., and Paco Villalobos, of Shelbyville, Ky., will now travel to Dallas, Texas for the National Trial Competition that takes place March 25-27.
UK sent two teams to the regional tournament including students Nick Mudd, of Louisville, Ky., Adam Bowling of Versailles, Ky, as well as Hicks and Villalobos, who defeated Michigan State in the 7th Regional Championship Round. Mudd and Bowling will accompany Hicks and Villalobos to Dallas.

Their faculty adviser, Allison Connelly, is proud of the team's accomplishment.
"The UK trial team won because of commitment, hard work and chemistry. They committed the time it took to be the best," Connelly said.  "They worked hard to balance family, school, and team practices. And, they have chemistry; that intangible that makes them special. They trusted each other. They learned from each other, and they depended on one another. That's what great trial lawyers do and that's what this team did."
"I am extremely proud to be a part of the tradition the University of Kentucky College of Law has built in producing outstanding trial attorneys," Hicks said. "Without Professor Connelly and her incomparable experience, coaching and passion for developing outstanding trial advocates, this legacy would not exist. The only reason Paco and I are able to be a part of this legacy is the incredible amount of work that our teammates, Nick Mudd and Adam Bowling, put forth in preparing for this tournament.  I look forward to competing in Dallas and continuing to build  UK College of Law's reputation as the top training ground for trial lawyers."
The National Trial Competition is sponsored by the Texas Young Lawyers Association and the American College of Trial Lawyers. Teams from around the country compete in one of 14 regional competitions in February. Each school may send up to two teams, with the top two teams from each region advancing to the national competition in March. UK competes with law schools from Michigan and Ohio in the seventh region.
Each participant is a member of the Trial Advocacy Board (TAB), a highly selective, student-led organization dedicated to developing effective, practical trial advocacy skills. TAB teams consistently place among the best in the nation in the National Trial Competition.
At the National Trial Competition, the UK TAB team will compete for the George A. Spiegelberg plaque for best oral arguments. The law school of the winning team is presented the Kraft W. Weidman Award which includes a monetary award of $10,000 and a silver bowl.