Applying to the University of Kentucky Has Never Been Easier or More Fun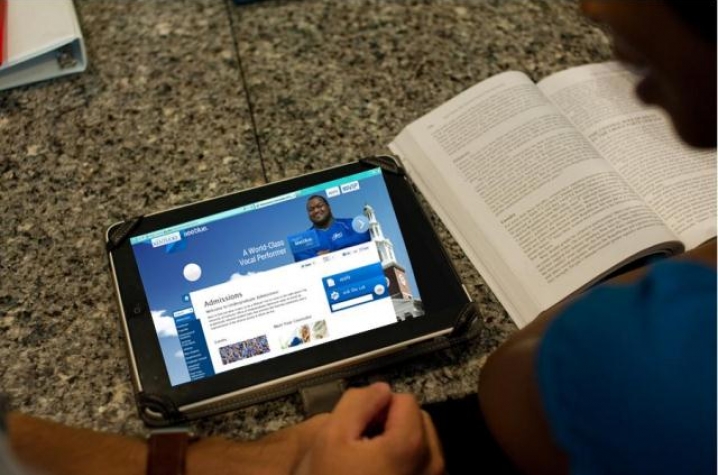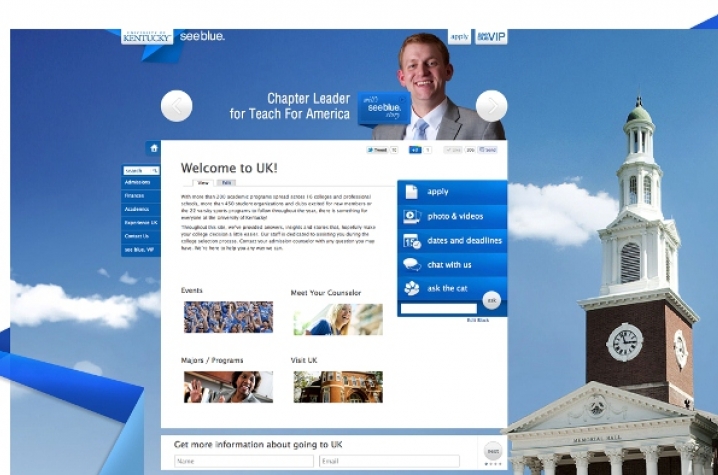 LEXINGTON, Ky. (Jan. 11, 2012) – Future Wildcats are being greeted with a brand new front door to the University of Kentucky as they visit the newly redesigned undergraduate admissions website. Over the semester break, UK's Office of Enrollment Management rolled out a brand new www.applyuk.com.
[IMAGE2] 
The dynamic new Web presence, also located at www.uky.edu/admission, incorporates the university's brand while offering easily accessible information for prospective students and parents to apply and connect with the university and all of Enrollment Management, including the offices of Undergraduate Admission, Academic Scholarships, Student Financial Aid, Registrar, Student Account Services, Veterans Resources, Adult Student Services and other resources. The site also incorporates social media and includes "see blue." video features and success stories of currently enrolled students and UK alumni.
Vice Provost for Enrollment Management Don Witt said focus groups provided valuable insight regarding the wants and needs of high school students searching for a college home. The feedback received provided a clear direction in creating a website that is easily navigated from a computer or mobile device and informative.
"The new applyuk.com has two audiences, the student who is just learning about the university and the student who has already decided to make UK their home," Witt said. "For the first-time visitor, the site needed to appeal and provide a quick introduction to UK. The returning visitor is more concerned with finding specific information about the application process. I feel that the new site does both very well."
"The overall feedback of the site has been overwhelmingly positive," Witt added. "The site is reflective of the institutional marketing efforts, our publications and message strategies featured during recruitment events."
The redesigned website was spearheaded by team members in Enrollment Management and UK's Office of Public Relations and Marketing. It was developed by UK's agency of record, Cornett Integrated Marketing Solutions, which has served as a partner with the university on other website designs, such as the university's homepage, www.uky.edu, the university's news website, www.uky.edu/uknow, and www.seeblue.com.
Prospective Wildcats are also encouraged to connect with undergraduate admissions via Facebook at www.facebook.com/universityofkentuckyadmissions, follow on Twitter at twitter.com/UKYAdmission and visit the YouTube channel at www.youtube.com/ukseeblue.