Bale Boone Symposium Discusses Evolution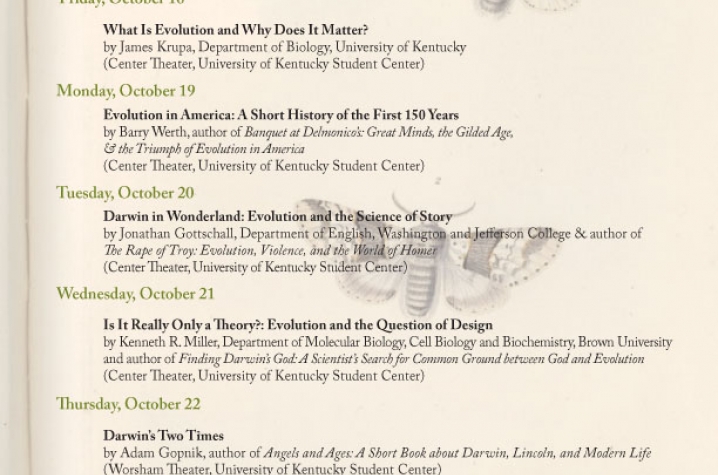 LEXINGTON, Ky. (Oct. 14, 2009) − The University of Kentucky Gaines Center for the Humanities will present the 2009 Bale Boone Symposium in the Humanities Oct. 16-22, at the UK Student Center. The free public symposium, "Science, Humanities, & Culture in the Wake of Darwin," gives the public the opportunity to have a conversation on Charles Darwin's theory and its influence on society with regional and national leaders on the topic.
Five presentations on evolution are scheduled for the Bale Boone Symposium. Presentations, speakers, dates and locations for these talks are as follows:
- "What Is Evolution and Why Does It Matter?," presented by James Krupa, of the UK Department of Biology, Friday, Oct. 16, Center Theater;
- "Evolution in America: A Short History of the First 150 Years," by Barry Werth, author of "Banquet at Delmonico's: Great Minds, the Gilded Age, and the Triumph of Evolution in America," Monday, Oct. 19, Center Theater;
- "Darwin in Wonderland: Evolution and the Science of Story," by Jonathan Gottschall, of Washington and Jefferson College Department of English, and author of "The Rape of Troy: Evolution, Violence, and the World of Homer," Tuesday, Oct. 20, Center Theater;
- "Is It Really Only a Theory?: Evolution and the Question of Design," by Kenneth R. Miller, Department of Molecular Biology, Cell Biology and Biochemistry at Brown University and author of "Finding Darwin's God: A Scientist's Search for Common Ground between God and Evolution," Wednesday, Oct. 21, Center Theater; and
- "Darwin's Two Times," by Adam Gopnik, author of "Angels and Ages: A Short Book about Darwin, Lincoln, and Modern Life," Thursday, Oct. 22, Worsham Theater.
All Bale Boone Symposium presentations are scheduled to begin at 6 p.m. and take place in UK Student Center facilities. All events presented as part of the symposium are free and open to the public.
The 2009 Bale Boone Symposium is co-sponsored by the UK Office of the Provost, the College of Arts and Sciences, the Chellgren Center for Undergraduate Excellence, the Honors Program, the Department of Biology and the Department of Modern and Classical Languages, Literatures and Cultures. The symposium is also a recipient of support from the National Endowment for the Humanities.
For more information on the 2009 Bale Boone Symposium "Science, Humanities, & Culture in the Wake of Darwin," contact the Gaines Center at (859) 257-1537.