Bowling Lecture: 'Essential Role of Public Relations'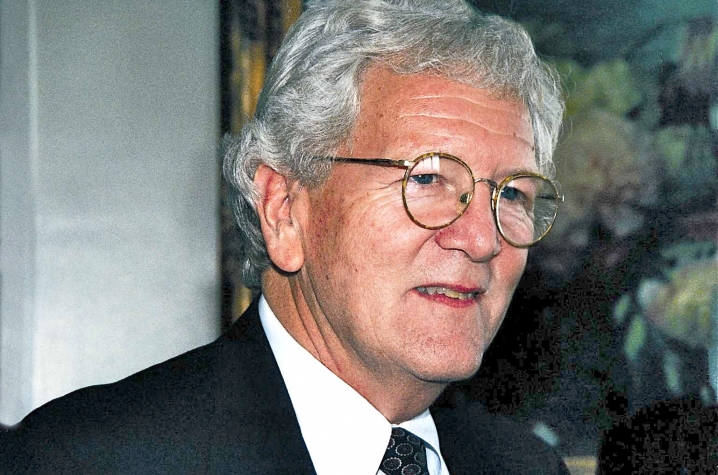 LEXINGTON, Ky. (Nov. 4, 2010) — Williard "Bill" Nielsen, retired corporate vice president of Johnson & Johnson, will deliver the eleventh annual James C. Bowling Executive-in-Residence lecture at 5 p.m. Thursday, Nov. 11 in the W. T. Young Library Auditorium. The lecture series is sponsored by the UK School of Journalism and Telecommunications Alumni Association. The event is free and open to the public.
Nielsen's lecture is entitled "Too Big To Fail: The Essential Role of Public Relations." Nielsen said he hopes to communicate the importance of public relations to students attending the lecture. He'll also spend time with students during classes and at a luncheon as part of his visit.
"I'm so passionate about this career field," he said. "I really want to infect them with a sense of its worth and importance. The opportunity in what has now become a very developed field is tremendous."
Nielsen is a native of Sacramento, Calif. Following graduation from Oregon State University, he served for five years as a public information officer with the U.S. Air Force in Washington, D.C., and Japan. He served 18 years as a public relations agency consultant, first with Carl Byoir & Associates from 1970-1986, and then Hill and Knowlton. In addition to executive roles in agency management, he specialized in corporate communications and crisis management in such industries as consumer finance, insurance, defense, biotech and airlines.
Nielsen joined Johnson & Johnson in 1988, serving the company for 17 years. He was the chief public relations and corporate communications officer for the widely diversified and decentralized family of more than 200 operating companies in 57 countries in the fields of pharmaceuticals and biotech, medical devices and diagnostics and consumer products.
"Part of the reason we chose him is because of Johnson & Johnson's international involvement," said Beth Barnes, director of UK's School of Journalism and Telecommunications. "We're trying to get our students to focus on strategic communications as an international field, not just domestic."
Nielsen's professional accomplishments include leadership of an eight-year public relations and advertising education program for the pharmaceutical industry, and a nationwide child injury prevention campaign, the National SAFE KIDS Campaign. This 20-year campaign is credited with helping to reduce the annual rate of unintended injury and death among children by more than 30 percent. Programs he supervised won four Public Relations Society of America (PRSA) Silver Anvils.
Neilsen said that while during his career he has seen public relations develop, it still isn't a well-defined field. He says he sees this as a positive aspect of PR.
"It allows us to reach horizontally across organizations," he said, "instead of vertically through some regimented structure."

Nielsen is now a consultant to management of for-profit and not-for-profit organizations. He specializes in corporate communications, public relations, public affairs, corporate coaching and organizational vision and values, drawing on experience gained over 30 years in both industry and agency settings. In addition to his consulting work, Nielsen is a frequent guest lecturer at public relations and corporate communications graduate programs at universities across the country. He serves in industry-sponsored PR leadership training programs and is an Advisory Board Member of the Arthur W. Page Center for Integrity in Public Communication at Penn State University.

Nielsen continues to be active in the leadership of PR professional organizations. He served two terms as president of the Arthur W. Page Society and was inducted into that organization's Hall of Fame in September 2003. He continues on the Society's board of trustees. Nielsen is married and is the father of three daughters. He and his wife Doris life in Maryland where they are both active in community service.

"He has worked in public relations at the very highest level, with Johnson & Johnson and the Arthur W. Page Society," Barnes said. "I think for students to get to hear from someone who has been so successful in their chosen career will help them set their own aspirations high.

The Bowling Executive-in-Residence program also includes an Excellence in Public Relations award, which this year goes to Charlotte Tharp, Norton Healthcare Vice President of Mission and Outreach. She will be honored at a luncheon on Nov. 10, sponsored by the Louisville chapter of the PRSA.

Tharp joined the WHAS public relations department in 1967. She served as Community Relations Director of WHAS, Inc. from 1971-1984. She was Vice President of the WHAS Crusade for Children Board of Directors and was a member of the station's Editorial Board. She served as Vice President of Public Relations for Norton and its predecessor organizations from 1996-2000, after six years as public relations director and five years as media relations director.

Tharp is responsible for community involvement, the Office of Child Advocacy, Pastoral Care, Office of Church and Health Ministries, special projects and the Community Trust Fund, as well as serving as executive staff for the Ethics Council and Church and Health Ministries committees of Norton's Board of Trustees. 

The Bowling Executive-in-Residence Program began in 2000 and brings to UK nationally-known public relations practitioners to not only deliver an address, but also meet with students interested in public relations careers. The program includes the executive-in-residence visit, the excellence award and a scholarship for a senior integrated strategic communication major with an emphasis in public relations. 

The series honors James C. Bowling, the late retired assistant chairman of Philip Morris Companies Inc. He attended UK and later served the university as a member of the UK Development Council. In addition to serving on several national boards, Bowling also worked with UK's colleges of Agriculture and Business and the UK Sanders-Brown Center on Aging.