College of Communication and Information Delegation Visits China to Expand Relations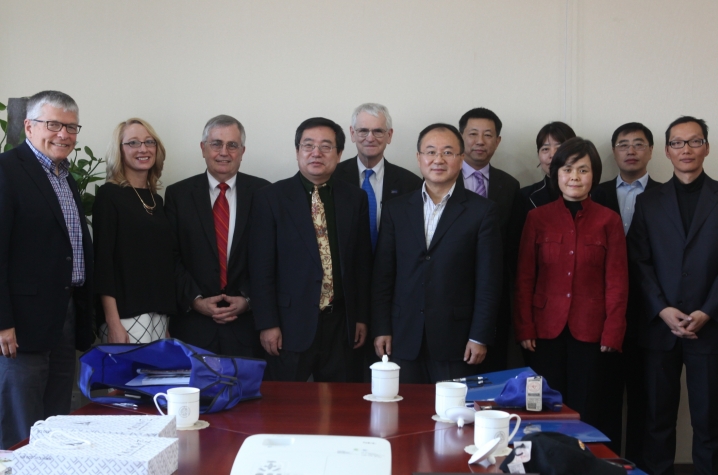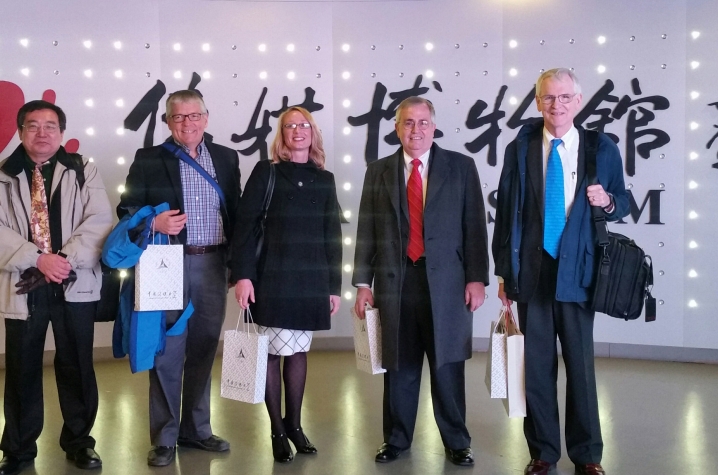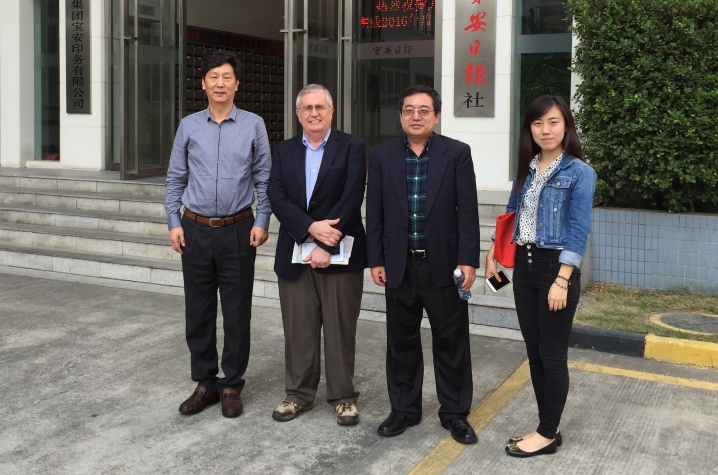 LEXINGTON, Ky. (Dec. 16, 2015) — Five professors from the College of Communication and Information found good prospects for collaboration as they visited two universities and a newspaper during a recent trip to China.
The professors from the College of Communication and Information visited the Communication University of China in Beijing, and gave talks at a health communication symposium the college co-sponsored at Sun Yat-Sen University in Guangzhou in southern China. Researchers from leading communication programs also presented at the symposium.
The delegation was led by Zixue Tai, a China native, in the School of Journalism and Telecommunications. He and Al Cross, director of the Institute for Rural Journalism and Community Issues, also visited the Bao'an Daily, a community newspaper in Shenzen, next to Hong Kong.
Three professors in the Department of Communication discussed the department's highly ranked health communication program with their Chinese counterparts: Douglas Boyd, former dean of the college; Kevin Real, a researcher specializing in the field; and Shari Veil, who is also the college's associate dean for undergraduate affairs.
The delegation was joined in Guangzhou by Lars Willnat of Indiana University, who will become director of UK's School of Journalism and Media (its new name, pending action by the Board of Trustees) Jan. 1, 2016, and his wife, Annette Willnat, who will teach public relations in the college's new Department of Integrated Strategic Communication.
The professors discussed possible collaborations with top administrators and faculties at the two Chinese universities, led by Zhang Zhian, dean of the School of Communication and Design at Sun Yat-Sen, and Hu Zhengrong, vice president of the Communication University and director of its National Center for Radio and TV Studies.
"Common areas of cooperation seem especially good with faculty at the Communication University of China, given graduate and undergraduate programs similar to those in our college, impressive on-campus production facilities, and faculty research interests that include health communication," Boyd said.
Collaborations could include student exchanges, joint conferences and joint research in health communication and other areas. "I had a productive conversation with Yang Junli from the study abroad office about establishing a summer program in Beijing that could be co-taught by faculty from the University of Kentucky and the Communication University of China," Veil said. 
Health communication is a relatively new academic discipline in China, where the government is increasingly interested in addressing health issues such as smoking. The Department of Communication has a top 10 ranking among health communication programs in the United States.
Another form of collaboration could include another Sino-U.S. Conference on Community Media like the one co-hosted by the Institute for Rural Journalism and Community Issues at UK last January. The Bao'an Daily was represented at that conference, and Cross and Tai spent most of a day with the paper's editor-in-chief, Li Gaofeng.
"While Chinese news media must operate under restrictions unlike those in the U.S., we have been able to find common ground with our colleagues to promote the concept of community journalism, which is the healthiest part of traditional journalism in the U.S. and a growing part of the Chinese journalism landscape," Cross said.
MEDIA CONTACT: Blair Hoover, (859) 257-6398; blair.hoover@uky.edu