College of Education Helps Innovate Kentucky Schools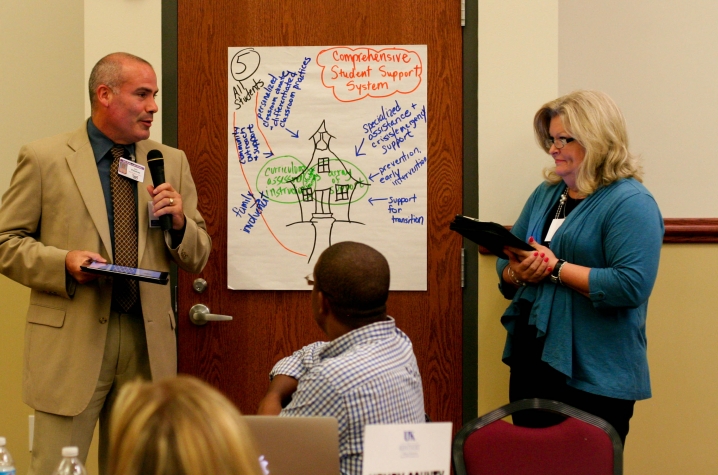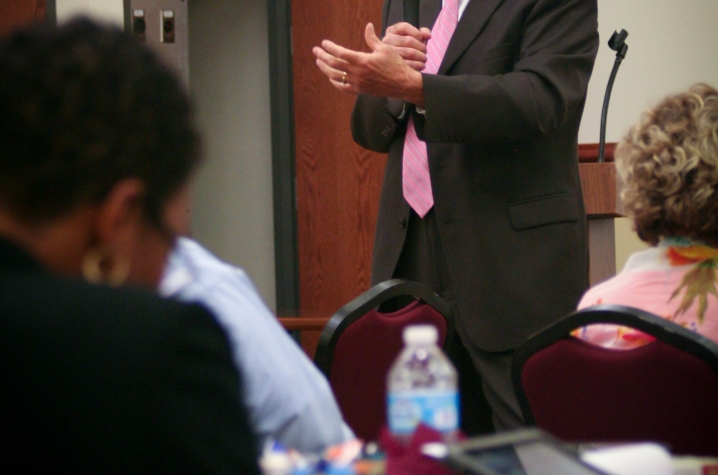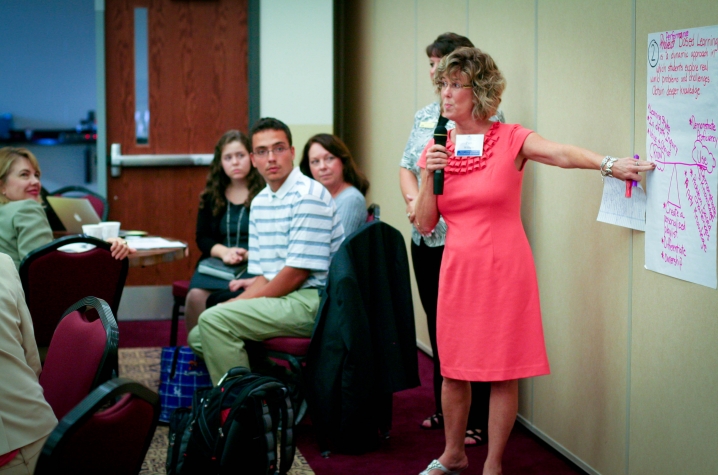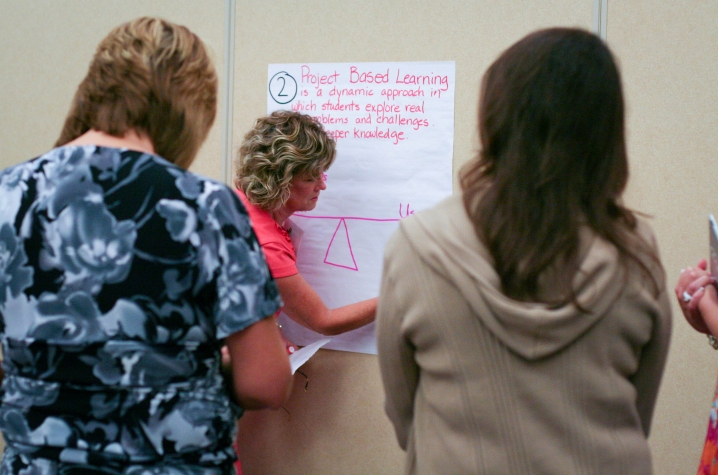 LEXINGTON, Ky. (Aug. 1, 2012) — Several Kentucky school districts have started working with the University of Kentucky College of Education in a unique partnership to innovate and improve schools. The districts are participating in the college's Next Generation Leadership (NxGL) Academy, an output of its Kentucky P20 Innovation Lab.
The academy takes school leaders who know the system needs to change and helps them work through implementation of innovative ideas.  It launched last year with a pilot co-hort of school leaders. This year's co-hort includes representatives from the following counties or districts: Barren, Paris Independent, Carroll, Clark, Graves, Hardin, Henry, Shacklette Elementary (Jefferson Co.), Knox, Mason, Trigg, Warren, Woodford, and Eminence Independent.
David Gilliam, principal of Madison Southern High School and member of the pilot co-hort, said of the academy, "This program gives us the core information about what's happening in education. It allows us to connect with some of the top experts around the world. But, probably the most beneficial part of it is for the team from our district to just sit down with these issues on the table – the charge of reinventing school – and be able to work through ideas and challenge each other. It is very beneficial."
While participants will meet several times throughout the coming year, much of the work also takes place during online meetings between the school districts and university faculty.  Through the process, several schools have met College of Education faculty members with whom they have partnered to provide training and programs within their local districts.
Council of Chief State School Officers Executive Director Gene Wilhoit and Kentucky Education Commissioner Terry Holliday addressed participants during the first day of the academy. Both emphasized the state and federal resources available to help schools as they transition to new models of learning.  In fact, a recently passed bill in Kentucky will soon be able to help schools get past regulations that may stand in the way of trying out innovative ideas for improving schools, Holliday said.
From how student learning is assessed to the way teachers are trained, Wilhoit outlined a number of ways education must change so future generations of Kentuckians can find jobs to support their families and live fulfilled lives.
"I think the promise of this is unbelievable," Wilhoit said. "I've seen it happen in many schools in isolated ways, but the problem is we're not doing it across the board. "Districts that have completed the Next Generation Leadership Academy have the opportunity to work with the UK College of Education to develop Innovation Zones (iZones) within their schools.  The iZones provide places to test innovative ideas and scale up what works. The NxGL Academy's focus is around the Council of Chief State School Officer's six critical attributes of Next Generation Learning:
Personalized Learning calls for a data-driven framework to set goals, assess progress, and ensure students receive the academic and developmental supports they need to succeed.
Comprehensive Systems of Learning Supports address the social, emotional, physical and cognitive development along a continuum of services to ensure the success of all students
World-Class Knowledge and Skills requires achievement goals to sufficiently encompass the content knowledge and skills required for success in a globally oriented world.
Performance-based learning puts the student at the center of the learning process by enabling the demonstration of mastery of high, clear, and commonly shared expectations.
Anytime, anywhere learning provides innovative practices that promote learning beyond the traditional classroom and may include virtual or out-of-school settings leveraging technology as a tool for learning.
Student voice/agency is the deep engagement of students in directing and owning their individual learning and shaping the nature of the education experience.
About the Kentucky P20 Innovation Lab:
P20 relies upon the world-class research and expertise of the UK College of Education's faculty, students and staff.
P20 builds a bridge between school districts and the UK College of Education to enable an easy exchange of information between schools and higher education.
P20 faculty and staff design and offer a Next Generation Leadership Academy for school leaders to build capacity to design new systems for learning.
P20 helps create iZones within school districts. iZones allow college faculty and school personnel to work together to redesign and rethink current policies, practices and programs to support 21st century learners.
Why is P20 needed?
Many increasingly recognize one primary challenge: schooling and instruction are mass-produced, expecting students of various abilities, support systems and interests to progress through the same educational program at the same pace without sufficient regard to their individual learning needs.
Information, once collected in reference books and distilled by teachers, is now everywhere, which changes the roles of teachers and schools.  Even the most specialized topics and guidance are only a few keystrokes away.
In Kentucky, only 83.91 percent of students complete high school and only 32 percent of Kentuckians ages 25-34 have a college degree.
Routine jobs are increasingly disappearing to low wage countries or automated systems.
 
To succeed in the global economy today's students must be prepared to problem solve, work collaboratively, and to be creative and self-motivated.  They will be required to produce evidence of competencies for required work.
How do we do school differently?
P20 roots out what doesn't work and replaces it with ways of learning that will prepare all students for college and careers.
P20 gives students a voice in designing the future of their education. When high school students were recently interviewed about how to do school differently, they were so stuck inside the model they have been part of for 15 or so years, they couldn't think differently.  We are finding ways to get from students what they really want from school – not just a version of what they think school is supposed to be.
P20 builds upon existing and emerging infrastructures in Kentucky that will make this work sustainable over time.
Early Success Stories:
One of the first P20 iZone schools, Eminence Independent, is implementing some of the following changes:
Partnership with Bellarmine College to offer college-level courses to qualified students with no cost to students;
Redesigned Master Schedule (Core classes three days per week. Benchmark ready students take classes two days a week on Bellarmine's campus);
Wi-Fi on school bus transporting students to Bellarmine College in Louisville;
One-to-one technology devices (Mac-Book Pro) for all high school students;
Students trained to give feedback on educational experiences using Twitter;
Student and Teacher Voice Teams for input in district decisions;
Standards-Based Report Cards; and
Working with sister school in England on using results from student aspirations surveys to better engage students in learning.

 
MEDIA CONTACT: Jenny Wells, (859) 257-5343; Jenny.Wells@uky.edu