College of Health Sciences Offers First Undergraduate Certificate in Research at UK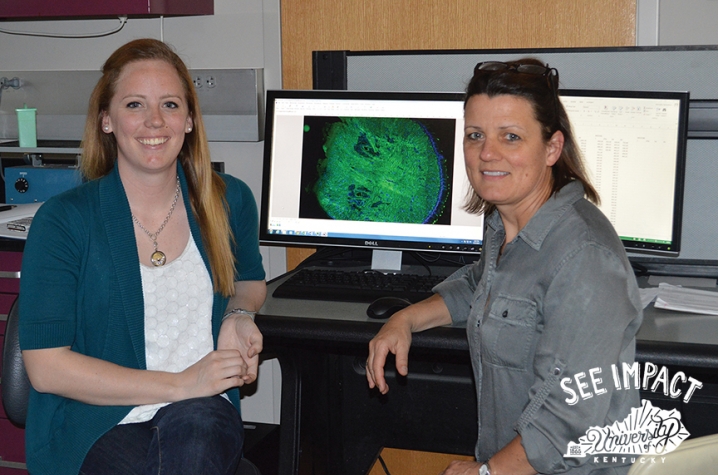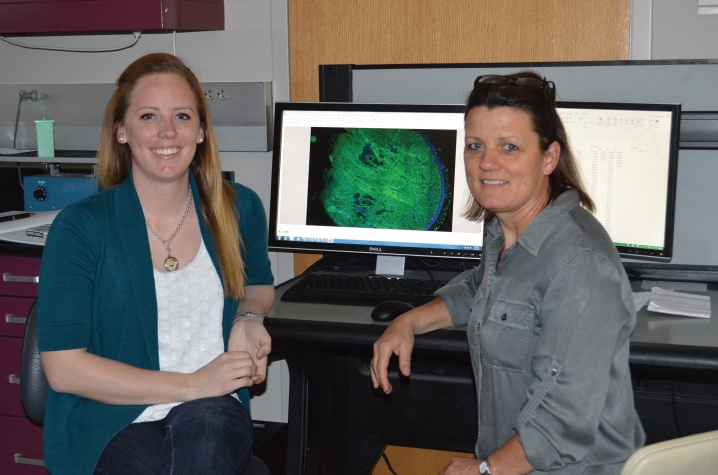 LEXINGTON, Ky. (May 27, 2015) -- The University of Kentucky College of Health Sciences recently launched the undergraduate Certificate in Research in Human Health Sciences – the first of its kind on campus. The new certificate provides eligible UK undergraduate students with the opportunity to gain advanced knowledge in interdisciplinary clinical and translational research in the human health sciences fields.
The certificate, which was approved by the University Senate in February, is a product of the thriving Undergraduate Research Program at the College of Health Sciences (CHS).
"Our undergraduate researchers were the motivation for proposing the certificate," said Gilson Capilouto, director of undergraduate research at CHS and professor of Communication Sciences and Disorders. "We have students who become so engaged in the research they are conducting and so choose to stay with their mentors for multiple semesters. The certificate is a way to recognize their commitment to research and maximize the benefit of the experience for students."
The Certificate in Research in Human Health Sciences may benefit students in multiple ways, during their undergraduate years and beyond. Benefits include:
•        Increased creativity, critical thinking, and problem-solving skills
•        Enhanced ability to apply classroom knowledge
•        Broader understanding of academic and career interests
•        Higher retention and graduation rates
•        Higher acceptance and enrollment rates for graduate and professional schools
"Working in undergraduate research at CHS helped me tremendously in all aspects – academically, professionally, and personally," said Sami Michaelis, a 2014 UK biology graduate, who is now employed as a laboratory technician at CHS. "Some of the tasks I carried out in the lab were methods being used in the laboratory portions of my classes. So I had a head start on my peers in that aspect. Professionally, it gave me experience with basic laboratory methods and, ultimately, led to a full-time job opportunity after graduation. My mentors in the lab have taught me so much and have been patient with me as I learn new protocols and become more independent in my work."  
For students interested in entering the health care professions, undergraduate research experiences offer a unique long-term benefit. It helps students become better clinicians and better consumers of research literature by providing a firsthand framework for understanding research that they would not have had otherwise.
"Research is an essential component for undergraduate students planning to pursue a degree in the health professions," said Scott M. Lephart, dean of the College of Health Sciences. "It is an extraordinary opportunity to gain first-hand experience in the very research that might be applied later as clinicians."
CHS is comprised of nine health profession disciplines, allowing for a variety of interdisciplinary collaborations. Students pursuing the certificate will be matched with a research mentor from CHS or other participating UK colleges. Students will have opportunities to be involved in ongoing CHS research projects focused primarily on frailty and disability prevention; rehabilitation; voice and language disorders; musculoskeletal health; and sport and military injury prevention.
"As the gateway to health sciences academic and professional programs, CHS offers students an important advantage. The core of our college is interdisciplinary, and health care is increasingly based on interdisciplinary models," Lephart said. "We are excited to provide this opportunity to undergraduate students across campus. The time to start is now, and the place is the College of Health Sciences."
Undergraduate students must be at least a second-semester freshman with a 3.0 GPA to be eligible. A total of 12 to 15 credit hours are required for completion of the certificate. Complete admission criteria, a list of required coursework, and the online application are available at http://bit.ly/CHS_UGR_Cert.
Undergraduate students are encouraged to review the admission criteria and apply, even if a student is not sure that research is a viable option.  
"Initially, as an undergraduate, I couldn't see myself in research," said Michaelis. "But the professors at CHS have been great in teaching me, mentoring me, and showing me the positive aspects of research, including that there are always discoveries to be made. The new certificate seems like a great way for undergraduates to really dive into research and understand the entire process from hypothesis to statistical analysis."
The growth of the CHS Undergraduate Research Program and the launch of the new certificate demonstrate just one facet of the momentum of research efforts at the College of Health Sciences. 
"This certificate program will both challenge and reward those students interested in becoming truly engaged in research," said Charlotte Peterson, associate dean for research at CHS. "It is made possible by the strong commitment of CHS to research and the wide range of research opportunities available in the college."
As the CHS Undergraduate Research Program continues to grow, more research mentors are needed to keep up with the demand. Capilouto encourages faculty from across campus to consider becoming mentors and to contact her to discuss opportunities.
"It's a win-win. Faculty are able to achieve goals they might not otherwise achieve, and students gain exceptional experience in research," said Capilouto.
The UK College of Health Sciences offers undergraduate and graduate/professional degrees in: Athletic Training, Clinical Leadership and Management, Clinical Nutrition, Communication Sciences and Disorders, Human Health Sciences, Medical Laboratory Science, Physical Therapy, Physician Assistant Studies, and Rehabilitation Sciences.
Media Contact:  Ann Blackford at 859-323-6442 or ann.blackford@uky.edu