The Courageous, the Determined, the Inspiring: Heroes of UK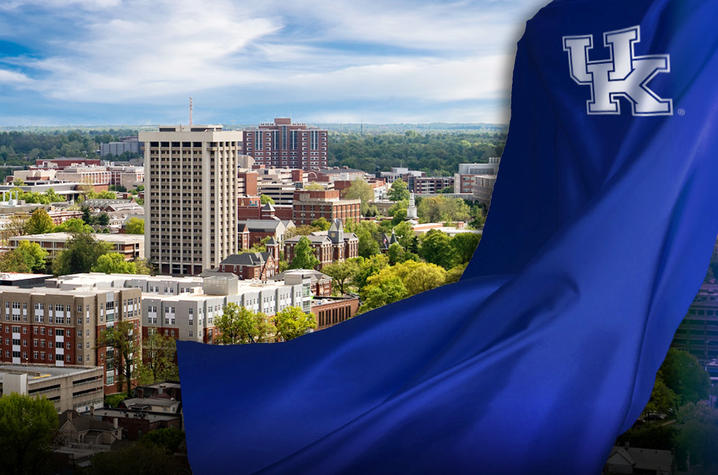 LEXINGTON, Ky. (April 20, 2018) – Whether it's in the crisp pages of a mint-condition comic book or the monolith-sized screens of an IMAX theater, heroes are everywhere.
In our favorite forms of entertainment, heroes are often those who perform larger-than-life feats of strength and power with preternatural gifts. They save cities, countries, the world – sometimes even the galaxy.
But in the real world, heroes aren't created by gamma ray experiments gone wrong, or specially engineered super-suits, or radioactive spider bites.
In the real world, heroes are created when they make a choice – the choice to use their gifts and experiences to help others.
The University of Kentucky has no shortage of heroes. Over the next two weeks leading up to commencement, we'll be sharing just a few of the many stories of UK heroism, courage, determination and perseverance.
From a student in recovery determined to fight the opioid epidemic, to a dancer sharing her passion with children with disabilities, to a team of doctors determined to solve an impossible medical mystery in a six-year-old child, the students, faculty and staff at UK are always striving to make a difference in the world.
Here's a preview of the next two weeks:
Now in long-term recovery from an opioid use disorder, UK doctoral candidate Alex Elswick is the founder of a nonprofit organization and a leader in the fight against the opioid epidemic.
When six-year-old Daniel "DJ" Johnson unexpectedly collapsed, doctors were initially mystified at what was causing fluid to collect around his brain. At UK HealthCare, a team of physicians worked around the clock to discover the source of the problem and save DJ's life.
Sarge the dog was known more for his destructive capabilities than his heroism – until the night his owner Myrl Sizemore had a heart attack. Thanks to Sarge and the UK Gill Affiliate Network, Myrl got to walk his daughter down the wedding aisle just a few months later.
After experiencing a tumultuous childhood, Jay Miller experienced several stints in out-of-home care. His journey led him to a life of advocacy, and Miller now takes great pride in his research to improve foster and kinship care systems.
And some of our heroes spend a lifetime giving back to the institution – the University – that has given them so much. One such donor has invested millions in our students to give them learning and social spaces unlike any other in higher education.
A traumatic accident left Paige Raque in a coma. Upon awakening, she had to re-learn the basic functions we take for granted, including the gift of speech. Now, she's working toward a degree in speech pathology to help others like her.
Shannon Beebe served in the army for six years as a medic and used her training to complete her nursing degree through UK's MedVet program – all while working full-time and raising five children.
When Chad native Esias Bedingar arrived in the U.S., he spoke no English. Four years later, he's founded a nonprofit to help eradicate malaria in his home country and plans to attend Harvard University for a master's degree upon graduating UK.
A longtime dancer, Jenna Lyon says she "rarely saw students with special needs in the dance world." Beginning in high school and carrying over to UK, Lyons created a program called "A Chance to Dance," offering free lessons to children and teenagers with disabilities.
And there's more – be sure to follow along on all our social channels by looking for #heroesofUK.
So the next time you pack a theater to watch your favorite superhero blockbuster, remember that not all heroes wear red-and-gold armor, wield a hammer or carry a shield.
Some heroes wear blue and white, wield a UK degree and carry a desire to make a difference in others' lives.
UK is the University for Kentucky. At UK, we are educating more students, treating more patients with complex illnesses and conducting more research and service than at any time in our 150-year history. To read more about the UK story and how you can support continued investment in your university and the Commonwealth, go to: uky.edu/uk4ky. #uk4ky #seeblue