Donate on DanceBlue's 'Big Fund Day'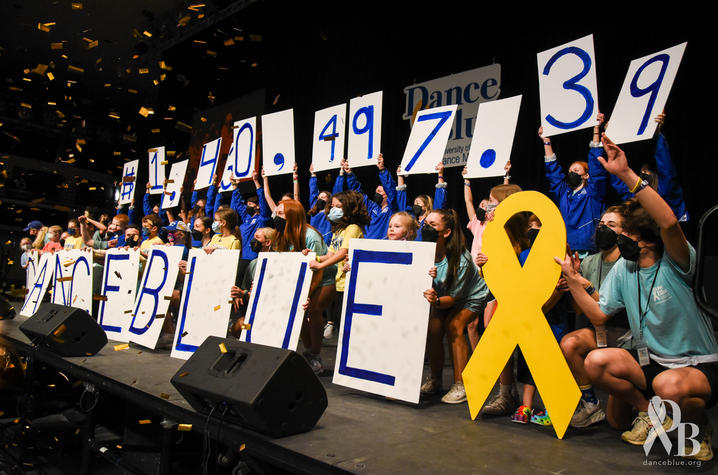 LEXINGTON, Ky. (Feb. 22, 2023) — DanceBlue is excited to introduce a new annual fundraising event, "Big Fund Day," as the last large fundraising push before the 2023 dance marathon. Hosted by the DanceBlue committee, this online fundraiser will take place 7 a.m.-6 p.m. Sunday, Feb. 26. 
"We are so excited to introduce this new fundraising event! It will be a great day to bring our committee together and we are hopeful that Big Fund Day will become an annual DanceBlue fundraising tradition to help increase fundraising before the marathon," said Lauren Grant, DanceBlue community relations chair. 
DanceBlue is a student-led organization that fundraises year-round in support of the DanceBlue Kentucky Children's Hospital Hematology/Oncology Clinic. To round out fundraising efforts, students and DanceBlue committee members gather for the annual DanceBlue marathon each spring, where they dance and stand for 24 hours in support of clinic patients. 
For all interested in supporting DanceBlue on Big Fund Day, visit the DanceBlue Instagram @uk_danceblue to keep up with fundraising updates, check out the University of Kentucky's Instagram @universityofky to see all the activities committee is doing on Big Fund Day, or make a donation on Feb. 26 here: https://danceblue.networkforgood.com/. 
At the University of Kentucky, students are at the center of all that we do. From the moment you become a Wildcat through graduation and beyond, the Office for Student Success is committed to supporting you. Comprised of five areas and 25 units, together, they have one vision — to help students live a life of meaning. Student Success works through an equitable, holistic and inclusive lens to design and deliver unparalleled services and support a diverse community of learners in achieving their wildest ambitions. In the Office for Student Success this is what we do — this is who we are. You can explore resources available to you here. If you have additional questions, you can reach a Student Success team member by calling the helpline 859-218-YouK (9685).