Dr. William Markesbery Dies at 77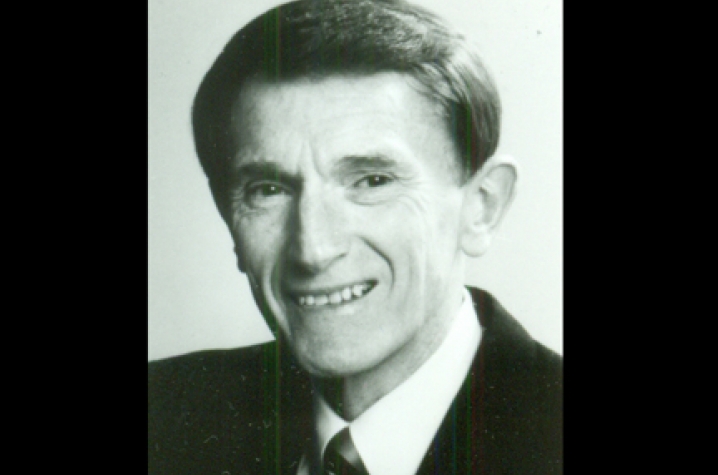 LEXINGTON, Ky. (Feb. 1, 2010) – Dr. William R. Markesbery, 77, who for more than 30 years was director of the University of Kentucky Sanders-Brown Center on Aging, died Jan. 30 at UK Chandler Hospital in Lexington.
A native of Florence, Ky., Markesbery is survived by his wife, Barbara Abram Markesbery; his daughters, Dr. Susanne (Michael) Arnold, associate professor of Medicine in the UK College of Medicine and oncologist at UK Markey Cancer Center; Kendall Markesbery, and Allison (John) Robbins; grandchildren, John and Henry Arnold and William and Malia Robbins; brother, Dr. Harold (Junel) Markesbery; and countless other family members.
The family plans a private funeral and a public memorial service at a later date. 
In lieu of flowers, the family requests contributions to the Sanders-Brown Center on Aging and the Best Friends Alzheimer's Respite and Day Care.
Markesbery led the UK Sanders-Brown Center on Aging from its founding in 1979 and was director of its Alzheimer's Disease Center. He also held the Commonwealth Chair in Aging and was a professor of neurology, pathology, neurosurgery, and anatomy and neurobiology in the UK College of Medicine, of which he was a member of the first graduating class in 1964.
Over the years, Markesbery received more National Institutes of Health (NIH) grants than any other researcher at UK. His studies involving Alzheimer's disease have received continuous NIH support for almost 30 years. Markesbery is credited with more than 410 peer-reviewed scientific publications and has received numerous awards recognizing his work to find a cure for and prevention of Alzheimer's disease.
"Dr. Bill Markesbery left an indelible mark not only on the University of Kentucky, but also across the globe as one of the top Alzheimer's researchers in the world," said UK President Lee T. Todd, Jr. "His legacy of groundbreaking research at the Sanders-Brown Center on Aging has no doubt impacted the lives of those searching for answers in the quest  to understand and treat Alzheimer's disease and to improve the quality of life of the elderly.  We are saddened by the loss of a remarkable colleague, but we have no doubt that Bill Markesbery's work will live on for generations to come as we continue the work he started here almost four decades ago."
Dr. Jay A. Perman, dean of the UK College of Medicine and the university's vice president for clinical affairs, said Markesbery would be mourned by colleagues at Kentucky and internationally.
"Bill Markesbery devoted his entire career to our college and university," Perman said. "He led the Sanders-Brown Center on Aging to a position of international distinction in the understanding and treatment of Alzheimer's disease. I have lost a wonderfully warm and supportive colleague, and our community and world have lost a gifted scientist."
Markesbery became an extraordinary researcher and clinician. In 1974, he was the first to describe a rare form of heredity tardive distal muscular dystrophy, now called Finnish-Markesbery Disease.
In 1981, he along with collaborators published the first of several studies to disprove the once-popular theory that an accumulation of toxic metals, such as aluminum, plays a role in the development of Alzheimer's disease.
In 1991, Markesbery and collaborators published the first of several pioneering studies proving that oxidative stress is an important part of the pathogenesis of Alzheimer's disease and is present early in the disease.
In 2009, Markesbery received the National Alzheimer's Association Khachaturian Award for Outstanding Achievements in Advancing Alzheimer's Science. In the Journal of Alzheimer's Disease, Markesbery was ranked 23rd among the top researchers in the world for the productivity and impact of their scientific study of Alzheimer's disease. 
"Nothing is quite as rewarding as the recognition of one's peers," Markesbery said. "I am grateful to have the opportunity to take part in the investigation of the most devastating disease that affects humanity. It has been a privilege to care for individuals with the disease, support the families and through research, strive to gain a better understanding of Alzheimer's disease so that one day soon, we will learn how to prevent the disease in those at risk and stop the progression of those with the disease."
Dr. Peter P. Bosomworth, chancellor emeritus for the UK Chandler Medical Center and former chair of anesthesiology in the UK College of Medicine, recalls an association with Markesbery going back to the beginnings of both of their careers.
"When I came to the UK College of Medicine in 1962, Bill Markesbery was a third-year student. I first met him on my anesthesiology service," Bosomworth said. "Bill Markesbery was one of our most outstanding students. He came to UK, had a really good start there, and moved on with additional training. He was an important part of the faculty, and I was personally proud of him. He was involved in my personal medical care."
Markesbery served in the United States Army from 1954-1956 and received a Bachelor of Science degree from UK in 1960.  After graduating with distinction from the UK College of Medicine in 1964, Markesbery, from 1964 to 1969, completed a mixed internship at the UK Medical Center as well as a residency in neurology at The Neurological Institute, Columbia-Presbyterian Hospital in New York. He then went on to complete a fellowship in neuropathology at the College of Physicians and Surgeons of Columbia in New York.
From 1969 to 1972, Marksbery served as a faculty member at the University of Rochester School of Medicine and Dentistry and Strong Memorial Hospital in Rochester, N.Y. In 1972, he returned to UK and began his longtime career as a clinician and researcher.  In addition to his College of Medicine appointments, Markesbery also has been a consultant in neurology and neuropathology at the Veterans Affairs Medical Center in Lexington.
In 1979, through a gift from the Eleanor and John Y. Brown Jr. Foundation and a matching grant from the Commonwealth of Kentucky, the Sanders-Brown Center on Aging opened. It is one of 10 original NIH-funded Alzheimer's Disease Research Centers.
The center is dedicated to advancing the well being of the elderly. Its major goal is to support healthy aging. It is at the forefront of research on prevention and early diagnosis of dementing diseases and studies on the causes of those diseases. The center also is one of five Commonwealth of Kentucky Centers of Excellence and is a recognized leading center.
In Markesbery's mission statement about the center, he said:  "Our Sanders-Brown Center on Aging was established to identify and study problems that directly influence older adults and to improve the quality of their lives through a wide range of research, service, and educational activities.
"Our research mission is focused on age-related diseases such as Alzheimer's disease and other dementing disorders, stroke, and prion diseases. The overall goal is to understand these disorders so that they can be successfully treated and prevented. Considerable research efforts are also directed at understanding normal brain aging.
"The center's service mission to the community, state, and region includes providing exemplary care for older adults with neurodegenerative diseases and stroke, advising community and state government, health care providers and higher education entities concerned with older adults, and to deliver clinical services and health-related educational programs to the Bluegrass African American community.
"Our education mission includes training of health care professionals and non-professionals who work with the elderly, training of scientific investigators, educating the community and state about physical and mental disorders of the elderly, providing self enrichment activities for older adults, and emphasizing lifelong growth and development for the elderly.
"The programs of the Sanders-Brown Center on Aging will improve the quality of life for older Americans in this and future generations."
And so it has under Markesbery's leadership, and will in the future, owing to his research and wonderful care.