Enrollment, Academic Quality Show UK is Poised for Excellence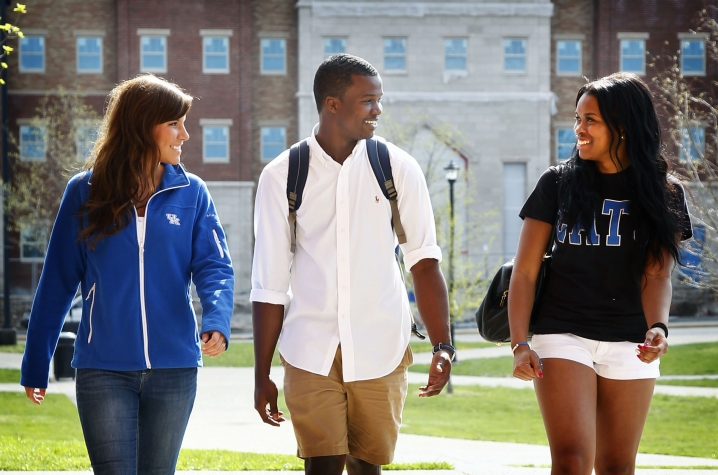 Video Produced by UK Public Relations and Marketing.  To view captions for this video, push play and click on the CC icon in the bottom right hand corner of the screen.  If using a mobile device, click the "thought bubble" icon in the same area.
HAZARD, Ky. (Sept. 14, 2015) — University of Kentucky President Eli Capilouto believes that the last four years of UK's campus transformation has helped lay a foundation — the goal of which is achieving excellence in everything that happens at the institution.
"We are conducting research that tackles the state's most pressing challenges. We are providing service in every corner of the Commonwealth," Capilouto said. "And, increasingly, the students we recruit and graduate signal that the UK brand means excellence throughout Kentucky and the region."
The foundation for excellence, Capilouto said, is evidenced most recently in preliminary 2015-2016 enrollment numbers released Friday during a meeting of the Board of Trustees in Hazard.
"Four years ago, the Board of Trustees charted an ambitious path forward — one that focused on academic excellence in every phase of our mission, but that particularly focused on the success of students," Capilouto said. "This fall's first-year class, and our overall enrollment, testifies to the progress we've made in achieving our goal to be a first-choice university for the best students, faculty and staff."
Highlights of enrollment for this fall include:
A larger campus, educating more students: With 5,217 students this fall, it's the second consecutive year, UK has had more than 5,000 students in its first-year class as well as the second consecutive year the university has had more than 30,000 students overall. It's a 21 percent increase in first-year students since 2010.
The most academically prepared: The average ACT of first-year students is 25.5; the average GPA is 3.68; 117 students in this class are National Merit, Hispanic and Achievement Scholars and more than 700 students had ACT/SAT scores of 31 or above
An increasingly diverse campus: Nearly 560 students in this first-year class are African Americans, more than 10 percent of the class; 265 are Hispanic. The UK campus is now the most diverse in its history
Poised for greater progress in the future: The UK Office of Retention and Student Success reports that UK's first-to-second year retention was a record 82.7 percent, with the largest ever-returning cohort of students at 4,253. The six-year graduation rate is 61 percent, the second highest in the school's history.
"We have an incredible enrollment management team, led by Associate Provost for Enrollment Management Don Witt, who visits every high school in the state and the leading schools in the region," Capilouto said. "Their efforts, and our increasing quality as a first-choice institution, are paying off as reflected in this class."
In the past four years, UK has initiated — or is about to begin — more than $1.8 billion in capital construction projects, focused on living, learning and dining spaces, as well as classroom and research facilities. That foundation, according to Capilouto, is designed to create one of the pre-eminent living, learning and research environments in American public higher education.
Provost Tim Tracy said "strategic, smart growth" has been UK's focus the past four years, efforts that have paid off. Now, as UK and the Board of Trustees consider a new strategic plan in an upcoming retreat in October, the focus will be even more on student success through increased retention and graduation rates as well as how well the institution is preparing those graduates for success in the broader world.
"We have laid a strong foundation — through infrastructure and through more strategic approaches to student success," Tracy said. "Much progress has been made; there is still much work to do. Our strategic plan — along with the direction and leadership of our board — will focus intently on how we build on the foundation and progress that has been made as we continue our ascent as one of the country's premier, public residential research campuses."
"We don't build for ourselves; we build for Kentucky's future. We are the university for Kentucky. Our research tackles Kentucky questions. Our service touches every Kentucky community," Capilouto said. "And we are creating an environment that prepares our students to lead and compete in a global economy. We are ensuring that Kentucky has the workforce it needs to thrive in the 21st century."