Foundation Matches Gift to Train Rural Journalists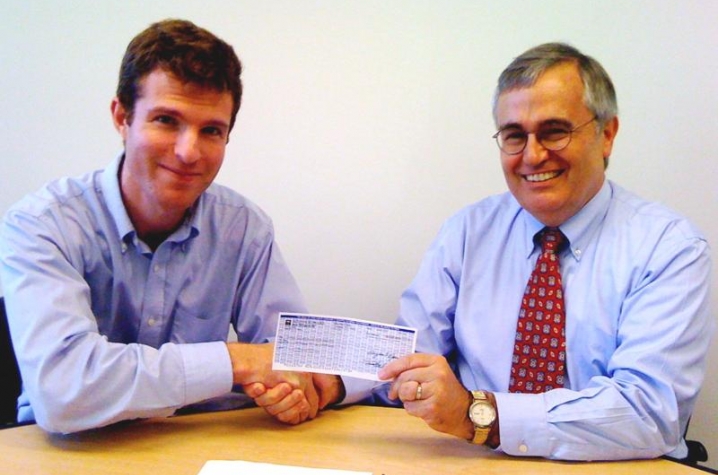 LEXINGTON, Ky. (Feb. 10, 2011) − The Scripps Howard Foundation has given $10,000 to the Fund for Rural Computer-Assisted Reporting (R-CAR) in the endowment of the Institute for Rural Journalism and Community Issues, based at the University of Kentucky's School of Journalism and Telecommunications.
The gift matches the $10,000 that Pulitzer Prize-winner Daniel Gilbert used to start R-CAR – money Scripps awarded him for winning the Community Journalism category in the 2010 National Journalism Awards sponsored by Scripps.
As with all donations to the endowment before April 30, the gifts have been matched by Kentucky's state Research Challenge Trust Fund, bringing the fund to $40,000. Earnings on that amount will fund fellowships for two rural journalists each year to attend the computer-assisted reporting boot camps given by Investigative Reporters and Editors, Inc. (IRE). Donations to the fund are still being accepted.
The analytical tools that Gilbert learned at one of IRE's CAR boot camps helped him expose mismanagement of natural-gas royalties in southwest Virginia, winning not only the Community Journalism award but earning the Bristol Herald Courier the 2010 Pulitzer Prize for Public Service and the IRE Award for newspapers of less than 100,000 circulation.
"We were so impressed that Dan Gilbert would use his prize money to support other community journalists," Scripps Howard Foundation President Mike Philipps said. "We wanted to honor his commitment and perhaps encourage others by matching it with a foundation gift."
Gilbert, now with The Wall Street Journal, applauded the gift. "Scripps has demonstrated that it is not only committed to recognizing great journalism by reporters at small newspapers, but also to enabling and furthering their work," he said.
Philipps said the gift "happens to align with our interest in rural and small-market journalism. Despite all the changes our industry is undergoing, these local editors and news directors are often the sole source of local news and continue to be an important part of the fabric of the communities they serve."
"Mike knows the score," said Al Cross, director of the Institute for Rural Journalism and Community Issues. "As metropolitan media have cut back on rural coverage, it has left a gap that smaller newspapers and broadcast stations need to fill.  We help them do that, and we are proud to be custodians of a fund created by such thoughtful givers."
IRE Executive Director Mark Horvit said, "This generous support from Scripps makes a tremendous difference and will enable the fund to increase its reach immediately. Computer-assisted reporting skills are more important than ever for journalists, and donations like this allow more reporters and editors who cover rural areas to gain tools that provide better in-depth coverage for their communities."
Successful applicants for R-CAR fellowships will be selected by IRE, Gilbert and the Institute. IRE's next Computer-Assisted Reporting Boot Camp will be held March 27 through April 1 at the Missouri School of Journalism in Columbia, Mo. Applications for the fellowship are due by Feb. 18. For more information on the rural fellowship, and for an application, visit http://cis.uky.edu/rcar.
Follow R-CAR via "Rural Journalism" on Facebook. To donate, go to https://giveto.uky.edu/CIS_p/cis.htm.