HDI Celebrates 25th Anniversary of Americans with Disabilities Act with New Video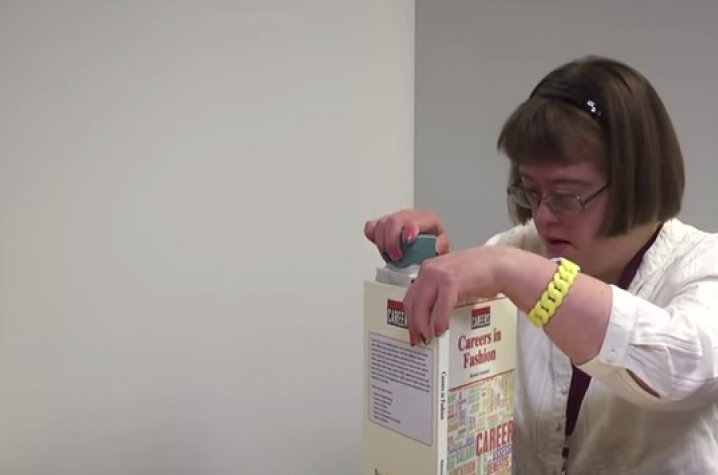 Produced by the UK Human Development Institute
LEXINGTON, Ky. (July 29, 2015) — Just in time for the 25th anniversary of the Americans with Disabilities Act (ADA), the University of Kentucky Human Development Institute (HDI) is debuting its new video, "Customized Employment in Kentucky," which will premiere at Lexington's celebration of the 25th anniversary of the ADA Thursday, July 30. 
 
The seven-minute video profiles three employees with developmental disabilities who are working in their community, in jobs which are a good fit for them, and in which their contributions are valued by their employer. The common thread in these stories is that the jobs were "customized," a process in which employer needs are matched with the talents, interests and contributions of individual job seekers.
 
The video will premiere in Lexington at the 25th anniversary celebration of the Americans with Disabilities Act, to be held Thursday, July 30 at LexArts, 161 North Mill Street. Doors open at 12:30 p.m., the program begins at 1 p.m., and the video will be shown at 3 p.m. The event is free and open to the public; however, the organizers ask that you RSVP to treed@lfuchrc.org or call 859-252-4931. 
As part of the celebration, the Lexington Human Rights Commission will host a panel discussion celebrating 25 years of the ADA featuring Christina Espinosa, a project administrator at HDI. The panel discussion will begin at 1 p.m. at LexArts. Panelists will reflect on the good things that have happened in the last 25 years, on the challenges individuals with disabilities encounter today, and how we can overcome them.
 
Sara Tinker, employment specialist for Down Syndrome of Louisville's Career Solutions, says, "I think the great thing about customized employment, if you're really doing it in its truest form, and you're looking at an employer's unmet needs and what their interests are, and you're look at an individual's strengths and what they have to contribute, but then also paying attention to things like natural support, an employment specialist, all they really have to do, is act as a resource and then get out of the way.
 
"Employment First is a philosophy that employment be the first and preferred outcome for adults who receive services in the disabilities service system… it's the idea that adults in our society go to work. That's what you do after school," said Katie Wolf Whaley, project director of the Kentucky Supported Employment Training Project at HDI.
 
For those who can't make it to the premiere, the video can also be viewed above or on HDI's YouTube channel: http://youtu.be/UIkaHkQKukQ.
MEDIA CONTACT: Whitney Harder, 859-323-2396, whitney.harder@uky.edu