Heyburn Initiative Gift Strengthens UK Libraries' Mission to Document, Preserve Kentucky History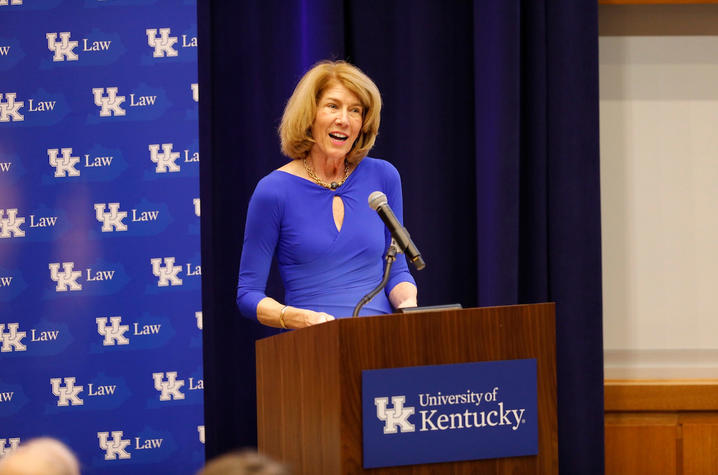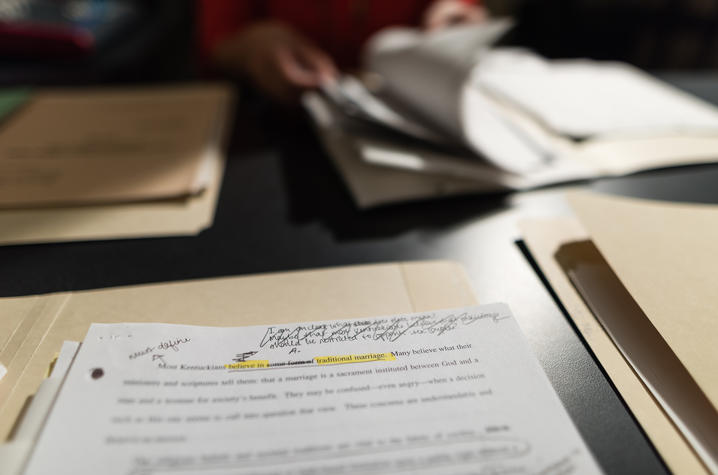 LEXINGTON, Ky. (Nov. 30, 2021) — Thanks to the generous support of a $2 million gift from the John G Heyburn II Initiative for Excellence in the Federal Judiciary, founded and directed by Dr. Martha Heyburn, M.D., University of Kentucky Libraries has established a faculty chair position to oversee and expand the library system's collaboration with the Heyburn Initiative. 
"Due to the robust response this Initiative has garnered, we are positioned to expand our programs. This will include the development of more educational pieces on our website, greater collaboration with law faculty, enhanced in-person, small-group interactions between law students and visiting judges, justices and speakers, as well as with law faculty," said Heyburn, M.D., founder and chair of the Heyburn Initiative Advisory Board. "Creating this Chair allows us to attract and retain someone with outstanding experience in these areas and creatively assist in what will surely be even further expansion over time." 
UK Libraries has named archivist Anu Kasarabada to this newly established position within the library system's Special Collections Research Center (SCRC).  
In this role, Kasarabada will engage in outreach, educational, archival and oral history work in support of the Heyburn Initiative.  
With a special focus on documenting the contributions of Kentuckians to American legal discourse, the Heyburn Initiative is distinctive for its critical goal of collecting the histories of all Kentuckians (and those with Kentucky connections) who have served in the third branch. 
The initiative also focuses on the federal judiciary's relationships with the other two branches of government. In particular, the initiative conducts oral histories with those, who by virtue of their positions in the executive or legislative branches, have directly impacted federal courts.
Having worked with the Heyburn Initiative since she joined UK Libraries in 2017 as the full-time John G. Heyburn II Archivist and Oral Historian, Kasarabada has helped to support the documentation and preservation of Kentucky's federal judicial history by spearheading the archiving and digitization of collections from federal judges, justices, and other leaders related to the judiciary with connections to Kentucky.  
Such collections include the Judge John M. Rogers papers and the Judge Charles M. Allen papers, as well as projects like the Stanley F. Reed, Fred M. Vinson and John G. Heyburn II Initiative for Excellence in the Federal Judiciary Oral History Projects, conducted in partnership with the SCRC's Louie B. Nunn Center for Oral History.
"I'm thrilled to be a part of the Heyburn Initiative, which provides the incomparable opportunity to expand on the work of closely examining the role of federal judges in our system of government and in society at large," said Kasarabada, the incoming Heyburn Initiative Chair. "Judge Heyburn's papers, for instance, include multiple drafts of his 2014 opinion holding unconstitutional Kentucky's ban on recognizing same-sex marriages. That case was part of a package of cases that the Supreme Court considered in 2015. The court ultimately affirmed Judge Heyburn's opinion. Now students, scholars and the public in general can study his opinion drafts and understand how and why he issued the decision he did. His holding is part of the history of marriage equality in America, and it's part of the history of Kentucky. These are the kinds of stories that Martha Heyburn's generous gift enables. I'm excited for the work ahead!"
"The generosity of donors allows us to do things that would otherwise not be possible for UK Libraries. Dr. Martha Heyburn's vision for and support of the Heyburn Initiative is a prime example," said Doug Way, dean of Libraries. "Thanks to her gift, we are going to be able to continue developing collections and resources that document the contributions of Kentuckians to the Federal Judiciary, and the broader role of the Third Branch of government in our democracy."
Established in 2016 in partnership with UK Libraries and the J. David Rosenberg College of Law, the Heyburn Initiative strives to ever improve the United States judicial system through study and documentation as well as through conferences on topics of critical importance to the federal judiciary and therefore to the nation. 
"Nothing is more important to social justice and equity before the law than a strong, independent Federal Judiciary ever striving to improve. Judge Heyburn felt our legal system was the envy of the world, but his desire to see it ever improve drew him into national leadership," said Martha Heyburn. "We intend to provide platforms for continued discussion and research of seminal cases and issues before the law." 
While it was inspired by and honors the legacy of late U.S. Senior District Judge John G. Heyburn II, Heyburn said the initiative importantly now belongs to the federal judges, justices, lawyers, law faculty, law students, citizens, researchers and scholars who through their daily lives can directly improve and safeguard the critically important role of a separate and independent federal judiciary.
Those interested in learning more about the Heyburn Initiative for Excellence in the Federal Judiciary may visit www.heyburninitiative.org/. To explore the Heyburn Initiative's archival materials and oral history interviews, visit https://heyburncollections.org/.  
UK Libraries' collaboration with the Heyburn Initiative builds upon existing collections documenting the social, cultural, economic and political history of Kentucky housed at the Special Collections Research Center.
As the premier research library in the Commonwealth, UK Libraries empowers lifelong learners to discover, create and connect by providing ever-expanding access to quality information and collaborating with academic and creative communities worldwide to advance knowledge, enhance scholarship and preserve the history and culture of the Commonwealth. More information about UK Libraries can be found on its website.