Jacobs Science Building Makes Active-Learning a Reality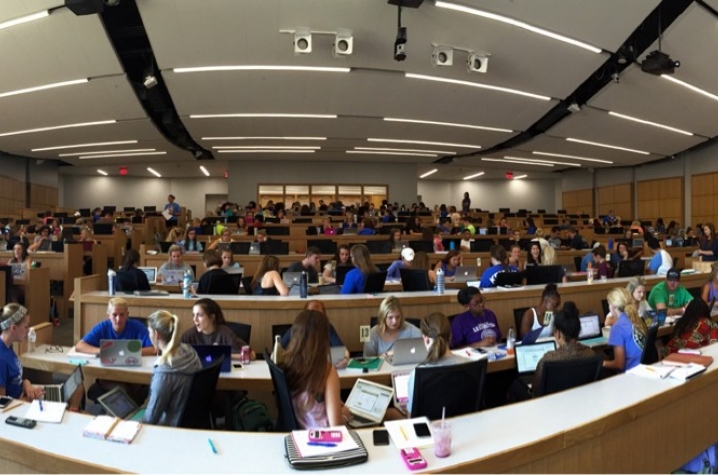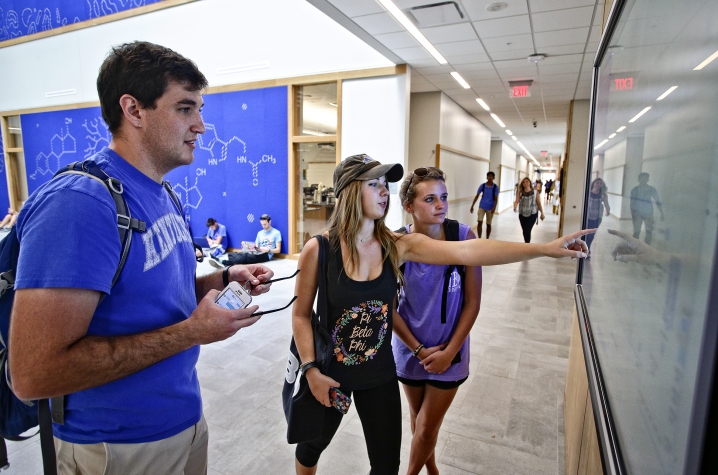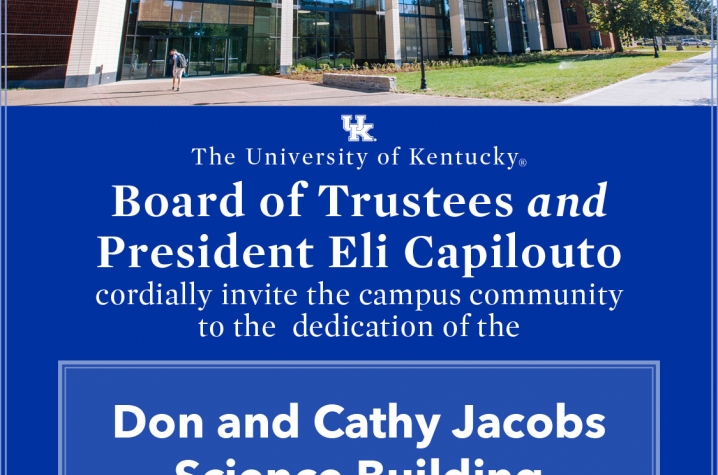 LEXINGTON, Ky. (Oct. 19, 2016) — Tomorrow, University of Kentucky officials will formally dedicate the new Don & Cathy Jacobs Science Building, but the state-of-the-art facility has already begun making an impact on students and faculty since it opened this August.
The Jacobs Science Building (JSB) is the epicenter of the university's scientific community, offering 21st century science education with 21st century laboratories and instrumentation. Every science student on campus, and the vast majority of all undergraduates at UK, will at one point experience the building's active-learning laboratories and classrooms.
Allison Soult, a lecturer of chemistry in the UK College of Arts and Sciences, says the design of the classrooms makes large lecture courses much more personal.
"Having two rows of desks per tier with movable chairs makes small group work a convenient option, even in a large class of 200+ students," Soult said. "The arrangement makes it easy for students to work together in groups of four or five, and the aisles are wide enough so that I can get to students in the middle of the room. To me, a great day in class is one where I see students working together and helping each other while I move among the groups. I stop and listen to their discussions to see where they might be struggling, to give kudos to those who give a great explanation, and to answer their questions. The layout makes this possible."
Meredith Aker, a pre-nursing sophomore, is assisting Soult as a "learning intern" this semester in the new building. Having taken Soult's chemistry course last year in the Chemistry-Physics Building, Aker is observing the differences in the two spaces. 
"When taking exams in Chem-Phys there simply wasn't room to spread out - you had your laptop in front of you and to the right of your laptop was any scratch paper and exam materials stacked right up against it, and your neighbor's papers were up against your laptop on the left side," said Aker. "During class (in the new building), I see the students moving around in their rolling chairs to get closer to a fellow classmate to work on a problem together and I just think how in Chem-Phys we would have already been on top of each other."
The active-learning layouts of the JSB's classrooms are having a positive impact on students and faculty outside of the sciences as well. A course titled "America through the Lens of the 2016 Election," taught by UK Associate Professor of History Kathi Kern, UK College of Arts of Sciences Dean Mark Kornbluh, and graduate student Ashley Sorrell, includes 175 first-year students.
"We offered a very similar course in 2012, but what a difference an innovative, flexible, technology-enhanced space can make," Kern said. "Our students are assembled in six-person 'caucuses.' Every class involves at least some collaboration. Instead of climbing over fixed theatre seats or twisting to make eye contact with their peers, students in the JSB simply swivel around in their chairs and meet their caucus colleagues eye-to-eye; they can share a laptop or huddle around a document. The difference in this 21st century classroom is that it has enabled us to 'scale up' the discussion-based, interactive teaching we all long for as professors, even with a class of 175."
Built with the latest green technology, the state-of-the-art Jacobs Science Building houses centrally-scheduled classrooms, numerous chemistry and biology teaching laboratories, and office space for the Department of Chemistry, biology lecturers and the College of Arts and Sciences Business Center. On the first floor of the building, there is a 300-seat lecture hall, several biology teaching laboratories for physiology, general biology and microbiology; and multiple technology enabled active learning (TEAL) classrooms, as well as a Shared Imaging Suite and Biology Learning Center. The second floor houses eight general chemistry teaching laboratories, a 132-seat TEAL room, the General Chemistry Learning Center and multiple small TEAL rooms. On the 3rd floor, there is a 200-seat lecture hall and multiple upper-level chemistry laboratories, including four organic and one each of synthetic chemistry, biochemistry, analytical chemistry and physical chemistry/instrumental analysis. The third floor also houses the Organic Chemistry Learning Center, a Nuclear Magnetic Resonance (NMR) and Shared Instrumentation Suite to support all the upper-division laboratories, and a Science, Technology, Engineering and Mathematics (STEM) teaching laboratory.  
The exterior courtyard has two outdoor classrooms with natural slate chalkboards with geological features built into the walls. All interior and exterior landscaping contains only native Kentucky plants.
"I am very grateful for the opportunity to work and teach in this building and greatly appreciate all the work done at every level to make this building a reality," Soult said. "I also appreciate that input from faculty and staff helped guide the design, which resulted in a building that is both beautiful and functional."
"For several years we have experimented with teaching a large class using active-learning strategies," Kern said. "The problem is, the structure of the space always worked against us. Suddenly, I find myself teaching in the Jacobs Science Building and a world of opportunity has opened."
The university will formally dedicate the Don & Cathy Jacobs Building 10 a.m. Thursday, Oct. 20. The campus community is invited to attend. 
UK is the University for Kentucky. At UK, we are educating more students, treating more patients with complex illnesses and conducting more research and service than at any time in our 150-year history. To read more about the UK story and how you can support continued investment in your university and the Commonwealth, go to: uky.edu/uk4ky. #uk4ky #seeblue
MEDIA CONTACT: Jenny Wells, 859-257-5343; jenny.wells@uky.edu