Kentucky Collegians Day Honors, Informs Students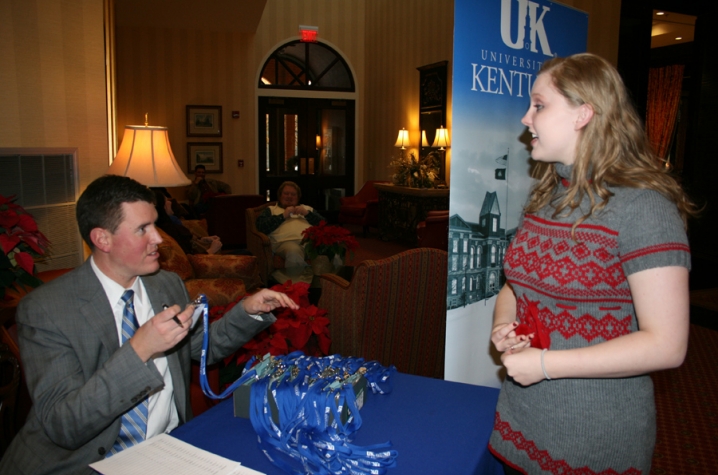 LEXINGTON, Ky. (Dec. 9, 2010) – North Laurel High School Senior Chandria Bennett has known that the University of Kentucky is her college of choice pretty much since becoming a Robinson Scholar in the eighth grade.
"I've loved UK forever," said Bennett.  "I've always wanted to come here and I hope to pursue a degree in chemical engineering or something in the fields of medicine and/or science."
So when the invitation came to attend Kentucky Collegians Day on Dec. 7, she jumped at the chance to visit campus once again to talk to UK faculty and staff, and also to meet other prospective students who may end up being her classmates.
"This event is the start of my college career," said Bennett.  "To be able to meet people and make friends that I could eventually learn and work with in the near future is a great opportunity."
Bennett was part of a group of 54 students and 100 guests from across Kentucky, Ohio, Indiana, and West Virginia who traveled to Lexington for this week's event sponsored by the Office of Undergraduate Admission and University Registrar.
"Kentucky Collegians Day is an annual event which recognizes the accomplishments of some of the highest achieving students in the region," said Brian Troyer, director of undergraduate recruitment.  "Each student in attendance has been admitted for next fall and has already earned scholarship money to attend UK."
While the December 7 event is designed to help prospective students connect with each other, it's also about connecting the most academically talented students from across Kentucky and the region with faculty and staff who can answer their questions about the opportunities they can gain by choosing UK.
"Kentucky Collegians represents the best students from the Commonwealth and beyond," said Don Witt, vice provost for enrollment management.  "Our goal is to showcase what sets UK a part for these top scholars so they can make a well-informed decision about where they will go to college."
"The event is an opportunity for students and their families to visit campus to be recognized for their accomplishments while also having the opportunity to learn more about scholarships, academics, research, and various extracurricular opportunities. " Troyer said.
Finding out more information about the Department of Physics and Astronomy at UK is a major reason why Anderson County High School Senior Jesse Johnson decided to attend.
"I really wanted to find out more information about UK's department to see how a degree in that program will help me after graduation," Johnson said.
The Lawrenceburg native is currently choosing between four universities and thinks the extra information will ultimately help him in his decision-making process. 
"Our hope is that students left with an understanding of the breadth and depth of the outstanding academic offerings at UK and a desire to pursue unique opportunities like education abroad and undergraduate research while in college," said Troyer.
Though Troyer says they want to inform students, they also want to take a moment to honor them for their impressive achievements. Each student was recognized during a formal ceremony following dinner.
"It's incredibly important, in these fast-paced times, to take opportunities like Kentucky Collegians Day to stop and recognize each individual student for their hard work and outstanding academic achievements," Troyer said.
"It was really special to be honored in this way, " said Bennett, who spent much of the evening meeting new faces. "It's very exciting to have this fresh start!" 
Witt hopes all of the students attending left feeling that excitement. 
"Based on all of the feedback from parents, guests, and students, they left campus feeling an even stronger connection to the university and many are excited about joining the UK family next fall!" Witt said.
For more information on all aspects of undergraduate admissions, including deadlines and how to apply, at UK, visit: www.applyuk.com.