Law School Conference to Explore Structural Racism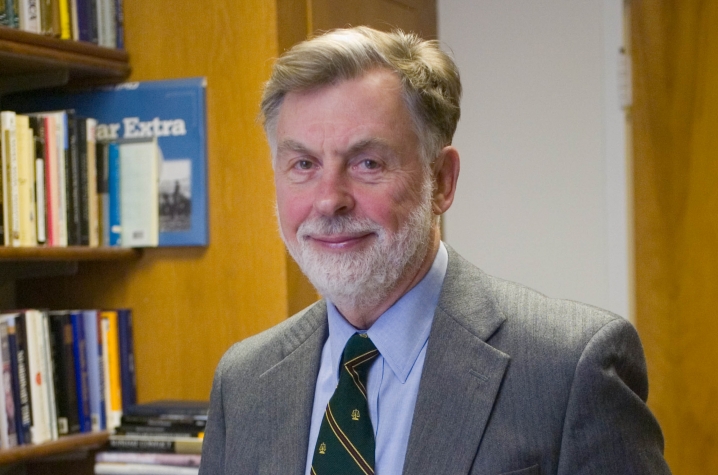 LEXINGTON, Ky. (Feb. 9, 2011) − The University of Kentucky College of Law will host the inaugural James and Mary Lassiter Distinguished Visiting Professor Conference Feb. 25 at UK's Hilary J. Boone Center. The conference's topic is Structural Racism: Inequality in America Today. Professor William M. Wiecek, the first Lassiter Distinguished Visiting Professor at the College of Law, will lead the interdisciplinary exploration of structural racism, including speakers from several UK disciplines, other area universities and community organizations.

"We Americans think of racism today as a matter of people's intentions. Racism is defined as a state of mind where people dislike or hate a group of people and want to deny them opportunity," Wiecek explained. "To social scientists, intent or states of mind are not the principal problem today. Sociologists focus on the way that social structures work to systematically but invisibly deny people of color equal opportunity in housing, education, health care, criminal justice, and all other social domains. Disparate effects, not discriminatory intent, constitute the core of structural racism."

Depending on property taxes to fund public schools, Wiecek explained, disadvantages people of color. Other social structures perpetuate the advantage of white individuals, such as the reliance on social networks for job information, and subjective decision-making affected by unconscious stereotypes or assumptions. The legal system is often blind to such discriminatory effects unless a claimant can show intent.

"So the problem of Brown v. Board of Education, the deliberate subjugation of people of color, is not the same problem we have today," Wiecek said.

The conference's keynote address will be delivered by john a. powell, executive director of the Kirwan Institute for the Study of Race and Ethnicity at The Ohio State University. Powell is an internationally recognized authority on civil rights, civil liberties and issues relating to race, ethnicity, poverty and the law. He has written extensively on structural racism and holds the Williams Chair in Civil Rights & Civil Liberties at the Moritz College of Law. Powell founded and directed the Institute on Race and Poverty at the University of Minnesota and was national legal director of the American Civil Liberties Union. He has lived and worked in Africa, where he has been a consultant to the governments of Mozambique and South Africa.

"John powell has been working for at least 30 years on these problems. I would consider him to be our country's leading legal authority on the problems of structural racism," said Wiecek. "Through the Kirwan Institute, he has been active in providing solutions to these problems. The work of the Kirwan Institute is extremely important in that it can suggest solutions to problems such as the Detroit school system's achievement gap between white and black students."

The conference schedule includes presenters from across several UK disciplines, as well as area universities and community organizations. The speakers will share their research and work on racial disparities and the structural processes that produce them. There will be eight panels organized into three sessions throughout the day. Wiecek said the interdisciplinary nature of the conference reflects the multi-faceted problem of structural racism, and the College of Law's desire to include the entire UK campus in the discussion.

"We're more and more working in tandem with social scientists, historians, and others," said Wiecek. "It represents a fusion of law and sociology, history, social work, economics, and law's ambition to further the work that lawyers do."

Wiecek said he hopes the conference will reach students, faculty and staff from UK and other area universities, but also community members as well. He has contacted organizations such as churches to make sure people outside academia benefit from the conference. "We want to take this out of the academy and get this out into the streets," he said.

For more information on the conference, visit www.law.uky.edu/structural_racism.

William M. Wiecek is the first James and Mary Lassiter Distinguished Visiting Professor at the UK College of Law. Wiecek practiced law in New Hampshire and then taught constitutional history at the University of Missouri-Columbia for 16 years before going to Syracuse University, where he has served for a quarter-century as Congdon Professor of Public Law in the College of Law and Professor of History in the Maxwell School. Wiecek's writing and research interests include constitutional history; U.S. Supreme Court history; race, slavery and its abolition; republicanism; nineteenth-century constitutional development; and nuclear power. Wiecek is currently at work on a book with sociologist Judy Hamilton about structural racism and the U.S. Supreme Court.

The James and Mary Lassiter Distinguished Visiting Professorship is named in honor of Judge James M. Lassiter, a 1949 graduate of the UK College of Law. He served as Judge of the 42nd Judicial Circuit of Kentucky for 18 years and as Commonwealth Attorney for the Circuit from 1954 to 1967. Judge Lassiter and his wife, Mary Moore Windsor Lassiter, had been generous supporters of the College of Law. Upon his passing in May of 2000, Judge Lassiter directed a third of his residual estate to the College of Law through its Lafferty Society in order to allow the College to recruit prominent legal scholars as members of the faculty.