LBJ and Kentucky: An Inside Account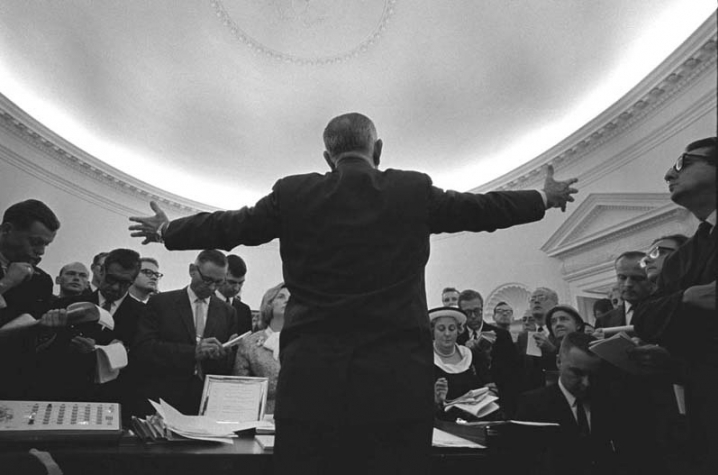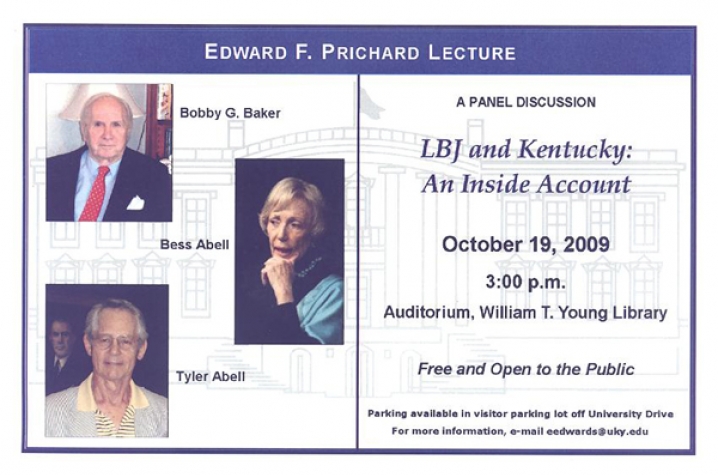 LEXINGTON, Ky. (Oct. 16, 2009) - After he was elected to the U.S. Senate in 1948, Lyndon Baines Johnson came to dominate American political life for the next two decades. Whether as Senate Majority Leader, Vice President or President of the United States, LBJ transformed American domestic life and foreign policy, and, in the process, changed the lives of countless Kentuckians. "LBJ and Kentucky: An Inside Account," the 2009 Edward F. Prichard Lecture, will present its audience with insiders' accounts of the president. The lecture, which is free and open to the public, will be held at 3 p.m. Monday, Oct. 19, in the auditorium at the William T. Young Library.
Bess and Tyler Abell and Bobby Baker will share their memories of those historic years as part of the 26th Edward F. Prichard Lecture. The Prichard Lecture is presented by the UK Libraries and the Wendell H. Ford Public Policy Research Center.
Bess Clements Abell, daughter of former Kentucky Governor and United States Senator Earle C. Clements, participated in Johnson administration events as social secretary to Lady Bird Johnson. Tyler Abell, son of an earlier White House chief of protocol and step-son of Drew Pearson, served the Johnson White House as chief of protocol.
One of LBJ's first acts after his election to the Senate was to enlist the efforts of Bobby Baker because, as LBJ told the young South Carolinian, "you know where the bodies are buried." As secretary to the majority leader, Baker was Johnson's chief legislative aide, who soon became a legendary "wheeler and dealer" in Washington politics.
Since its inception in 1977, the Prichard Lecture Series has included presentations by nationally and regionally acclaimed authors, historians and public figures including James McGregor Burns, Michael Dirda, David Eisenhower, Elizabeth Hardwick, Robert Massie, David McCullough, Marsha Norman and Arthur Schlesinger Jr., and Donald Graham.
The Prichard Lecture is free and open to the public. For more information, contact Esther Edwards at (859) 257-1742 or e-mail her at eedwards@uky.edu.