Looking to Get Involved on Campus? PFA is the Place for Parents and Families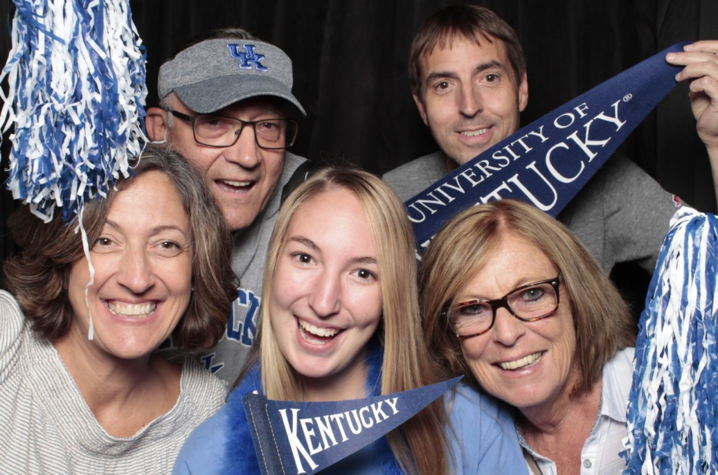 LEXINGTON, Ky. (March 13, 2019) — For parents and other members of the family wanting to provide support for students in college, the University of Kentucky Student Services Center houses the Parent and Family Association (PFA). Dating back to the early 1900s, this association engages family members of current UK students through publications, programs, events and services. 
"The UK Parent and Family Association welcomes, educates and connects parents and family members of UK undergraduate students with the goal of supporting successful student transition, retention and persistence to graduation," said Nicki Jenkins, senior program specialist for the PFA. "The Parent and Family Association believes that by keeping families in the loop about what their students may be experiencing while in college and providing helpful resources, families are better equipped to support their students and answer their questions."
Any family member of a UK undergraduate is eligible to join the PFA for free. Members get to take part in the activities throughout the year as well as receive the Cat Chat email newsletter that is sent out two or three times a month during the school year. 
The PFA organizes many events throughout the year; the office kicks off the start of the school year with programming at K Week. A beloved tradition, K Week hosts numerous events to get students acclimated to campus and some even include their families, such as the UK Parents and Families Reception and the New Student Induction Ceremony. These events open the door for a fun and involved semester. 
Family Weekend is the next big event that the PFA offers during the fall semester. On this weekend, parents and families are invited back to campus to join their students as they cheer on the Wildcats at a home football game at Kroger Field. The next Family Weekend will take place Sept. 13-15, 2019.
This spring, the PFA will host a Spring Family Reunion 9 a.m. Saturday, April 13, at Keeneland Race Course. As part of this event, students and families will experience behind-the-scenes tours of the famed track, access to a reserved seating area and a lunch in the Keeneland Sales Pavilion. 
The Parent Advisory Council is another option for parents who are looking to get more involved in campus activities. The council is responsible for recommending programming to put on during the school year. Members are expected to attend biannual meetings, participate in K Week and Family Weekend, and keep communications between current and potential council members. 
"From my perspective, I think it's great that UK has a mechanism like the Parent Advisory Council where they get direct feedback on issues and functions in the UK community and don't simply assume the parent's perspective," said Brad Tingwald, Parent Advisory Council member from Fishers, Indiana. "From important issues like mental health assistance for students to convenience issues like timing of events and how they impact families who do not live in Kentucky, I have appreciated the opportunity to represent UK families and provide input that I believe is listened to by the leadership at UK."
For all the work that parents and families do for students during the year, it's nice to receive a thank you every once in a while. UK PFA has set up the Big Blue Thank You event to provide students with thank you cards and postage to do exactly this. Students can write handwritten letters to those who have made a positive impact on their lives.
For more information on the PFA, visit their website. Families who are interested can join the PFA here, follow them on Facebook, Twitter and Instagram or join the popular UK Wildcat Families closed Facebook group to connect with other parents and families.
The Parent and Family Association is supported in part by UK Parents Philanthropy Fund.