New UK Plaid Items Go on Sale Aug. 15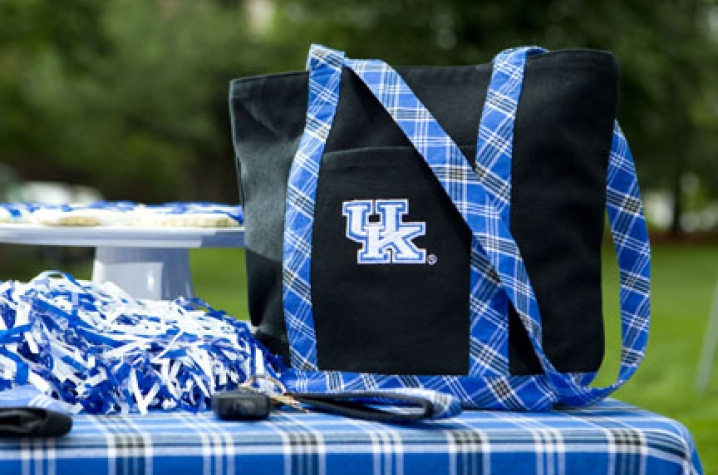 LEXINGTON, Ky. (Aug. 13, 2010) – Fresh on the heels of the tremendous success enjoyed with the initial launch of official University of Kentucky Plaid products, 11 brand new items will go on sale in stores and online at www.ukplaid.com on Aug. 15.
The official UK plaid was designed by students from the UK College of Agriculture School of Human Environmental Sciences' Department of Merchandising, Apparel, and Textiles (MAT). Through online balloting, the official plaid, designed by MAT students Christina Criollo and Jena Everhard, was selected in 2008. In all, 12,000 votes were cast during the two-week process.
The seven stripes in the plaid represent the seven NCAA Men's Basketball Championships won by UK. The blue background signifies the pride the Commonwealth has for its flagship university and its far-reaching impact across Kentucky and beyond.
The Kentucky Plaid Project is a unique experiential education project engaging UK students in product development from creative inception to finished product. The project is led by Rita Smart, advisory board chairperson, and coordinator Scarlett Wesley, assistant professor of MAT. UK First Lady Patsy Todd serves as honorary chairperson. 
In 2009, 11 items designed by MAT students went on the market in more than 40 retail stores in Lexington and surrounding counties, as well as online. The Cooper Collection includes wearable items such as neckties and scarves; the Erickson Collection is comprised of UK Plaid pride you can travel with, including a duffle bag and cosmetic bag; and, the Wildcat Tailgating Collection contains 100 percent cotton tablecloths and napkins.
"Response to the plaid and the plaid project has been huge," said Cassie Bernardi, creative director of Pomegranate, Inc, a Lexington-based wholesale business which distributes the products. "The first line of products continue to sell and demand has remained high."
"This is just an incredible opportunity for these students," said Wesley. "To be able to actually create a product which is on retailers' shelves and is being enthusiastically received by the public is a real thrill for our students and all who have been involved in this effort."
The 11 new products, also designed by students in UK's MAT program, include the following:
-- Wildcat Tailgating collection 
       *Apron (suggested retail, $28) 
       *Grill Mitt (suggested retail, $24)
       *Koozie (Suggested retail ($8.00)
-- The Erickson Collection
       *Small Tote (suggested retail, $28)
       *Large Tote (suggested retail, $24) 
       *Key Chain (suggested retail, $12)
-- The Cooper Collection
       *Bow Tie (suggested retail $40)
       *Cotton Shawl (suggested retail $28)
       *Belt (suggested retail, $30)
Purchase of these products helps to support MAT students in their educational endeavors. For a complete list of retail stores which carry official UK Plaid products, or to purchase items online, visit www.ukplaid.com. For more information about Pomegranate, Inc, visit www.pomegranateinc.com.