Project WELL Helps UK Employees Take Control of Their Health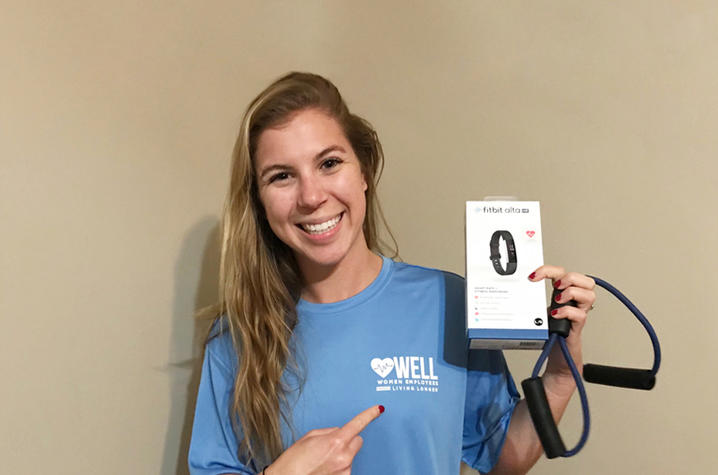 LEXINGTON, Ky. (Jan. 8, 2019) ­– For a group of women at the University of Kentucky, the goal of making major changes to achieve better health can seem overwhelming.
Project WELL (Women Employees Living Longer) was created to provide women employees of UK with the resources and support they need to create lifelong healthy habits. The main goals of Project WELL are to reduce the risk of cardiovascular disease among UK female employees by targeting the following areas:
Quit using tobacco
Learn about nutrition and healthy eating habits
Increase physical activity
Self-paced weight loss
Social support
UK employee Jamie Newcom joined the program to lose weight and quit smoking. She started by taking surveys to gauge her current level of health and what her goals were. From there, she had weekly check-ins with Anna Buchanan, health navigator and a graduate student in Health Promotion.
"This program has helped me become a better person in every way," said Jamie Newcom. "As a result, I am a better mom, friend and employee. I have started eating healthier and going to the gym. I feel better as a whole and I have lost a few pounds and inches as a bonus."
To participate in the program, applicants have to be a full-time UK Employee, female, current tobacco user, have a body mass index (BMI) greater than 30, be interested in weight loss and quitting tobacco. These criteria were created in order to reach women at the greatest risk for cardiovascular disease.
"Each of the participants has the same end goal, and are working towards tackling the same unhealthy behaviors, but they are each so different and unique," Buchanan said. "It has been incredible getting to know each one of them during the past four months. Not only have I watched them reach goals related to their physical health, but many have also gained self-confidence, which directly influences their mental health. I am solely here to support their choices. They are the hard workers in this program, and I am just there to listen and support them in whatever way they need. I am excited to see how they all continue to grow throughout the rest of the program."
The participants use existing wellness programs available to all full-time UK employees, such as tobacco cessation counseling, nicotine replacement therapy and EatWell nutrition classes. Through constant support and guidance, each participant works toward a healthier lifestyle on their own terms and at their own pace. Based on their stage of change or readiness, each participant begins the program working on one behavior, then as they achieve goals and increase self-efficacy, they have the opportunity to take on other goals. Every two weeks, each participant checks in with the Project WELL health navigator to discuss success, challenges, goals or anything they want to talk about.
Though the participants are only a third of the way through the program, they are seeing successes with a better understanding of portion control, healthy snacking, eating and preparing more meals at home and increased physical activity. One participant has refrained from smoking in the three months since she joined the program.
"This program wouldn't be possible without the long-standing and effective health and wellness opportunities offered through the university. UK Health and Wellness staff have been extremely supportive throughout this collaborative effort," said Melinda Ickes, associate professor in the Department of Kinesiology and Health Promotion in the College of Education. "Not only does it afford an opportunity to showcase the abundance of wellness programming UK has to offer, but it has allowed one of our graduate students in health promotion the opportunity to gain hands-on experience with program planning, implementation, evaluation and working with individuals on behavior change."
"I am grateful for my UK family and to the ladies that created a program for people like myself, wanting to make better lifestyle changes just not sure where to start," said Newcom. "The things I am taking away from the program are definitely lifelong changes."
In 2019, the program will focus more on physical activity through the use of activity trackers and a Facebook support page. In addition, the participants will all come together and meet one another while participating in a healthy cooking class.
The program is currently funded by the Kentucky Foundation for Medical Care and received matching funds from UK's Office of Philanthropy. "We are hopeful the findings and the input from the participants will allow us to explore additional funding and expand this opportunity in the future," said Dr. Sandy Shuffett, a UK Board of Trustees member and physician at Baptist Health, who originally pitched the project to UK and helped to secure funding.
"It is incredible to see the progress and confidence that these women have gained so far, and how they continue to set new goals for themselves," said Buchanan. During their check-ins with the health navigator, many women have described the program as "life-changing" and "helping in more ways than one." Not only are these women working towards physical health, but many are feeling like they have improved their mental health as well.
UK is the University for Kentucky. At UK, we are educating more students, treating more patients with complex illnesses and conducting more research and service than at any time in our 150-year history. To read more about the UK story and how you can support continued investment in your university and the Commonwealth, go to: uky.edu/uk4ky. #uk4ky #seeblue